Gauteng manufacturing sector overview
The Gibela Rail Transport Consortium, which has a contract to build 600 new trains for the South African metropolitan rail network, will start operating its new factory and training centre at Dunnottar in Ekurhuleni in 2018. Each of the X'Trapolis MEGA trains (as shown above) will be built from 145 tons of South African steel.
Manufacturing contributes 14% to Gauteng's real economy output and provides 40% of South Africa's manufacturing overall. More than 600 000 people are employed in the sector, with metal products, food and beverages and chemicals being the biggest employers.
Manufacturing related to the mining industry, historically the lynchpin of the Gauteng economy, is still very important. Sandvik Mining & Rock Technology opened a new production facility in Ekurhuleni in 2017.
Ekurhuleni Metropolitan Municipality (see City of Ekurhuleni) has the greatest concentration of manufacturing enterprises, especially between Wadeville and Alrode, south-west of Alberton. Germiston is the country's biggest rail junction and Transnet Engineering has invested hundreds of millions of rands in new equipment at its facility there. Nigel and Boksburg host Union Carriage and Wagon, which is owned by Commuter Transport Engineering, DCD Rail and Lennings Rail Services, a division of Aveng.
New technology has been embraced by some innovative manufacturers. Desert Wolf's Skunk Riot Control Chopper is an unmanned light aerial vehicle (UAV) that has proved popular in the world market. Desert Wolf operates out of Pretoria.
Packaging company Nampak has metals (cans), plastic, paper and glass operations at various locations including Industria West, Boksburg and Olifantsfontein. The glass plant in Germiston has nearly doubled its output (to 40 000 bottles per year) to cater for increased wine exports. The country's biggest glass producer, Consol Glass, has facilities in Clayville, Wadeville and Nigel.
Household products manufacturer Unilever represents an example of the lighter industrial capacity of the East Rand. Kellogg's, Kimberly-Clark South Africa and Procter & Gamble all have significant manufacturing capacity in the area. Corrugated paper manufacturer Corruseal has purchased the Enstra Mill in Springs from Sappi, giving it greater control of production.
The southern portion of Gauteng around Vanderbijlpark and Vereeniging is synonymous with steel production. Flat iron is made at the large plants of ArcelorMittal. Scaw Metals' chain-making factory in Vereeniging (McKinnon Chain) has invested R110-million in expanding and modernising its operations. Domestically, the main consumers of steel products are the mining, manufacturing, building and construction sectors, while a significant share is destined for the export market.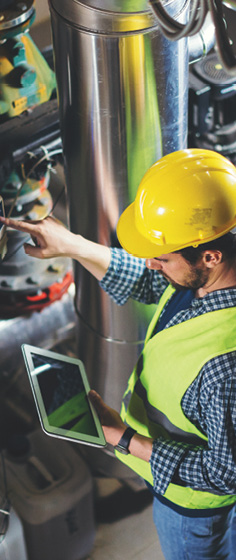 Steel has been experiencing a volatile few years, with reduced demand from China severely reducing production volumes in South Africa. The Steel and Engineering Industries Federation of Southern Africa (Seifsa) reported that 19 000 jobs were lost in the metals and engineering sector in the nine months to September 2016. This sector makes up 28% of manufacturing in the country. Cheap imports have been at the heart of problems for the steel sector, as they have for textiles, but other issues include energy prices and labour costs
There are as 35 aluminium processing firms in Gauteng, involved in both secondary processing to produce foils, cans, bars, rods and sheets, with final fabrication in the form of die-casting and sheet metal work. Within Gauteng, the automotive and packaging industries are the chief consumers of these products.
AECI is a large manufacturing company with its roots in the mining industry. It comprises two principal divisions: AEL Mining Services (with a large factory site at Modderfontein south of Johannesburg) and Chemical Services, which presides over 20 separate companies (including Senmin, the group's mining chemicals company).
Incentives
The Manufacturing and Competitiveness Enhancement Programme (MCEP) of the National Department of Trade and Industry (dti) announced in 2017 that it had disbursed a total of 1 552 grants to the value of R5.8-billion which had resulted in 230 000 jobs being "sustained". Plastics, pharmaceuticals and chemicals received 31% of the money; metal fabrication, capital and real transport equipment 28% and agri-processing 21%.
Italian forged wheel manufacturer Lucchini received tax and training allowances from the dti which helped it decide to invest R200-million in a new forged wheel-making facility. Blank railway wheels imported from Italy will be completed at the Germiston plant. Lucchini previously sold its wheels in South Africa through DCD Ringrollers, itself a maker of forged steel tyre products. Lucchini has committed to increasing the local content in the manufacturing process.
The dti is the state's lead promoter of the sector, as seen in the MCEP example. The main vehicle for the dti is the Industrial Policy Action Plan (IPAP), the seventh version of which was launched in 2016. The Support Programme for Industrial Innovation (SPII), run by the Industrial Development Corporation (IDC) on behalf of the dti, promotes technology development.
Another IDC initiative has allocated R23-billion over three years to support the Black Industrialist Programme to help existing entrepreneurs grow their businesses.
The Provincial Government of Gauteng has tabled plans to bolster manufacturing capacity in the province's western areas. The priorities are mining and mineral beneficiation, capital equipment and machinery, agriculture and agri-processing, tourism, retail and economic development in townships.
Some of the projects include:
a bicycle manufacturing or assembling factory in Mohlakeng.
continuing to buy busses for the province's BRT system from the Busmark plant in Randfontein, which manufactures and assembles buses. In 2016 a dual fuel bus was launched, with the bodies of the busses designed and built in Randfontein.
establishment of agri-parks: Westonaria hydroponic agri-park; Merafong Flora agri-park (tomatoes, cucumbers and green peppers); investment in Isigayo Milling Plant in Randfontein.
revitalisation of industrial parks at Khutsong, Mohlakeng and Chamdor.
Pharmaceuticals
South Africa's pharmaceutical sector is worth approximately R20-billion annually. Although there are more than 200 pharmaceutical firms in the country, large companies tend to dominate the field, with Aspen (34%) and Adcock Ingram (25%) the two key players, followed by Sanofi, Pharmaplan and Cipla Medpro.
The private sector accounts for 80% of pharmaceutical industry sales by value and 20% by volume, while this ratio is reversed in the case of the public sector. The public sector dispenses comparatively cheap pharmaceutical products to its users in public hospitals and healthcare centres within South Africa, whereas pharmaceutical products produced by the private sector in South Africa serve a niche market.
Among the other big international brands active in Gauteng are Merck, which has a 55 000 m² plant at Modderfontein, and Pfizer SA, which runs a laboratory in Sandton among its facilities in South Africa.
Online resources