Air Products and INMED South Africa, an in-country affiliate of US-based INMED Partnerships for Children, started a partnership a number of years ago to establish aquaponics systems and traditional vegetable gardens in schools in the Gauteng area. The launch of the latest system at the Laerskool Kempton Park in Ekurhuleni marks the start of another successful aquaponics system, destined to deliver abundant harvests.
This initiative not only provides an educational platform for learners and a regular supply of vegetables and fish for the school's feeding schemes, but also creates an opportunity for sustainability for the entire community.
Aquaponics is an agricultural technique which combines aquaculture and soilless crop growing. The system is a custom size, which consists of three fish tanks and five grow beds. Each tank consists of 600 fish and the grow beds will have 1 x 7 meters of grow space each for a variety of vegetables and herbs. The traditional and sensory garden will be in a space of 25 x 10 metres.
This system exposes teachers and learners to the importance on health and nutrition and teaches them the skills to grow their own vegetables in a way that is quick, energy efficient, environmentally friendly and chemical free.
The first aquaponics system Air Products invested in was at the Carel de Wet Technical High School in Vanderbijlpark five years ago, close to the company's flagship production facility, followed by a system at the Randvaal Primary School in Daleside, Midvaal. At both these schools, the aquaponics systems were complemented by traditional gardens, and they have celebrated a number of successful harvests over the years.
According to Rob Richardson, Air Products' Managing Director, Air Products believes in the concept of educating learners about health and nutrition as it is the key to a balanced education and future. "Our corporate social investment (CSI) strategy focuses on the youth and education, and INMED's programme proves to educate learners in a way that is enjoyable and rewarding for the learners. We find the continued partnership extremely rewarding."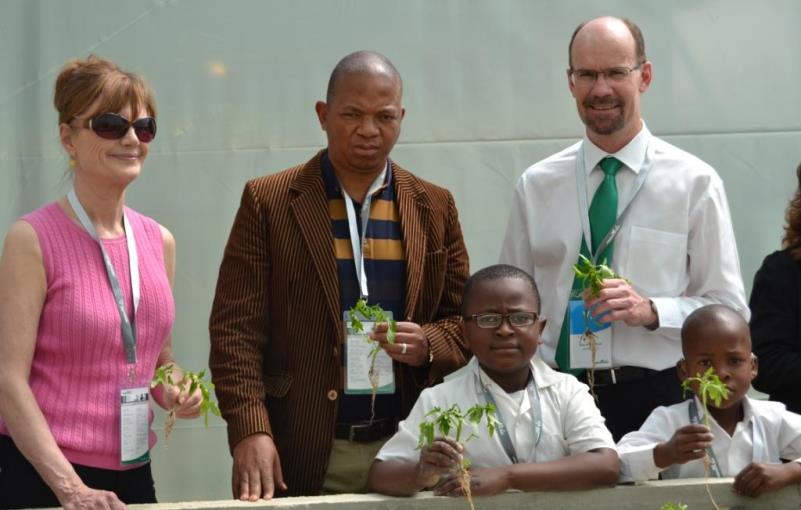 Richardson highlights that Air Products also places an emphasis on making a difference in the communities in which the company operates. "The fact that the system provides vegetables for the school's feeding scheme is an added benefit. Even more importantly, in the current strained economy, we perceive the opportunity of transferring skills and assisting communities to become self-sustainable as a socio-economic development advantage."
"INMED has pioneered aquaponics to improve the nutrition and food security of children and families and develop economic opportunities in disadvantaged communities in South Africa for more than 10 years," says Dr. Linda Pfeiffer, President and CEO of INMED Partnerships for Children. "Air Products was our first and has been our most consistent partner to expand aquaponics to primary and secondary schools.  Both INMED and Air Products understand the direct correlation between child nutrition and performance in school. We want all children to have access to nutritious food and opportunities to succeed in life and are pleased to facilitate this beautiful project."
Besides the CSI aspect of the partnership, the innovative and environmentally friendly method further aligns to Air Products' culture of embracing innovation and technology.
National Arbor Week, which calls on South Africans to plant trees as a symbolic gesture of sustainable environmental management, takes place from 1 – 7 September and the planting of lemon trees at the Laerskool Kempton Park formed part of the formalities of the day.
About Air Products South Africa
Air Products South Africa (Pty) Limited manufactures, supplies and distributes adiverse portfolio of atmospheric gases, specialty gases, performance materials, equipment and services to the Southern African region.
Air Products touches the lives of consumers in positive ways every day, and serves customers across a wide range of industries from food and beverage, mining and petrochemicals, primary metal and steel manufacturers, chemical applications, welding and cutting applications to laboratory applications.
Founded in 1969, Air Products South Africa has built a reputation for its innovative culture, operational excellence and commitment to safety, quality and the environment. In addition the company aims to continue its growth and market leadership position in the Southern African region.
Contact Air Products South Africa