Midway Crossing Shopping Centre
Project location: eThekwini Metro (Durban)
Project sector: Property Development (Commercial & Retail)
---
Project Update Available
In addition to the information on this page, which should serve as background information for the project at time of publication, please also see the latest project update (August 2021) here.
---
Project description & background
The Development of Dumisani Makhaye Node has been identified as a Catalytic project as it has the potential to significantly change the local economy of Westrich and have an impact on the broader economy of the eThekwini Municipal Area. The development is strategically located on the city's IRPTN C3 Corridor that creates a north-west connection of the city by connecting Bridge City to the Pinetown CBD.
The eThekwini Municipality sold Erf 2342 for commercial development to Siveni Investment (Pty). Siveni Investments has proposed a Shopping Centre development with a floor area (bulk) of 21 000 square metres. The total cost of the development is estimated at R482-million. This is a major catalytic investment for the city and will have a positive impact on the development of the C3 Corridor.
The developer, Siveni Investment (Pty), has agreed to grant the eThekwini Municipality a permanent servitude over a portion of the Erf 2342. This servitude will comprise the basement level within the shopping centre, as well as a mezzanine floor. The servitude will help the Municipality bring services to the broader community of Newlands East, Newland West; Lindelani and KwaMashu.
As part of the development of the C3 Corridor, eThekwini Transport Authority has proposed the development of a Go! Durban feeder facility, as well as various supporting infrastructure to service the overall corridor. The supporting infrastructure includes a safety & security facility. A proposed library, Sizakala Centre and trading kiosks have also been identified to support traders and help local communities participate in formal trading opportunities.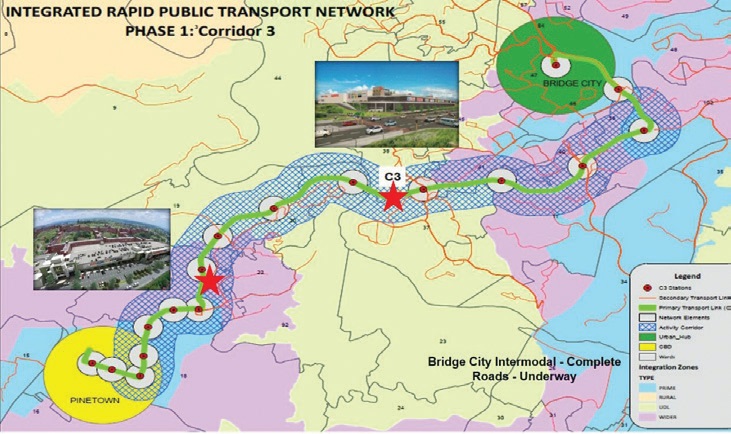 Project Deliverables:
Shopping Centre with a floor area (bulk) of 21 000 square metres
Go! Durban feeder facility
Go! Durban safety and security centre
Sizakala Centre
Municipal services centre (library and/or clinic)
Newlands Express Way
Total investment value: R895-million
Employment
The project should provide opportunities for 300 temporary and 100 permanent employees.
Project Finance
Government (mainly bulk infrastructure) and private sector (mainly top structures)
The project seeks private investors for funding*
Project status*
The appointed contractor has commenced works on the Earthworks and Piling
Site establishment has commenced
*At time of publication
Partnerships
eThekini Metro
Private Sector
Contact the project team
Interested investors may contact the project team below.
(For reference, please insert the project name – Midway Crossing Shopping Centre – in the subject line)