Country Profile: Lesotho
Basutoland was founded in the early 19th century by Moshoeshoe, who united various groups at a time of great upheaval arising in what is now KwaZulu-Natal. White farmers (Boers) escaping British rule in the Cape then threatened Basuto land. The British intervened, ostensibly to protect the Basuto people.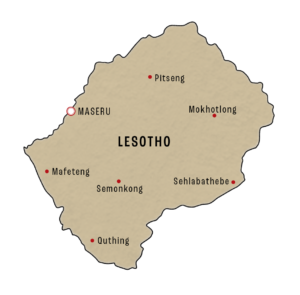 The British drew the Warden Line, awarding the fertile Caledon River valley to the Boers and leaving the Basuto with little arable land. Years of conflict ensued, against both the British and the Boers until 1869, when the present boundaries were drawn and Basutoland became successively a British protectorate, a part of the Cape Colony (against its people's wishes) and finally, in 1884, a British colony with traditional leaders retaining some power.
In 1966 independence was achieved as the Kingdom of Lesotho, with Moshoeshoe II as king and Chief Leabua Jonathan as prime minister.
Many modern residents live below the poverty line and the country's HIV/Aids prevalence rate is high. Lesotho is, however, on course to achieve universal primary education and has one of the highest adult literacy rates in Africa. 
Key facts
Capital: Maseru. Other towns: Teyateyaneng, Leribe, Mafeteng
Population: 2.2-million. GDP: $1.8-billion (2020). GDP per capita: $861 (2020). Currency: Loti
Regional Economic Community: Southern African Development Community (SADC) and Southern Africa Customs Union (SACU)
Landmass: 30 355 km². Coastline: Landlocked, surrounded by South Africa
Resources: Water, clay, sand, building stone, diamonds, beef, maize, mutton, potatoes, wool.
Main economic sectors: Textiles and garments, government, agriculture, handicrafts, tourism.
Other sectors: Diamond mining, food and beverages, construction.
New sectors for investment: Green energy, second and construction phases of the Lesotho Highlands Water Project (LHWP II) and the Lesotho Lowlands Water Development Projects (LLWDP -I and-II). Maseru district hospital. Road construction.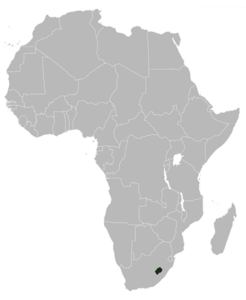 Key projects: Lesotho Highlands Water Project is a multi-phase project being undertaken over many years. The Lesotho Highlands Development Authority coordinates those initiatives while the Lesotho National Development Corporation implements the country's industrial development policies and has four strategic business units which relate to development finance, property development and management, investment and trade promotion and corporate services.
Chief exports: Diamonds, clothing and apparel, low-voltage protection equipment, footwear, wheat products. Many Basotho work in South Africa.
Top export destinations: United States, Belgium, South Africa, Switzerland.
Top import sources: South Africa and China.
Main imports: Clothing and apparel, delivery vehicles, medicines, poultry, refined petroleum.
Infrastructure: Roads 5 940 km, of which 1 069 km paved; 24 airports, of which three are paved.
Electrification: 36% of total population (2019).
ICT: Mobile phone subscriptions per 100 inhabitants: 72.94 (2020 est). Internet percentage of population: 42%. ICT Development Index 2017 (ITU) ranking: 11 in Africa, 133 in world.
Climate: Cold, dry winters and hot, wet summers in mostly highland landscape with plateaus and valleys. There are more than 300 named mountains in Lesotho, the highest of which is Thabana Ntlenyana at 3 482 m.
Religion: Christianity.