How is Gamsberg Mine digitally advanced?
For VZI, the digital transformation is not something that is planned in years to come, but one that is taking shape today. The next wave will be in the integration of systems to enable our teams to make data-driven decisions to find efficiencies, improve planning, lower risk, create safer working environments and unlock more value from our resources.
When do you expect to be operating at full capacity?
Gamsberg Phase 1 has a Life of Mine of 13 years. Four-million tons a year of ore will be produced from Gamsberg's open pit and 250 000 t/y of concentrate from its concentrator plant. By March 2019, we achieved a mining rate of over five-million tons of ore and waste combined. Concentrate volumes are in the process of ramp-up as the Gamsberg plant reaches full steady state by mid-2019.
Do you have plans to build a smelter and a refinery?
In parallel with the Phase 2 mine and plant, we are looking at developing a modular smelter/refinery beneficiation complex, which would represent an estimated direct capital investment of USD-800 million. The complex would be the first integrated zinc manufacturing facility in South Africa and the largest in Africa. External factors that will make a critical difference include power security, competitive power tariff, an offtake for the 1 000 tons of sulfuric acid the complex will produce every day and an efficient freight transport solution. This will have to be supported by an aggressive spatial development plan for the region.
When will a decision be taken on investing further?
Vedanta has already committed that Phase 2 of Gamsberg will get underway as soon as is economically and logistically feasible. Phase 1 was executed with a much larger project in mind. We estimate that up to 12 000 direct and indirect jobs will be created in Phase 2.
How does Vedanta view its responsibility to the people of the surrounding area?
Vedanta has always viewed the communities surrounding our mines as partners and stakeholders. Making sure you contribute to improving the lives of the communities around your operations is simply the right thing to do.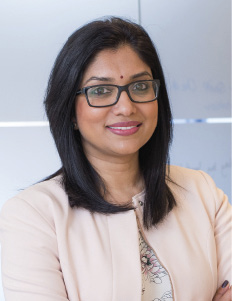 After a 20-year career at Anglo American in various roles, including CFO of Anglo Thermal Coal, Deshnee Naidoo was appointed CEO of Vedanta Zinc International in 2014. Her responsibility covers operations in South Africa and Namibia, the now closed Lisheen Mine in Ireland and Copper Mines of Tasmania in Australia.
In May 2018, Deshnee was appointed to the board of the Minerals Council of South Africa, a first for a woman in South African mining.
Learn more about Vedanta Zinc International's Gamsberg Mine in the Northern Cape Business 2019/20 edition here.