Whether you're looking for your forever home, a student flat just off campus, a neighbourhood close to your school of choice or even a lifestyle apartment where you can enjoy your retirement, the Southern Suburbs has a variety of properties to suit your needs.
"It's this versatility that makes any area in the Southern Suburbs a sound investment choice and has seen it ranked as one of the top three sub-regions in terms of price performance in the Cape metro's housing market in recent years. With its central location, variety of shopping centres and medical facilities as well as choice of some of the country's top schools, the Southern Suburbs has plenty to offer," says Lindsay Beck, Pam Golding Properties branch manager for the Southern Suburbs. House prices in this region have increased by 81% over the past five years, but this growth is slowing down in line with current market trends affected by the sluggish economy.
"That being said, market activity has definitely picked up as we move towards the busy, summer season, and record sales were recorded in August with homes selling for between R1-million and R40-million," says Samantha Nel, Pam Golding Properties branch manager for the Southern Suburbs. Furthermore, the suburbs of Observatory, Pinelands and Woodstock are showing solid price growth, according to Lightstone's property data, as buyers realise that these areas offer comparative accommodation and amenities at competitive prices.
While Cape Town is not a university town as such, the proliferation of tertiary institutions – including the University of Cape Town and Cape Peninsula University of Technology nearby – means there is an ongoing demand for student accommodation. Sectional title developments in Rondebosch, Rosebank, Mowbray and Observatory are particularly popular rental options. The recently-completed Obscourt development has seen a steady uptake in resales, with considerable interest from students and professionals looking to rent the upmarket apartments.
With available land for further development at a premium, we are seeing the emergence of boutique estates, comprising a few houses on prime land, says Beck. Cadogan Place and Struben of AVIEW, both located in the sought-after Upper Claremont/Hen and Chicken Estate, offer top-notch security, spectacular views and a convenient location. Another new development is Brommaert Terrace that offers six luxury homes in Upper Constantia.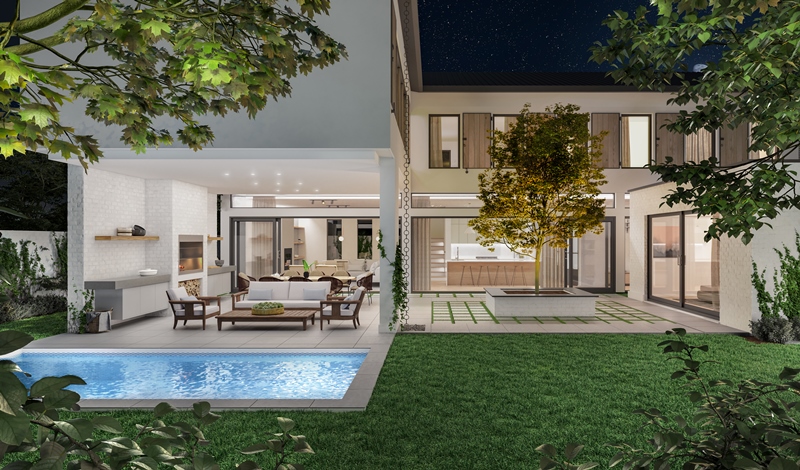 Retirement living trends have shifted away from the traditional old-age home towards independent living where residents are able to enjoy an array of activities and amenities within a safe environment. Quadrant Gardens in Claremont and Pinelands Grove in Pinelands offer a range of self-contained apartments sold on a Life Rights basis, as well as frail care and assisted living options.
The link between popular schools and property prices in particular areas is well-established, and suburbs such as Rondebosch, Rosebank, Claremont and Wynberg are perennial favourites for buyers thinking about school options. "These areas show steady price growth because of the demand for homes." Families will also rent properties in the area, to ensure they have the correct address when applying for schools.
Although consumers are being hard hit by rising utility costs and fuel prices, against the backdrop of an economy in a technical recession, banks are still showing an appetite to lend money for home loans. Bond originator ooba recorded the highest home loan approval rate in over 10 years for the first quarter of 2018. This bodes well for first-time buyers wanting to get a foothold in the property market. According to Lightstone, Wynberg is ranked among South Africa's top 10 suburbs for first-time buyers. Pam Golding Properties has sectional title units listed here for from R1.85-million for a two-bedroom apartment.
While accessible to buyers across price bands, the Southern Suburbs is also home to the most expensive suburb in the province. Lightstone ranks Bishopscourt as the Western Cape's most exclusive suburb, with an average home value of R17.1-million. The suburb's Hillwood Avenue is known as the second most expensive street in the province, with the average price of homes here being R25.4-million. Other Southern Suburbs listed in this category include Constantia Heights and Steenberg Golf Estate.
Constantia is known for its natural beauty that includes several greenbelts, access to wine farms and vineyards, as well as walking trails from Constantia Nek and Cecilia Forest. It is also attracting homeowners with an eye for innovative design that complements the lush surroundings. An excellent example of this is 6 Olive Close, a boldly conceptual and contemporary home set upon an acre of land with mountain and vineyard vistas. Situated in a quiet cul-de-sac, this architectural masterpiece that is listed for R45-million, offers tranquility in a prime location.
With reports of dam levels now past the 70% mark, and the relaxation of water restrictions to Level 5, many of the buyers from other parts of the country are once again considering Cape Town as a viable relocation option, says Beck. "The Southern Suburbs, conveniently located between major highways with access to both the N1 and N2, remains a firm favourite. Its numerous attractions, including Kirstenbosch National Botanical Garden and various wine farms such as Groot Constantia, ensure that this area has plenty to offer," she adds.
For more information, contact 021 673 4200