Entrepreneurship training is bringing a ray of hope to subsistence fishing communities in marginalised coastal areas of the Eastern and Western Cape, equipping them with the business skills to better operate in the fishing sector as well as accessing alternative income opportunities beyond fishing.
The Alternative Livelihoods Project by the Fisheries and Aquaculture Development Institute (FADI), funded by the SA International Maritime Institute (SAIMI), will also provide training in construction skills, enabling fishers not to be solely reliant on increasingly uncertain income from fishing, and easing pressure on South Africa's declining fish stocks.
Launched in June-July in Ocean View (Cape Town), Kenton-on-Sea (Eastern Cape) and Saldanha Bay, the project will benefit up to 90 fishers, 30 in each area, with a wider positive impact on food security and poverty alleviation for their families and communities, FADI project manager Sulaiman Appoles said.
SAIMI research associate Akhona Baninzi said SAIMI had partnered with FADI on the project because it aligned with "our goal to support maritime skills and capacity-building towards a diversified and sustainable oceans economy".
The project includes training in practical entrepreneurship skills including compiling viable, bankable business plans, managing finances and marketing, identifying business opportunities, registering a business and ensuring compliance, and linking up with networks such as business chambers or industry bodies, supported by mentorship and business coaching.
The beneficiaries include traditional subsistence fishers, under- or unemployed fishing crew, existing and pending rights holders, seasonally-employed fish processing workers, and the youth of fishing families.
"It is anticipated that the Fisheries Branch of the new Department of Environment, Forestry & Fisheries (DEFF) will commence allocation of rights to small-scale fisheries co-operatives during the Fishing Rights Allocation Policy Process (FRAPP 2020) process, so business skills and entrepreneurial skills will provide an added benefit to the beneficiaries," says FADI chairperson Jeremy Marillier.
Chair of the Ekuphumleni Co-op in Kenton-on-Sea, Mzamo Marwanqana said the co-op's members currently caught fish simply for survival but were looking forward to being in the business of fishing, and the skills provided by the FADI project were "what we have been looking for, they will take us far".
"The main thing is business skills – our co-op must run like a business and be able to market and sell our products. Previously, we have focused on looking for employment – this project is giving us the key to self-employment," Marwanqana said.
Appoles said that fishing, especially at small-scale level, is "an uncertain business – it is seasonal and fish stocks are declining due to climate change, over-fishing and illegal fishing, so the reality is that current resources are not sufficient for sustainable livelihoods".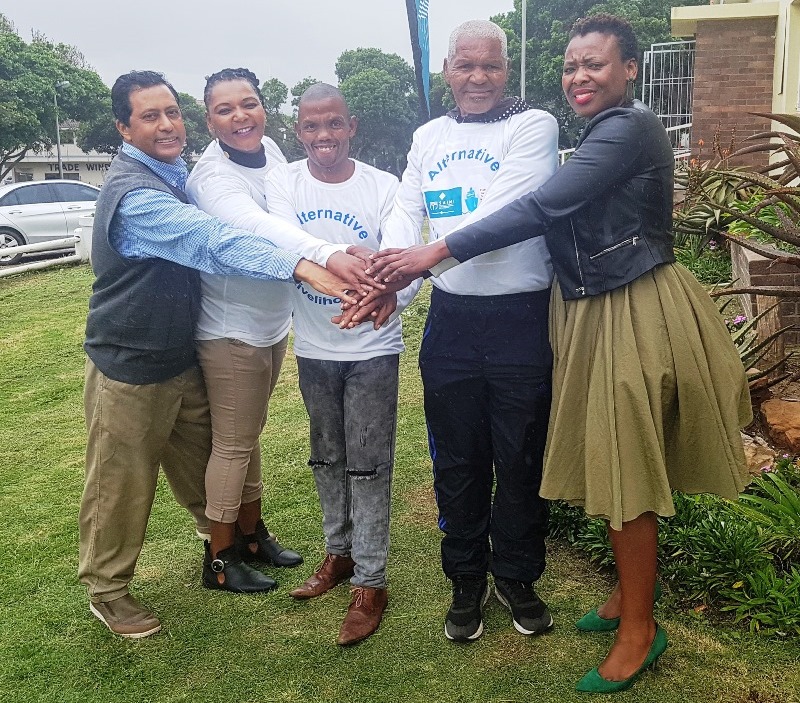 The entrepreneurial and construction skills provided by the project would not only improve and diversify fishing communities' income streams, but also over the longer-term reduce the pressure on marine resources and allow the rebuilding of fish stocks, he said.
Marillier emphasised that the Alternative Livelihoods programme was intended to complement income from fishing, not to replace it.
"The issues of equitable access, fair rights allocation and restorative justice for small-scale fishers and coastal communities remain the core concerns that should be resolved by the State," he said.
Small-scale fishing is a relatively new sub-sector of the commercial fishing industry, with government's Small-Scale Fishing Policy (SSFP) aiming to include traditionally subsistence fishers in the value chain, with access to economic opportunities and markets, contributing to sustainable livelihoods, nutrition and food security, poverty alleviation, and sustainable use of marine resources.
Development of the small-scale fishing sector is intended to enable fishing communities to participate in the full value chain, generating income not only from fishing but also related activities such as fish processing and sales, net-making and repairs and maintenance of fishing vessels and engines.
"We firmly believe that skills development and training must have a purpose, that it must lead to genuine opportunities for employment or for entrepreneurship, even to creating employment for others based on the skills that have been learned. We are confident that the Alternative Livelihoods Project will deliver on that vision," Baninzi said.
Entrepreneurship training had already started in the Ocean View community, Appoles said, and more than 90% of the participants said the skills already gained were "significant and had meaning for their ambitions".
He said training in construction skills was selected as the avenue to alternative incomes due to the demand for skills at all levels of projects in Saldanha, Cape Town and Port Elizabeth which the fishers could access.
The Alternative Livelihoods Project is set to run to the end of March 2020. The work of FADI is endorsed by the Food & Agriculture Organization (FAO) of the United Nations and the Food & Allied Workers Union (FAWU).
According to the FAO, small-scale fisheries and fisheries-related activities (processing, trading, boat building and repair, net-repairing, etc) are key to the livelihoods of millions of people globally and make "an important contribution to the nutrition, food security, sustainable livelihoods and poverty alleviation in many countries, especially developing countries".