A new era in trade and export has begun and the traders, logistics operators and ports of KwaZulu-Natal are in pole position to take up new opportunities. Not only is the province strategically located on the Indian Ocean but it already has excellent infrastructure which is being upgraded and improved.
The official date for the new era was 1 January 2021 for that date marked the launch of the African Continental Free Trade Area (AfCFTA). All but one of Africa's 54 countries have signed the agreement and a majority of countries have ratified it. Implementation was postponed for six months because of Covid-19.
Tariffs on 90% of items are due to be reduced in the next decade although more time has been allocated to poorer countries to allow them time to adapt.
The African market of 1.3-billion people is expected to grow to 2.5-billion by 2050 but the key statistic targeted by AfCFTA is intra-African trade. Exports to the rest of the world made up between 80% and 90% of Africa's total trade from 2000 to 2017 (UNCTAD). In 2019 about 27% of South Africa's exports were delivered to the rest of the continent.
As part of the Southern African Development Community (SADC) and the Common Market for Eastern and Southern Africa (COMESA), South Africa is already part of the most active regional bodies which are promoting integration and intra-regional trade. These regional groupings are best placed to start thinking beyond tariffs: more efficient customs posts, lower air-freight costs, better-run ports, regulatory alignment and improved rail and road infrastructure.
Even before AfCFTA was signed, one of the largest independent wire manufacturers in the country, Hendok Group, set about steadily increasing its exports to other African countries. With more than 1 000 employees at the factory in the Phoenix Industrial Park in Durban, the company makes a number of types of wires and is the country's biggest producer of nails.
Donald Trump's interests did not stretch to Africa during his presidency of the US but he preferred bilateral, rather than regional agreements so it is surprising that the African Growth and Opportunity Act (AGOA) survived the Trump years. The deal, which gives duty-free access to about 6 500 products from 39 Sub-Saharan countries, is due to expire in 2025.
As much as African countries' trade within the continent will grow, exports will remain key to adding value and attracting good prices. Trade between the US and Africa in 2018 was valued at $41.2-billion.
Awards and China
Opening up new markets is a priority for local business leaders. The Durban Chamber of Commerce and Industry partners with Transnet Port Terminals (TPT) in hosting the annual KwaZulu-Natal (KZN) Exporter of the Year Awards. At the 2019 ceremony, Durban Chamber Deputy President Gladwin Malishe said, "With the global economy in a state of flux and several developed economies becoming more protectionist, KwaZulu-Natal and our emerging exporters need to scout for non-traditional points of entry into the global market, which are more open and have more liberal trade policies and procedures such as China. This is an ideal time to visit a growth market like China if you have export aspirations, hence the theme for our event being Shanghai Nights."
The award winners on that occasion offer a good sample of the strength and variety of the provincial economy. Winners included Imperial Armour (body armour), Sappi (forestry and paper), Sumitomo Rubber (tyres) and the Mediterranean Shipping Company. Finalists came from sectors as diverse as engineering, condiment-making and boat-building.
Approximately 220 TEU equivalent containers (20-foot containers) of Sappi products pass through the Port of Durban every day.
At the awards evening, the Emerging Exporters Development Programme was launched, a joint initiative by TPT and the Durban Chamber to develop emerging exporters. The first beneficiaries were Get2Natural Beauty; Gugu Mobile Boutique; Samac Engineering Solutions; Siyazenzela Trailers & Truck Bodies and Zikhe.
The award for small and medium exports (a new category) was sponsored by the Small Enterprise Development Agency (Seda KZN).
One of the event sponsors, Trade & Investment KwaZulu-Natal (TIKZN), is an agency dedicated to promoting the province as an investment destination and to facilitating trade by helping local companies to gain access to international markets.
In 2020, 103 export opportunities were created with 20 companies enrolling for the exporter competitiveness programme. This initiative sustained 1 605 jobs, according to the Provincial Government of KwaZulu-Natal.
Another awards ceremony, organised by the South African Capital Equipment Export Council (SACEEC) and Specialised Exhibitions Montgomery as part of the Southern African Local Manufacturing Expo, saw Bell Equipment win the "Exporter of the Year" in the large category (over R200-million turnover). Exports to more than 80 countries make up about 40% of the company's turnover and local content of those exports is at 70%. Bell is best known for its heavy equipment which is primarily used in the mining and construction sectors.
Infrastructure
With two of Africa's biggest ports in Durban and Richards Bay and the King Shaka International Airport and associated Dube TradePort SEZ, KwaZulu-Natal has superb infrastructure to support trade and export activity. The N3 highway linking Durban with the Highveld and the industrial hub of South Africa is the country's busiest road.
Durban harbour is South Africa's premier multi-cargo port and is Africa's busiest, handling in excess of 80-million tons of cargo per annum (StatsSA). The Port of Durban is a key hub in the transport and logistics chain, with 60% of all imports and exports passing through it.
The Port of Durban exports a broad range of products, including automotive vehicles. In 2018/19, the year in which South Africa's total vehicle exports topped 350 000, Durban's Car Terminal boasted a record of putting more than 500 000 fully-built-up units (FBUs) through the port. The figure includes FBUs that are not motor vehicles and includes vehicle imports. Toyota's popular Fortuner is exported at a rate of about 150 per month.
All aspects of the port are expanding or being upgraded. Within the Port of Durban there are a number of specialised facilities. Several projects are underway to increase capacity. Transnet National Ports Authority (TNPA) and Transnet Port Terminals (TPT) are combining to upgrade infrastructure and buy new equipment to improve efficiencies at the Ro-Ro terminal (vehicles and break bulk) and Maydon Wharf (mixed cargo and agriculture) but the biggest project is at the Durban Container Terminal (DCT).
DCT has a capacity of 3.6-million TEUs (twenty-foot equivalent unit) and the current project aims to extend that beyond five-million TEUs. The Brics New Development Bank has approved a loan of $200-million for the DCT expansion project.
TNPA states that the multiplier effect in the marine sector creates five jobs for every direct job. A large drydock project created direct jobs for 29 skilled employees.
The Port of Richards Bay, 160 km to the north-east of Durban and 465 km south of the Mozambican capital of Maputo, handles more than 80-million tons of bulk cargo every year. Richards Bay is a deepwater port. Among its 13 berths are terminals that handle dry-bulk ores, minerals and break-bulk cargo.
The Richards Bay Coal Terminal (RBCT), with capacity of 91-million tons per year, is South Africa's primary portal for the export of coal. In 2020, 65 collieries delivered coal to RBCT. The quay of the RBCT is 2.2 km long with six berths and four ship-loaders. The 276 ha site contains a stockyard that can store 8.2-million tons while the terminal itself has a design capacity of 91-million tons per year. More than 900 ships visit RBCT every year.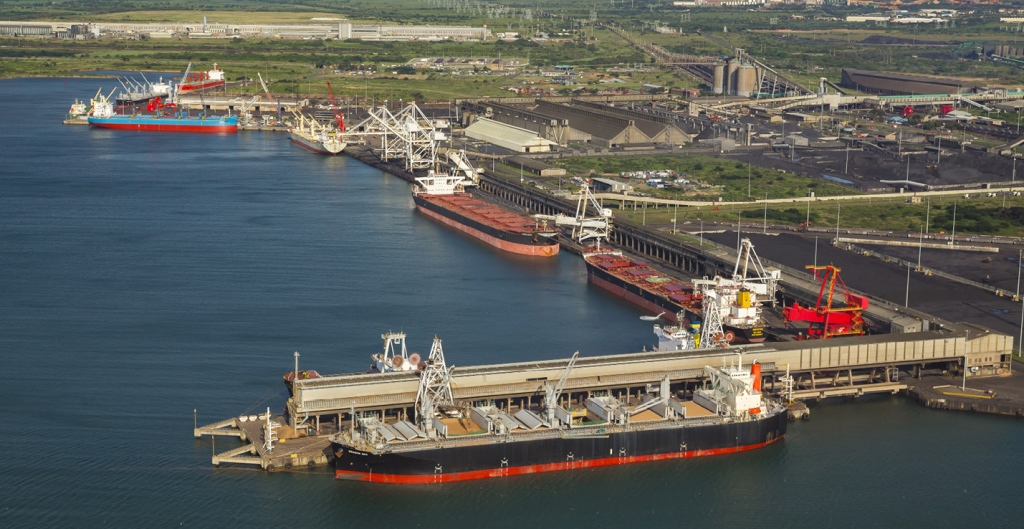 In 2020, 92% of South African coal went to Asia, with India and Pakistan being the biggest importers. Africa imported less than the previous year and made up a total of 5% of volumes while 3% went to Europe.
Among the exporters which use RBCT are Anglo Operations, ARM Coal, Exxaro Coal, Glencore Operations South Africa, Kangra Coal, Koornfontein Mines, Mbokodo, Optimum Coal Terminal, Sasol Mining, South African Coal Mine Holdings, South Dunes Coal Terminal, South32 Coal Holdings (which is selling to Seriti), Tumelo Coal Mines and Umcebo Mining. Several junior miners also have rights.
TNPA has approved in principle the construction of a floating dock near the existing Small Craft quay. TNPA will have to create new onshore infrastructure and do some dredging before it can call for tenders from the private sector to build the dock, which would be able to handle large and ultra-large cargo vessels.
The authority that runs the ports at Durban and Richards Bay, TNPA, and Transnet Freight Rail (TFR) have been working with the private sector to try to improve efficiencies at both ports. Backlogs at Durban in particular have proved frustrating for exporters. Logistics company OneLogix has opened its own distribution hub in Umlaas because of crowded conditions and slow loading.
The other entity involved in the loading and unloading equation, TPT, is investing R2-billion in new equipment to improve coordination between truckers, tax authorities, port staff and ship's captains.
Dube TradePort has facilities devoted to logistics, warehousing and export support. Proximity to the airport is vital and freight volumes are growing.
Financing
Four countries currently account for 41.7% of intra-African trade, according to the Export Credit Insurance Corporation of South Africa (ECIC). The ECIC has invested in the African Export Import Bank to boost intra-continental trade to $250-billion. The South Africa-Africa Trade and Investment Promotion Programme has the same goal.
The ECIC provides export credit and investment guarantees, stepping in where commercial banks might be risk-averse to support private investment.
Standard Bank has launched a product to assist African importers in evaluating and choosing Chinese suppliers. Faced with daunting variety, language and cultural differences, the prospect of having to pay cash upfront to unseen suppliers or limiting supply choices to a small group of previously used suppliers, African importers can use the Africa China Agent Proposition (ACAP) to validate quality while having sight of the logistics process. Standard Bank is using its partnership with shareholder the Industrial and Commercial Bank of China (ICBC) to create the ACAP, which puts importers in touch with agents and is underpinned by a letter of credit. Standard Bank is Africa's biggest bank and ICBC is the world's biggest bank.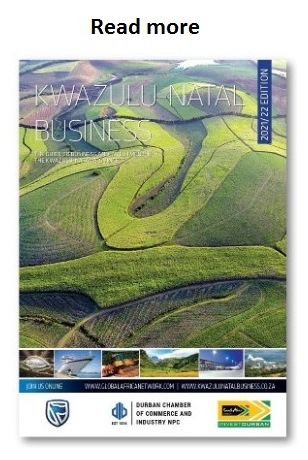 In preparation for AfCFTA, development finance institutions and banks have been developing methods of trading in local currencies, rather than hard currencies like the US dollar. The African Virtual Trade-Diplomacy Platform (AVDP) is a private-sector initiative by more than 20 companies (in partnership with the AU Commission) which will support the AfCFTA by enabling member states to participate effectively and securely.
Banking groups such as Citi have been investing heavily in digital platforms related to payments infrastructure. Many African traders already do their banking on hand-held devices and so the market is ready for more innovation in taking digital payments further into the world of trade.
Developing reliable cross-border payment platforms will be vital in supporting increased intra-African trade.
The European Investment Bank is the investment arm of the European Union and often partners with African institutions.
China has a wide range of financial entities which are active across a range of sectors in Africa. These entities include the China Development Bank (CDB), the China International Trade and Investment Corporation (CITIC), China Export and Credit Insurance Corporation (CECIC), China Export Credit Insurance Corporation (Sinosure) and the China Export-Import Bank.