It is widely acknowledged that agribusiness is the key to transforming African economies. It was certainly the core message at the 2019 AGRA Forum in Accra, Ghana and a constant topic of discussion during the African Agri Council (AAC) recent West Africa roadshow – the food and agriculture industry will power Africa's economic transformation.
African governments and development agencies are now prioritising agriculture to recapture the 'Africa Rising' narrative after the mid-2014 oil price shock.
The new narrative includes promoting the continent as a business and investment destination with a clear emphasis on "returns outweigh the risks". The potential for growth in African food and agriculture across the value chain is well documented, however realizing the continent's full agricultural and food potential will require significant investment – therefore paving the way for improved policies to attract foreign direct investment (FDI) rather than pursuing a donor approach.
Sub-Saharan Africa will need eight times more fertilizer, six times more improved seed, at least $8-billion of investment in basic storage (not including cold-chain investments for horticulture or animal products), and as much as $65-billion in irrigation to fulfill the industry promise. Further investment will be needed in basic infrastructure, such as roads, ports, and energy, plus improvements in regional trade flows, according to a recent Mckinsey report. "The report highlights an attractive landscape for investors, agribusinesses as well as highly innovative African and international start-ups to stimulate growth in the sector," said Ben Leyka, CEO of African Agri Council.
We need to create an environment for governments, agribusinesses, investors, financial institutions, development financial institutions (DFIs), donors, tax experts, consultants, technology innovators, machinery suppliers as well as seed and fertilizer manufacturers to explore bankable projects, opportunities and conduct the business of food and agriculture, hence the development of the African Agri Investment Indaba (AAII).
For the past three years, the African Agri Council (AAC) has hosted the African Agri Investment Indaba (AAII) to bring top executives, financiers, investors, project owners and policy makers together to discuss trends that influence food and agribusiness economics and investment landscape over the next decade in Africa. The fourth edition, said Mr. Leyka, focuses on high level closed sessions, investment masterclasses, strategic co-located events and an agri tour across the Western Cape to boost transactional discussions and strategic partnerships.
AAII 2019 will include topics such as Financing of Agri Business: Links Between the Type of Capital Needed for Success, Mix Funding and the Duration of the Traditional Private Equity Fund and Tax Implications in African Food and Agriculture – Technology Adoption Throughout African Food and Agriculture – The Growing Role of Supermarkets in Africa's Food Security and Commodity Value Chain Development – Africa Food and Agriculture Investment Landscape: Mitigating Political Risks In the Transformation of Agriculture – Successfully Transforming Economies: Africa's Seismic Shift from Import Reliance to Self-Reliance – Funding the Future and Tackling Thorny Issues: The Next Frontier for Financing Agripreneurs.
"The future of food in the world will depend on what Africa achieves in agriculture," said Dr Akinwumi Adesina, President of the African Development Bank (AfDB), "…and should therefore should be at the top of the global food security agenda."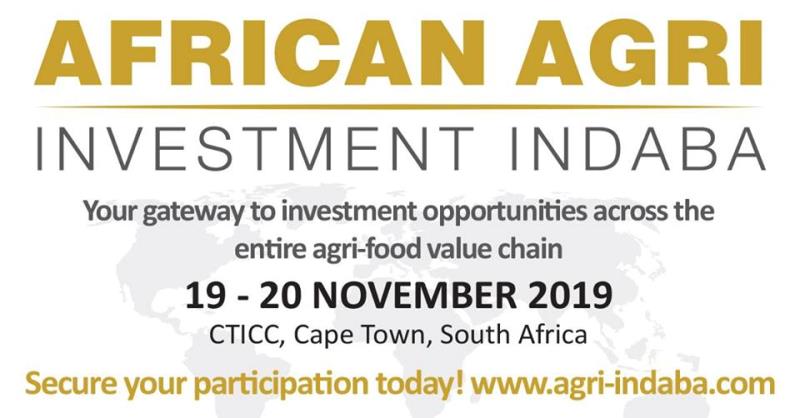 Africa's agribusiness industry is predicted to reach US$1-trillion by 2030 – a mere 11 years away!
Africa's largest movers and shakers see agri-investment as one of the fastest growing investment sectors. Patrice Motsepe and Aliko Dangote are two of them.
Investors attending African Agri Investment Indaba
International investors, including leading international DFIs, private sector financiers, commercial banks are amongst the delegates attending:
ABSA / AfDB – African Development Bank Group / AFGRI Technology Services / Afiding Capital / Africa Merchant Capital (AMC) / AGRI-INVEST / AIIM / Almayar Investment LLC / BIO-Invest / Chancellor House Investments / Creadev International / DEG Equity / Mezzanine / EBS Impact Investing / FarmBuilders (UFF) / Finnfund / FirstWave Group SA / FMO / FNB / Hivos Impact Investments / IDC – Industrial Development Corporation of South Africa / IFC / Investpire / John Deere Financial – Sub-Sahara Africa / MIGA (Multilateral Investment Guarantee Agency) / Mintirho Foundation (Coca-Cola Beverages SA) / NIRSAL / Norfund / One Stop Investment Services Centre / Proparco / RMB / Rockefeller Foundation / SilverStreet Capital / Vemado Investments / Vumelana Advisory Fund / World Bank
---
Closed Sessions and Investment Discovery Sessions
The Africa Agri Investment Indaba (AAII) and its partners are delighted to welcome international delegations to the fourth edition of AAII seeking business and investment opportunities in the African food and agriculture sector. At the heart of AAII 2019 are the Closed Sessions and Investment Discovery Sessions facilitated by our specialized B2B Matchmaking service.
AAII Closed Sessions are by-invitation-only high level meetings focused on transactional outcomes between high level government officials, financial institutions, investors, and selected private sector stakeholders. These sessions highlight key global trends that are driving long-term investment fundamentals; increase in the world's population, urbanisation, and shifting government policies.
More investors are choosing to allocate some of their portfolios into agriculture, especially given today's lofty equity prices – our Investment Discovery Sessions will host both medium and large scale commercial businesses (farming, processing and ag-tech) seeking capital to expand their operations and venture into new markets.
---
Fast growing ag-tech areas where investors want to be
Precision farming, yield monitoring, livestock and soil monitoring are just some of the super-fast growing ag-tech areas where investors want to be at. "We have never experienced so many tech businesses emerging in the agri space and we find that commercial banks are increasingly investing in the food and agri sector. It's the new gold" says Julia Barton-Hill, Director of Investor Relations at the African Agri Council and Bell Crescent Partners, an advisory firm in the Agri and food investment space. She adds "This is exactly why we decided to add a dedicated ag-tech program to the conference for the first time".
Adapting to agri technologies means being more profitable, but current businesses also need additional funding to expand. Nationally or internationally – agribusinesses want to establish their brand in new regions and markets.
---
Two day technical agri tour
Extend your stay for a two day technical agri tour from 21 to 22 November 2019.
Join us as we tour the Western Cape and visit high end farming enterprises to get better insight into the South African agricultural best practices and techniques as well as the latest equipment and technology. This is an opportunity to benchmark your business against some of the most advanced and successful agribusinesses on the African content.
Find out more
If you are an investor in the food and agri space don't miss this high level networking event!
For special investor rates please contact Julia Barton-Hill, Director of Investor Relations, on Julia.bartonhil@agricouncil.org