An investment in 2007 in an acre of land in Juja, a small town 30 km north of Nairobi, would have earned a savvy speculator a return of 1 428% in 2019. That's according to The Economist, which also cites an estate agency's report that Nairobi's land prices have risen sixfold in 24 of the city's 32 suburbs and satellite towns in just over a decade.
About 40% of Africans live in cities but that figure is climbing fast. By 2030, the continent will have six megacities. Accra, Cairo, Kinshasa, Lagos, Nairobi (pictured) and Johannesburg are currently big conurbations, but they are expected to grow even further. By 2050 there will be an additional 900-million Africans living in cities, according to the African Urban Dynamics report of the Mo Ibrahim Foundation.
One of the drivers of urbanisation is migration. The top five destinations for African citizens moving within Africa are South Africa, Ivory Coast, Uganda, Nigeria and Ethiopia. The United Nations Conference on Trade and Development (UNCTAD) reports that migrants quite often make significant contributions to the host country's gross domestic product (GDP). Migrants in Ivory Coast, for example, contribute 19% to that country's GDP.
Rapid urbanisation presents challenges in terms of providing the necessary infrastructure, but it also represents an opportunity for the private sector. Rapidly expanding markets offer private companies the chance to sell their goods and services and to build infrastructure, possibly in conjunction with state entities.
Electrification, accommodation, transport, water and sanitation and telephony are just some of the types of infrastructure that cities need. Difficult and expensive as the provision of services is, large groupings of people can also be a blessing in that large-scale projects can be rolled out reaching tens of thousands of citizens. Urbanisation also creates ready markets for retail enterprises and a potential workforce for manufacturing and industry.
The thrust of The Economist's March 2019 article ("Destroying the city to save it") was that poor planning and corruption are threats to Africa's hopes of making its cities more liveable and efficient. Using Nairobi as its example, the newspaper cited a shortage of skilled urban planners, weak government investment and unclear zoning laws as other barriers to success. A Nairobi city regeneration taskforce was established in 2017 and government plans to build 200 000 low-cost houses.
Whatever the obstacles, Africa has to find a way to deal with urbanisation. Several countries, Egypt and Senegal among them, are conceptualising brand-new cities where a fresh start can be made with good planning and sustainability as a part of the process.
The African Development Bank's latest estimates put Africa's infrastructure needs at between $130–170-billion per year, with a financing gap in the range $68–$108-billion. The gap can't be closed quickly but the bank (AfDB) makes the point that not being able to fully fund everything does not mean that a start should not be made. The bank has devoted 60% of its funding to infrastructure projects since 2009. In the five years to 2018, the AfDB allocated $6-billion to energy projects: more than 640-million Africans have no access to energy.
Africa's best chance of delivering infrastructure is through cities and development corridors. Cities allow for projects to be done on a big scale and development corridors can be tackled on a project-by-project basis with clear deliverables and timelines. Another fast-tracking device for infrastructure delivery is the Special Economic Zone (SEZ), a dedicated parcel of land which attracts investors with special incentives and bespoke facilities.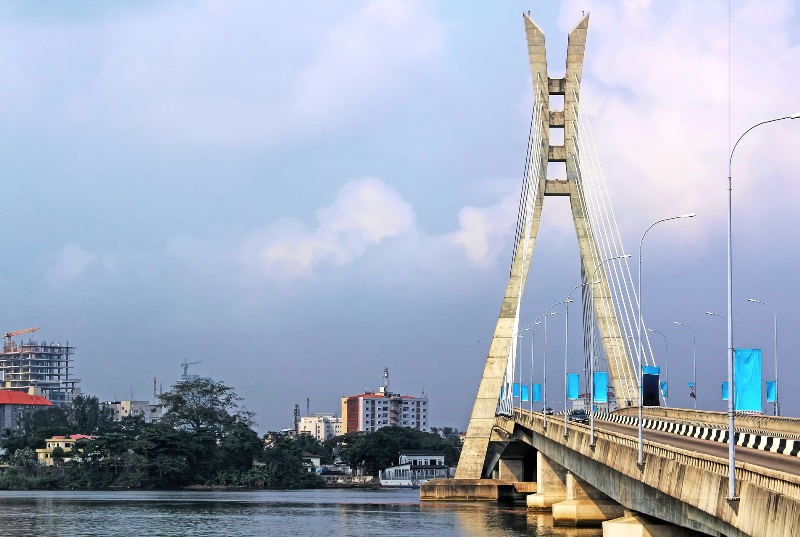 Infrastructure
The World Economic Forum calculates that for every dollar spent on infrastructure, an additional 5% to 10% in economic growth is added.
In 2016, commitments to Africa's infrastructure were made totalling $62.5-billion. This was the lowest figure in five years, mainly because of a reduction in Chinese commitments. The sector which attracts the most funding is transport. The figure for transport has fallen somewhat in recent years, after peaking in 2014. In 2015, transport spending was $32.4-billion; in 2016 it was $24.5-billion.
The number one source of infrastructure funding in Africa is national governments. In 2016, governments committed $26-billion. About half the funding for infrastructure in Africa comes from bilateral and multilateral institutions such as AfDB and the World Bank Group. Private investors raise about 4% of the funding devoted to infrastructure on the continent.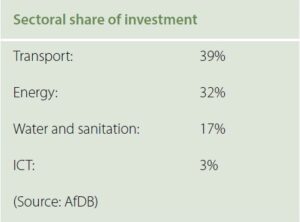 With East Africa consistently showing good growth rates, it is no surprise to learn that infrastructure construction is expected to experience good growth in that region.
GlobalData reports that the figure for infrastructure spend in 2017 was $25.9-billion in Ethiopia, Kenya and Tanzania. The analytics company believes this will likely to climb as high as $98.8-billion in 2022.
The formation of the Sustainable Development Investment Partnership (SDIP) in 2015 has helped to focus funding on infrastructure. The World Economic Forum (WEF) and the Organisation for Economic Co-operation and Development (OECD) initiated the idea and a further 28 institutions have joined, including the Senegal Strategic Investment Fund (FONSIS), the Development Bank of South Africa (DBSA), US Agency for International Development (USAID), the Bill and Melinda Gates Foundation and the Industrial Development Corporation of South Africa (IDC). At the WEF hosted by Rwanda in 2016 a commitment was made to ensure that 16 infrastructure projects valued at more $20-billion would be implemented.
As further proof that there is an appetite for investment in Africa, the Emerging Africa Infrastructure Fund (EAIF) announced that it had raised $385-million in a fundraiser in 2018. The EAIF, which is part of the Private Infrastructure Development Group (PIDG), is investing over a five-year term in what are called "fragile" states.
To date, EAIF has invested nearly $1.3-billion which was pivotal in attracting more than $10.9-billion of private capital investment to over 70 projects in 22 Sub-Saharan countries. Allianz Investment Management and Investec Asset Management are investors in EAIF. Others include Standard Chartered Bank, the African Development Bank, FMO (a Dutch development finance institution) and KFW, the German development bank. AfDB is providing a total of $75-million over 10 years, Standard Chartered Bank is extending its existing lending to $50-million.
Separate articles on energy, transport and logistics and ICT appear elsewhere in the African Business 2020 edition journal.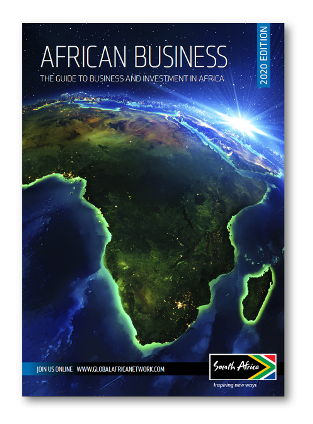 Cities
Cement manufacturer PPC is gearing up for the exponential growth of African cities. The company's roots are in South Africa, but it has invested, and is investing, in Zimbabwe, the Democratic Republic of the Congo, Rwanda, Botswana and Ethiopia. Its Rwandan investment has turned that country into a net exporter of cement.
PPC's projections are that producers of cement will need to provide 1 000 kg per person in Africa for the next 35 years to keep pace with the coming building boom. The current average in Africa is 175 kg per person against a world average of 500 kg. Given that the production of cement is a big source of greenhouse gases, the planet will have to hope that African cement producers' efforts to reduce carbon emissions are successful.
An ambitious Egyptian project aims to create a new city east of Cairo, a response to projections that the capital city's population will rise to 50-million on its current trajectory. Intended to cover a land area of around 700 km², the first phase caters for government departments, the parliament and housing.
The development company is majority-owned by the state through the military and the China State Contracting Engineering Corporation (CSCEC) has a number of contracts within the development. CSCEC was also involved in the construction of the African Union (AU) headquarters in Addis Ababa and the Great Mosque of Algiers. In 2019 a cathedral and a large mosque were dedicated in what is being called the "New Administrative Capital".
The 390 m Nile Tower will be Africa's tallest building. Work on the huge building commenced in 2019 and it will provide 35 000 m² of hotel accommodation and 60 000 m² for residential accommodation.
Other future cities include efforts by Lagos to reclaim land and build a new urban centre, Eko Atlantic City, and a Senegalese initiative to reduce pressure on Dakar with the creation of Diamniadio Lake City. The latter project, set to be completed in 2035, makes provision for a university, an industrial park, entertainment venues and state ministry buildings. The proposed city is close to Blaise Diagne International Airport.
Several planning initiatives are tackling urban issues in the African context. One of them is "Future Cities Africa", a joint initiative of Cities Alliance and UK's Department for International Development. The aim is to assist cities to balance environmental risk and manage demographic change while at the same time achieving inclusive economic growth. Arup, an engineering and design company, has conducted studies on nine cities in four African countries as part of this project. The study is called "Future Proofing City".
One of the biggest issues facing cities is financing. Kampala has introduced property taxes as a new source of revenue, but as a representative of the Royal Institution of Chartered Surveyors told Summit Africa 2018, "To keep pace with urbanisation, cities can't rely solely on user or property charges to retrofit and expand themselves."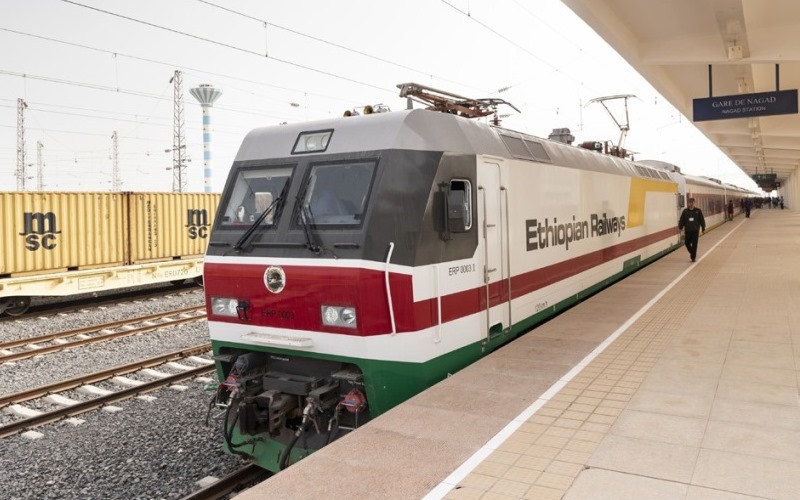 Corridors
Africa has several transport corridors and is planning many more. The African Union's Agenda 2063 calls for all African capitals to be linked by road, rail and air. The African Union Commission and China have signed an agreement related to this goal.
The AU's Programme for Infrastructure Development in Africa (PIDA) was adopted as a strategic programme in 2012 but it has become much more active as "corridor thinking" has started to focus on hard issues such the standardisation of railway gauges, border control protocols and port efficiency.
To get an idea how important these initiatives are, it is estimated that African port charges are 40% more expensive than the global norm and that more than 70% of delays in cargo delivery arise from wasted time spent in ports (AfDB).
Transport prices dropped 70% under the Northern Corridor Transit and Transport Agreement in the five years to 2015 because logistics infrastructure was improved. In the same period, the Central Corridor (Dar es Salaam to Kampala) recorded 80% price rises.
This is a selection of some of the corridor developments PIDA is working on:
Beira-Nacala Multimodal Transport Corridor: a modern railway system to be implemented between the ports of Nacala and/or Beira and the coal-exporting region of Moatize in Mozambique
Central Multimodal Transport Corridor: upgrading and modernisation of roads between Tanzania, Uganda, Rwanda, Burundi and the Democratic Republic of Congo
Djibouti-Addis Transport Corridor: upgrading of 710 km of railway and six smart corridor modules between Ethiopia and Djibouti
North-South Multimodal Transport Corridor: a smart corridor system for road and rail on the multi-modal African Regional Transport Infrastructure Network in Southern Africa
Southern Africa Hub Port and Rail Programme: a master plan for regional port capacity in the Southern African Development Community.
****
Article by John Young
This article first appeared in the African Business 2020 Edition. Find more African business and investment insight here (e-book):