The Masisizane Fund ('Masisizane') is an Old Mutual initiative that was established in 2007 following the closure of the Unclaimed Share Schemes Trust in consultation with the National Treasury of South Africa.
Our mandate is to contribute to job creation, reduce inequality, promote economic growth and support, develop and promote entrepreneurship, while attracting investment to SMMEs.




Related to Masisizane Fund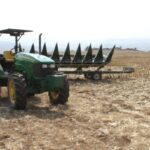 Masisizane is passionate about economic development in rural areas.
The Masisizane Fund invests in SMMEs that have a registered business, in addition to a clear marketable product or service, and that create and retain jobs.