Background
Vedanta Zinc International proposed that a smelter be built to treat zinc concentrate produced at the Gamsberg Zinc Mine. The zinc smelter – located in the proposed Namakwa Special Economic Zone in the Northern Cape – will produce waste products for disposal.
The full smelter process would involve the treatment of 680 000/tpa of zinc concentrate to produce 300 000/tpa of high-grade zinc ingots for export. As a by-product, 450 000/tpa of 98.5% pure sulphuric acid will be produced for both export and consumption within South Africa.
Sulphuric Acid
Sulphuric acid is a very important commodity chemical since a nation's sulfuric acid production is a good indicator of its industrial strength.
Sulphuric acid, also known as vitriol, is a mineral acid composed of elements sulphur, oxygen and hydrogen, with molecular formula H2SO4. It is a colorless and odorless liquid that is soluble in water and is synthesized in reactions that are highly exothermic.
Usage of sulphuric acid:
Single Super Phosphate Fertilizers
Zinc Sulphate
Phosphoric Acid
LABSA for detergent
Chemical Gypsum for Cement Industries
Metal Industry
Specialty Chemicals
Dyes
Markets for sulphuric acid:
The fertilizer market for domestic and international single use.
Organic chemical industry. Production of plastics and synthetic fibers.
Production of Titanium dioxide pigment (chemical formula: TiO2) consumes large quantities of sulfuric acid. TiO2 is a white pigment used in paints and plastics.
In the metal industry, sulfuric acid is used for pickling ferrous and non-ferrous materials and in the recovery of copper, nickel, and zinc from low-grade ores.
Finally, the petroleum industry uses acid as a catalyst for various reactions.
International consumption
The following pie chart shows world consumption of sulfuric acid in 2017: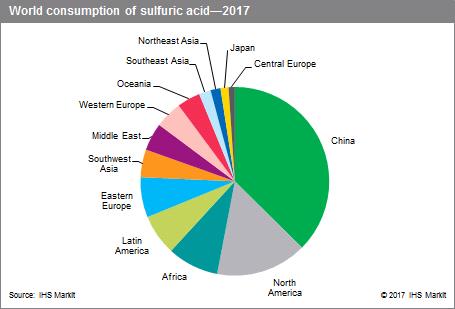 South African sulphuric acid consumption
**Agricultural chemicals, primarily fertilisers account for 68 percent of sulphuric acid consumption followed by petroleum refining with 24 percent and metal mining's 5 percent. The remaining 3 percent is used in a range of other industrial applications (see Figure. 6 below).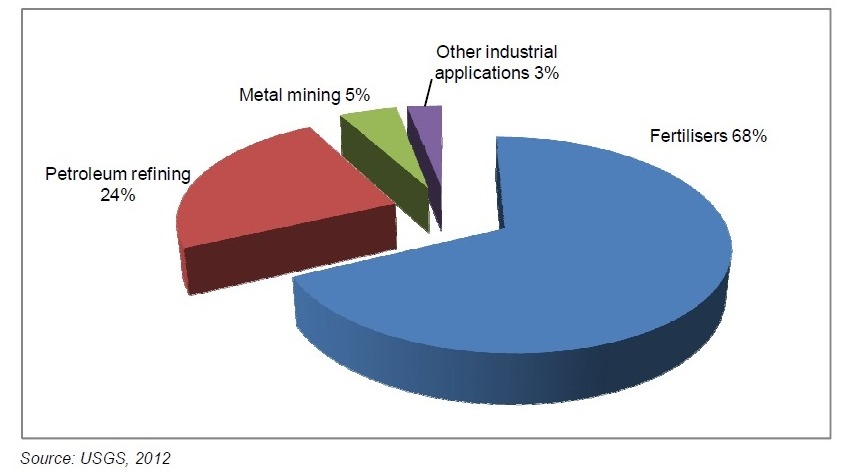 ***The fertilizers sector accounts for the substantial market share of Sulfuric Acid and is estimated to remain dominant in the coming years. This may be because of growing population and demand for high quality food and fertilizers increase crop yield.
Long term opportunities
Sulphuric acid value addition on the 1 250 ha Namakwa SEZ site or for the domestic and export market.
Located on industrial land with SEZ status and benefits. Greenfield opportunity for complete value chain establishment.
The Namakwa SEZ long term opportunities include the linkage to the Boegoebaai deep-water port for export potential and the linkage to the Western Cape.
Specialized transport services for sulphuric acid due to corrosiveness can be mainly ascribed to its strong acidic nature, and if at a high concentration, its dehydrating properties.
Future growth in sulfuric acid consumption will be driven by increases in population and the extent to which people in the developing world switch to increased nutrition-rich food crops that require significant quantities of fertilizers. It will also be influenced by the rate of increase in production of biofuels, especially corn-based fuels. ****
Contact:
Potential investors are asked to contact the Northern Cape Department of Economic Development to express their interest:

Sources:
* The Draft Scoping Report, Non-Technical Summary, Prepared by SLR Consulting, January 2020
** Review of the Sulphur Industry in the Republic of South Africa, 2020 – Department of Mineral Resources
*** South African Fertilizers Market Analysis Report, 2018 – Department of Agriculture, Forestry and Fisheries
**** Sulphuric Acid Chemical Economics Handbook –https://ihsmarkit.com/products/sulfuric-acid-chemical-economics-handbook.html