The Blesbok Project
Blesbok is a mobile water provisioning system for the military which is able to purify all types of water including ground water, sea water and reclaimed water. In addition, the unit can exploit surface water, store water and deliver water packaging via sachets and bottles.
The problem
The South African National Defence Force needed to update its water provisioning systems for rapid deployment forces. Eight companies submitted bids. The signing of the deal by the Armament Corporation of South Africa (Armscor) to develop the state-of-the-art Blesbok Project was a watershed moment for Malutsa.
Long associated with 21st-century technology and world-class standards in the field of water treatment plants, the large and sophisticated Blesbok Project has given the Malutsa staff a chance to shine.
Experience
The Malutsa team has experience of delivering high-quality water in remote areas. With the North-West University, the Water Research Commission and the Meridian Trust, Malutsa delivered a desalination plant to the village of Madibogo, converting polluted ground water to potable water. When the Indian Ocean tsunami hit in 2005, Malutsa was part of the solution in providing water to disaster-struck communities.
The solution
Conceived and designed by Malutsa engineers and staff, the Blesbok mobile plant is tough enough to cater for bone-dry deserts and the bucking decks of navy boats at sea: it goes where the military goes.
It is also versatile enough to use whatever water is available to produce drinkable water. The unit needs to be configured to cope with each kind of source water (it can't do two kinds at the same time) but easy-to-follow instructions are built into the unit and every component has its place so it's easy to see if something is missing.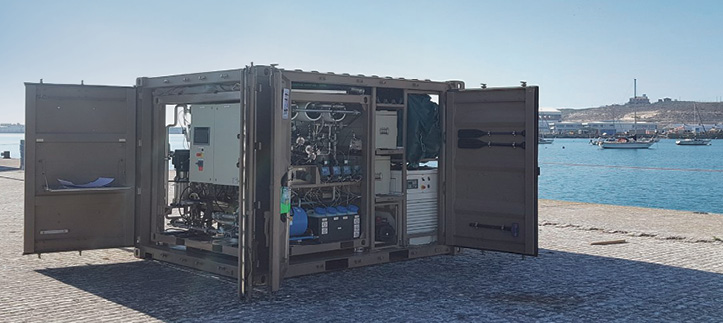 Storage and delivery
Water is stored in two ways: self-supporting tanks and bladder tanks. The self-supporting tanks have a capacity of between 10 000 and 40 000 litres while the bladder tanks can hold between 3 000 and 10 000 litres.
Blesbok is also a self-contained packaging unit. In an hour, the unit can either produce up to 1 200 sachets of purified water or can fill up to 1 200 one-litre bottles.
Factory
With the contract won, Malutsa had to produce 60 mobile purification plants in short order. Having built and developed Malutsa House themselves (and essentially sponsored the creation of a construction company to get it done), Malutsa set about building another new warehouse and office complex across the road from headquarters in 2015 to accommodate the punishing production schedule for Blesbok.
By 2017, the spanking new factory space was up and running, together with an office complex. Altogether the new space covers about 4 000 square metres within the Wellington Industrial Park.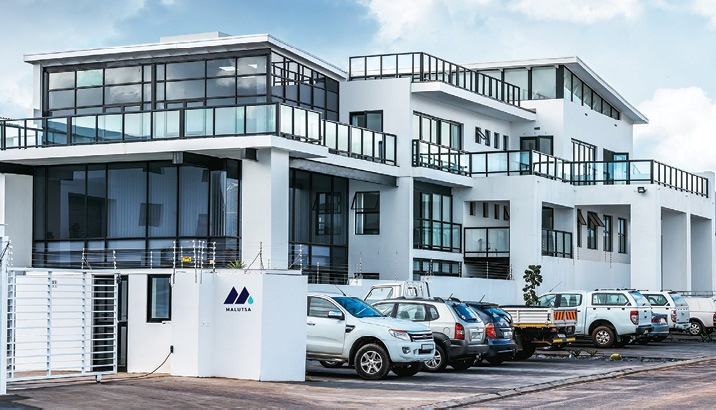 Applications
The Blesbok Project was designed for military use and so there will be other militaries around the world who become potential buyers for this innovative and successful product.
But the potential applications of the technology are vast. Few clients will be as demanding as the military and so there is enormous potential for producing versions of Blesbok that might be less robust but no less effective.
Villages in remote areas that need pure water, aid agencies that regularly need to respond to crises such as flooding or earthquakes, refugee camps that spring up overnight without any infrastructure, government departments or research bodies doing work in water-scarce areas – all of these are possible applications for future iterations of Blesbok.
Empowerment
As much as Bernard Cannon and Nathan Herbert are the company founders and the institutional memory of Malutsa, the young staff members who are taking the tubular reverse osmosis and membrane technology forward are clearly committed to the project and eager to learn. The work ethic at the company is strong, and the sense of pride in the Blesbok Project is tangible.
Contact Malutsa
For world class solutions in desalination, water treatment, effluent treatment and specialised separation of process streams, contact Malutsa to discuss your requirements:
Error: Contact form not found.