The South African financial industry heavyweights – Banking Association South Africa (BASA), Financial Sector Conduct Authority and National Treasury, together with the Department of Basic Education and FinMark Trust, hosted the 8th Annual Global Inclusion Awards Ceremony as part of the 5th Child and Youth Finance International Global Summit on the 19th June 2019.
Organised by Child and Youth Finance International (CYFI), the awards were put together to celebrate companies and individuals who strive to make a difference in the financial integration and support for children and youth.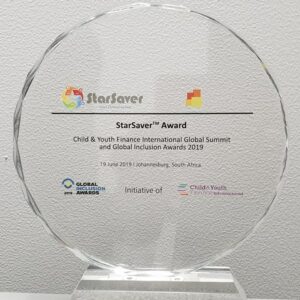 It was an honour for Ubank to be awarded the StarSaver™ Award, especially during Youth Month! This award is bestowed upon the financial sector organisations who provide general financial literacy programmes to instil a culture of saving in children and youth.
As a token of appreciation from the organisers, we value this award and I know it will further motivate the Ubank staff to continue going beyond their mandate to help our young to be financially savvy, said Nono Bam, Head CSI, Ubank.
Having deliberate conversations with our young, whether formally or informally, helps them to shape their financial futures. It enables them to understand the value of money, the need for savings versus spending and to make the right decisions when coming to money in general. These skills will help them to become informed adults in the future. Financial literacy is a skill that is crucial to everyone in order to be effective participants in our economy.
A special thank you goes to all the Ubank volunteers who have supported the literacy programmes over the years and delivering on savings lessons in schools. Bam concluded that, had it not been for them, this award would not have been possible.
For more information about Ubank, visit www.ubank.co.za