To Rent: Ga-Rankuwa Factory, Stand 19-20
The NWDC has a large factory available to rent, situated on Stand 19-20 in the Ga-Rankuwa industrial area in the City of Tshwane Municipality.
The actual factory area comprises 6 368 square meters.
The entire rentable complex consists of the large, main factory building, complemented by a loading area, offices, ablution facilities, a carport, etc.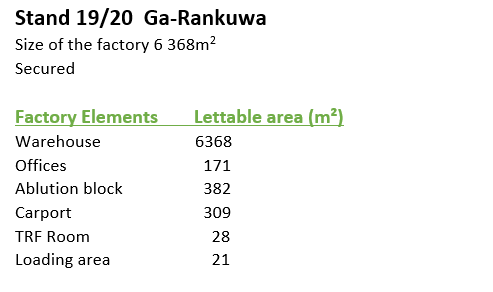 Successful tenants will be required to enter into a rental contract agreement.
For enquiries, contact Ga-Rankuwa tenant coordinator Patricia Mogomotsi on telephone 012 703 3371 or patriciam@nwdc.co.za.
Machinery shown on images is not included.
Message the NWDC
You may also send a message to the North West Development Corporation here:
---