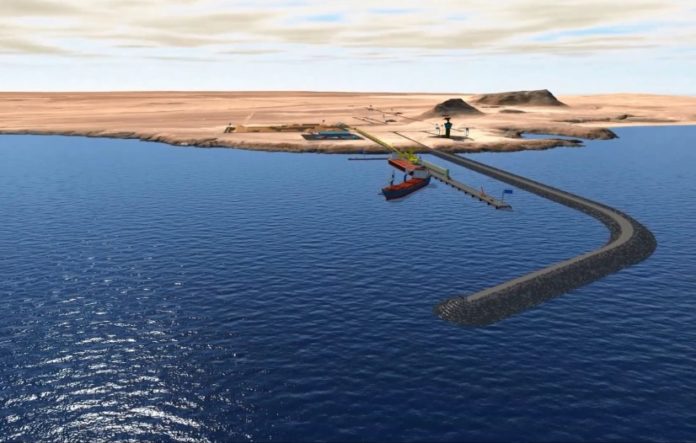 Boegoebaai Port, Rail and Infrastructure Development Project
The Boegoebaai Port, Rail and Infrastructure Development Project is a greenfield, deep-water port development comprising two berths; one dry bulk export berth and one break bulk berth, supported by a 550 km railway line. The port has the potential to accommodate Capesize vessels.
Background
During the latter part of 2012, Phakamile Engineering was appointed by the Northern Cape Department of Transport, Safety and Liaison (DTSL) as the Project Management Unit (PMU) for the four key transport infrastructure projects within the Northern Cape Province. One of the projects encapsulated the Port Nolloth Harbour Development Project and initiatives that could stimulate economic development within an impoverished community and in the province in general.
As a result of this, DTSL and the Transnet National Ports Authority (TNPA) began discussions during May 2013 between the PMU and marine engineering consultants in Stellenbosch, Western Cape, who were commissioned to conduct a Status Quo and Options Report for the Port of Port Nolloth. The outcome of the study reflected that Port Nolloth was not a feasible concept to create a deep-sea port due to its depth and other technical aspects surrounding the port.
The Northern Cape has the volumes of commodities needed to warrant a deep-sea commercial port, specifically as a result of mining and agricultural activities; however, all these commodities are transported to other provinces for export purposes.
Interactions with various stakeholder groups indicated that there is a need for a deep-sea port in the Northern Cape. It was therefore proposed to investigate alternative sites due to the technical challenges at the Port of Port Nolloth. Boegoebaai was investigated and recommended as an alternative site. This site has all the advantages for the potential development of a deep-sea port, namely:
The 20-metre contour is found 250 metres offshore which is a rare phenomenon along the coastline of South Africa.
It is a greenfield site owned by the people of the Richtersveld, the Community Property Association (CPA).
Targeted sectors:
The Boegoebaai deep-sea port will focus on exporting bulk commodities (such as manganese, iron ore, etc.), breakbulk (such as agricultural produce, etc.) and container staging. Apart from commodities, the following will also be included into the port concept:
Development of an oil refinery with a processing capacity of 200 000 barrels of crude oil daily.
Establishing a world-class green ship recycling facility.
Primary drivers for the development include:
Capitalise on new economy, including:
Iron ore from junior miners, creates a catalyst for junior / development miners currently constrained by high transportation costs and exclusion from larger logistic solutions i.e. Sishen-Saldanha line.
Provides a more efficient logistic manganese route.
Strategically positioned to capitalize on gas fields.
Services base for oil, gas and offshore mining industry.
Potential of an oil refinery to be constructed close to the port.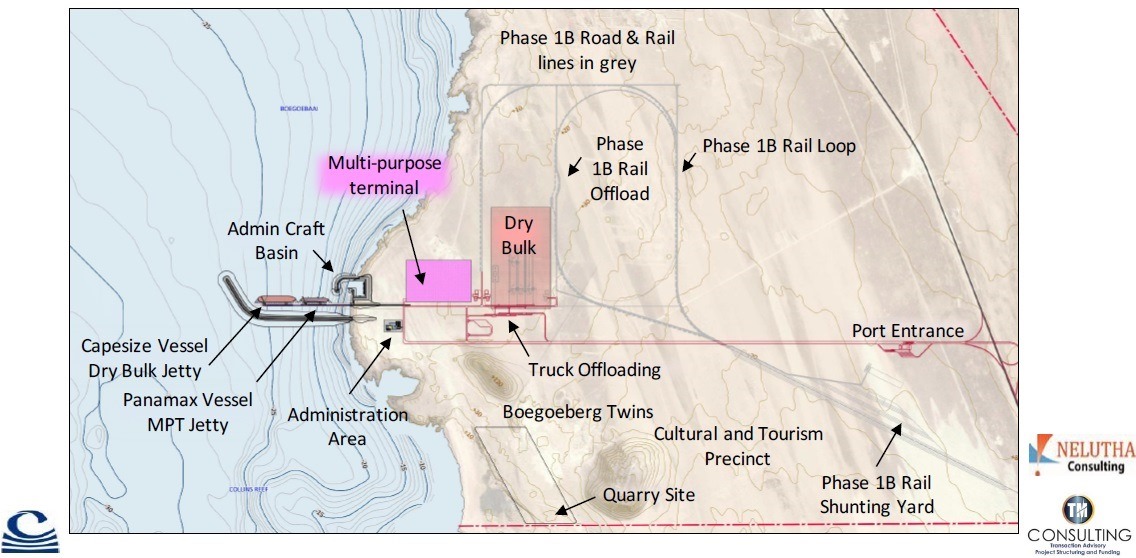 Broader purpose of the project:
Reduce the economic cost of moving cargo within the Northern Cape hinterland.
Unlock greater export logistics capacity for minerals from the Norther Cape.
Optimise the cargo distribution within the South African port system.
Stimulate regional and provincial socio-economic development.
Secure a competitive advantage regionally for South African ports.
Offers an alternative to Saldanha Bay for exporting surplus volumes of minerals.

Results from initial Cost Benefit Analysis (November 2019)
Capital cost: R12-billion
Temporary jobs created during construction: 1000 per year over 3 years
Permanent jobs created at the port: 400
Permanent jobs in transport sector: 1000 drivers and 1000 assistants
Export volumes:
On average 10 Megaton per Annum of dry bulk – mainly Manganese
On average 30 000 TEU's per Annum – mainly Agriculture
Import volumes:
On average 1,5 Megaton per Annum – mainly diesel
On average 100 000 TEU's per Annum – general cargo
Contact the project managers below for more information.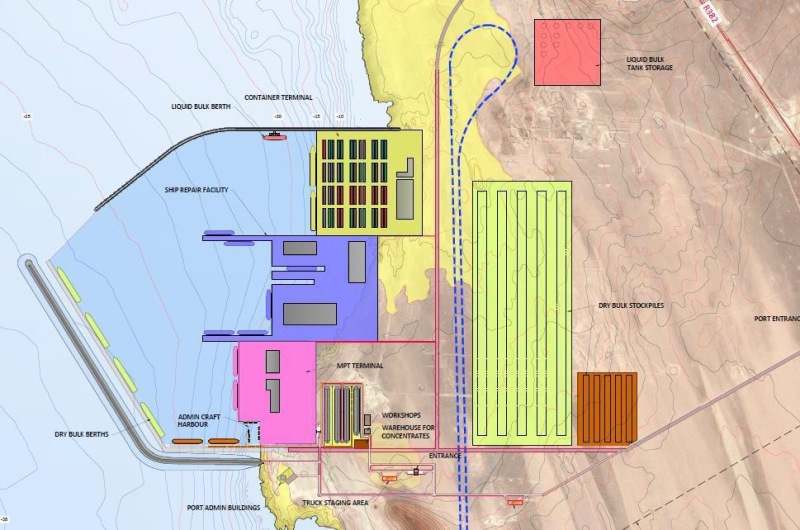 Project Status (November 2019:
The following have been completed:
Project Feasibility/Business Case
Port and Marine design FEL2
Landside Infrastructure FEL2
Rail Connection FEL1
Roads External to the Port FEL1
Commodity Mix /Demand Flow studies
A Total Spend from the NC government on the above Technical and Commodity Mix/Demand flow was R69.9-million.
An application to DBSA is in progress to fund the balance of the studies to the amount of R418-million.
The following documents are available:
Transport Investors Report, 2011
Business Case: Port Nolloth Harbour Development Project
Gap Analysis: Port Nolloth Harbour Development/Boegoebaai Deep Sea Port Project
Port Competitor Analysis
Boegoebaai Port Commodity Mix
Feasibility Report (end of May 2019)
Funding Model
Public-Private Partnership to be adopted
Multi-tiered sub-concessions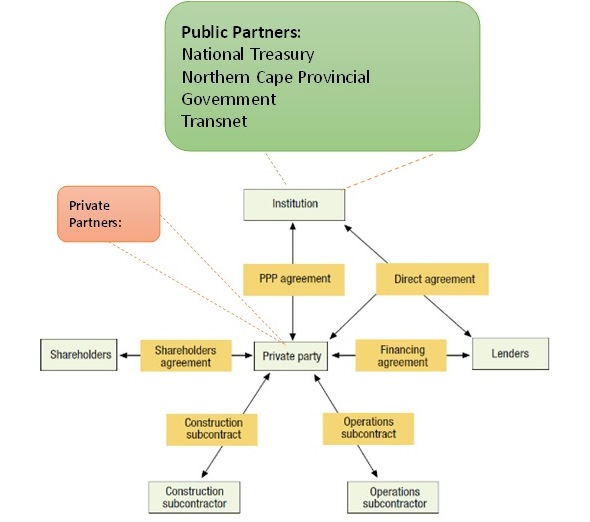 Risks
The risks to an investor of undertaking this project are spread across many elements, due to the fact that:
There is demand for several potential commodities to transit the port.
There is an underlying mineral high volume demand for Boegoebaai and other South African port services.
There are a number of terminals to potentially operate within the port.
The port has a broad number of revenue streams, which limit the risk of reliance on one or two revenue sources.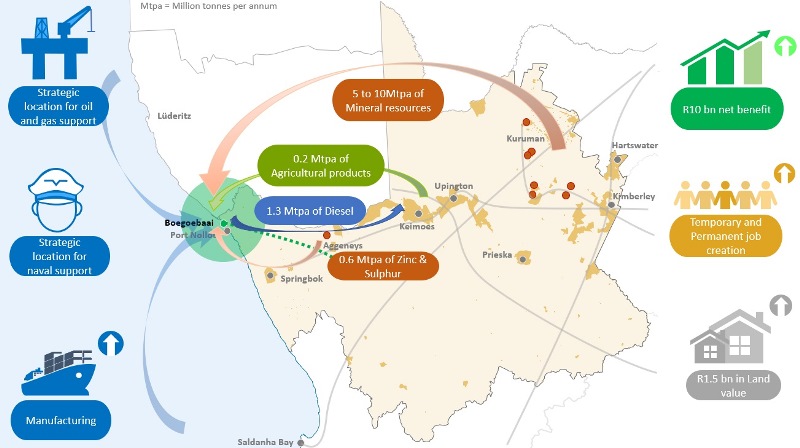 The way forward
Interim bridging finance (Sept 2019 – April 2020)
Establishment of project management office
Engagement with key stakeholders
Establish project data bank and document control
Setup PIM and EOI documentation
Setup RFQ documentation
Setup Scope of Work for specialist advisors
Setup Scope of Work for site investigations
Setup Scope of work and agreements with CSIR for port hydraulic model
Setup Scope of Work and agreements for metocean monitoring
Setup Scope of Work, commence scoping study for environmental process
Proceed with Basis of Design and layouts for FEL3
Contact
Potential investment partners interested in partnering with this project are invited to contact the project managers with subject line 'Boegoebaai Port and Rail':