Upington Industrial Park
Upington Industrial Park is situated next to Upington International Airport and therefore offers the potential investor the luxury and efficiency of the various modes of transport.
About Upington
Upington is the second-biggest town in the Northern Cape Province of South Africa. Upington is situated 130 km from the Namibian border post and about 350 km from the border post of Botswana, with good access roads such as N10 and N14 effectively linking up Namibia and Botswana.
Upington is 500 km from Boegoe Bay's Port Nolloth – one of the Ports earmarked for the integrated planning of South Africa's Oceans Economy under the Operation Phakisa programme and which is to be developed into a deep water port.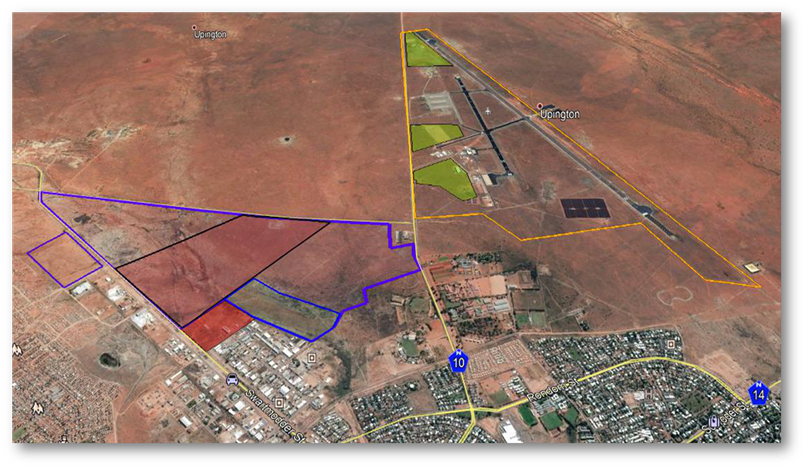 Through the industrial park programme investors can enjoy a number of benefits, ranging from controlled access point to the incentivised provision of infrastructure and relaxed municipal tariffs.
Upington Industrial Park forms part of the Northern Cape Industrial Corridor that extend from Kathu Industrial Park, Namakwa SEZ in Aggenys to the Boegoe Bay Harbour.
Opportunities exist for investors in Upington Industrial Park in the following sectors:
Renewable energy: With increased focus on solar component 

manufacturing.

Aviation: Focusing on the maintenance, repair and overhaul facility (MRO) for aircraft.
Automotive: For vehicle testing and long-term evaluation.
Agro-processing: With extreme focus on citrus and grapes.
Logistics: Upington in relation to the SADC and the modes of transport integrating in Upington avail itself to be an ideal logistics hub.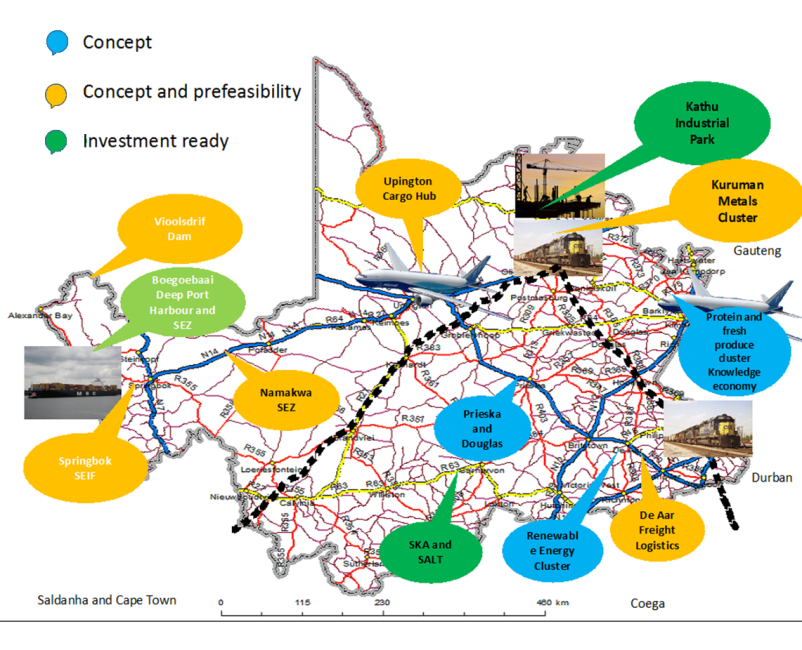 Renewable energy
The following key economic-drivers proliferates the viability of a solar manufacturing facility at Upington Industrial Park:
The increasing and sustained demand for photovoltaic (PV) and concentrated solar power (CSP) systems within South Africa and Sub-Saharan context;
The recent announcement by the Department of Energy of Renewable Energy Independent Power Producers (REIPP) majority being in the Northern Cape (Upington vicinity);
The current heightened activities in the renewable energy industry in South Africa.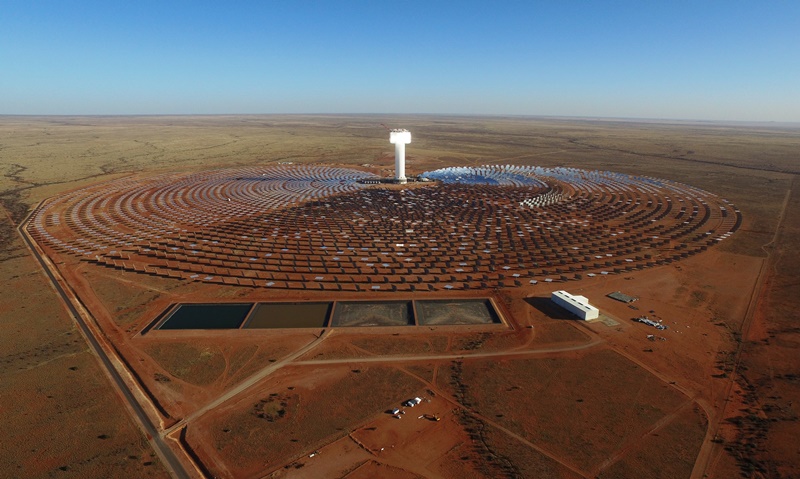 Aviation
Upington has a number of characteristics that makes it a particularly favorable location for the possible establishment of an MRO and aircraft storage facility which include:
An arid climate that is not conducive to accelerated corrosion and deterioration of aircraft;
The availability of relatively low-cost open surface area (land) for the storage of aircraft, as well as for the possible development of supporting industries in and around the airport. It is estimated that Upington International Airport can accommodate parking of 340 wide-bodied aircraft without interfering with current commercial operations;
An unusually long runway (5 km) that serves as National Aeronautics and Space Administration's (NASA) designated African landing site for shuttles. The runway therefore has the ability to accommodate a large variety of aircraft;
Proximity to the northern border of South Africa which is convenient and strategic from an African continental perspective; and
Better security due to the remoteness of Upington being far removed from major towns and cities thus reducing the risks in terms of theft and vandalism.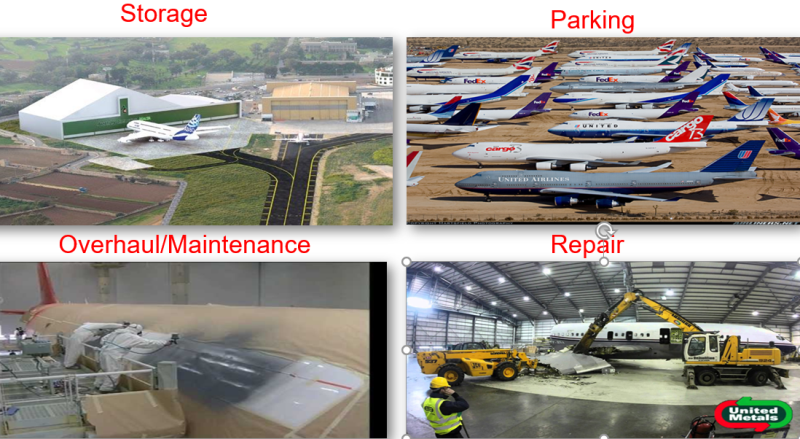 Automotive testing
Upington is known for having ideal automotive testing conditions. Vehicle manufacturers (mostly from Europe) are always looking for high temperatures, rough tracks and good roads to test vehicles. Thus, both Upington and the Namibian desert enjoy preference.
Vehicles are tested yearly in Upington during the summer season (from January until March) when temperatures reach as high as 42 degrees Celsius. Upington International Airport consequently becomes a specialist in providing a service to charter flights for the automotive industry.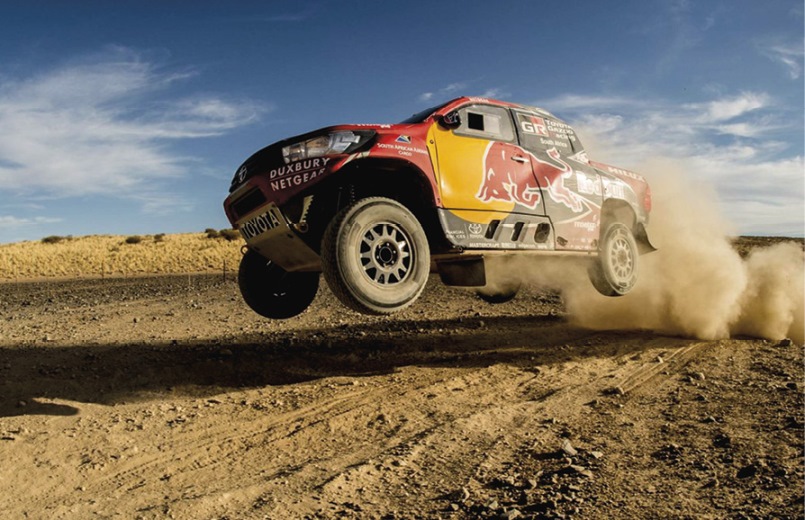 Agro-processing
The ZF Mgcawu District in which Upington is situated, is well known for producing export-quality grapes, citrus, dried fruit such as raisins and other fruits.
Thus, agro-processing can provide many investment opportunities downstream for the keen investor.
Investment surety:
An investment in Upington will ensure a footprint into SADC and the rest of Africa – enabled with infrastructure, support services and several modes of transport integrating.
Upington in relation to the Northern Cape Industrial Corridor – flanked by the Kathu Industrial Park, Namakwa SEZ and Boegoe Bay Harbour, becomes a central location in a lucrative corridor!
Secure your space now!
Contact the team: