De Beers Group's Voorspoed Mine has donated two mobile clinics in Kroonstad to serve the local communities of Moqhaka Municipality and surrounding farms in the Fezile Dabi District.
The Boitumelo Regional Hospital was the site of the donation of the mobile clinics on 26 March 2019. The clinics form part of Voorspoed Mine's Social and Labour Plan, specifically its Community Development Programme, which aims to uplift communities of the Free State Province and develop a working partnership with the Department of Health. In 2018, De Beers Group implemented a Social Performance Strategy with health and wellness being one of the strategic pillars.
The mobile clinics will provide a comprehensive primary healthcare service, with a dedicated team consisting of a professional nurse, nursing assistant and a driver. Health services offered will include treatment of minor acute ailments, cholesterol, tuberculosis, diabetes and blood pressure screenings and immunisation for infants.
Montseng Tsiu, Free State Health MEC, said, "It is indeed through companies like De Beers Group, which is demonstrating its commitment to investing in the healthcare system, that we as a country shall further improve. The government cannot achieve its objective to maintain the general welfare of its citizens on its own. We need business to partner with us in order to enhance a healthy nation."
De Beers Group has a long-standing relationship with the communities of Moqhaka and Ngwathe Municipalities. Through its Social and Labour Plan, Voorspoed Mine spent R5.5-million in supporting educational projects and healthcare services in 2018.
Training programmes in the Fezile Dabi District Municipality are equipping young people with skills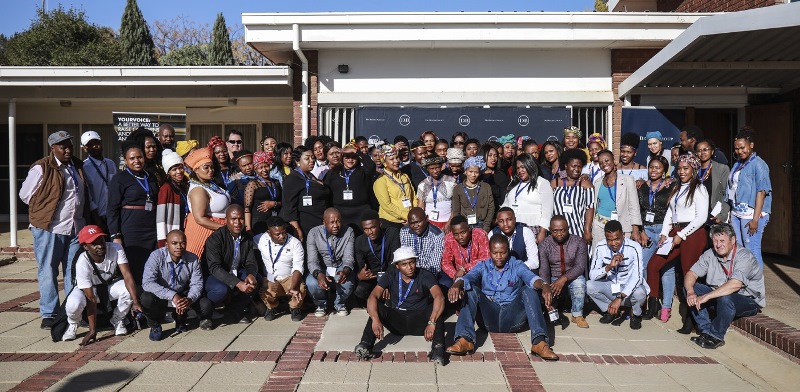 De Beers Voorspoed Mine has partnered with the Department of Labour and the National Youth Development Agency on a community development programme in the Fezile Dabi District to equip the young people in the area with skills in plumbing, welding and water treatment with the aim to strengthen their employability and boost economic development in the communities in which they reside.
Since the programme's inception in 2017, 64 trainees have successfully completed the programme, 40 of which were females and 24 males. This year, the programme intake comprises 22 females out of a total of 28 participants.
In September 2019, Voorspoed Mine hosted 58 past and present trainees at an event aimed to uplift and encourage the youth to take the skills that they have acquired during the programme and put them to economic use.
Thabo Mofokeng and Hope Moleleki, who completed the programme in 2017, shared their experience with the group and how the programme has transformed their lives. Both expressed their immense gratitude towards De Beers Group. Thabo, who started an apprenticeship in 2019, encouraged the group to work hard and to never give up. Hope shared that on completion of her programme, she applied for a job in welding. However, since she was a woman, her skills were questioned. She then decided to start her own small business instead and is now running her own steel and wood business.
Upon listening to the trainees share their personal accounts of how De Beers Group has enriched their lives, an emotional Lungile Zimu, Voorspoed Mine Human Resource Business Partner, said, "I don't cry easily, but this is what De Beers Group is all about, this is what excites me. Listening to these young people share how De Beers Group has changed their lives just affirms once again that I joined the right company."
PJ Jordaan, Voorspoed Mine Closure Manager, stated, "We have been running these programmes for 10 years and although we closed the mine in December 2018, we still have a commitment to the community, and we will not walk away until we are done."