Leading Cape Town-based trade exhibition and conference organiser Spintelligent has won four major awards again at the *ROAR Organiser and Exhibitor Awards in Johannesburg, which honoured excellence in the exhibition and events industry on the continent during 2017. The awards are organised by the Association of African Exhibition Organisers (AAXO).
*ROAR = Respect, Opportunities, Achievement, Recognition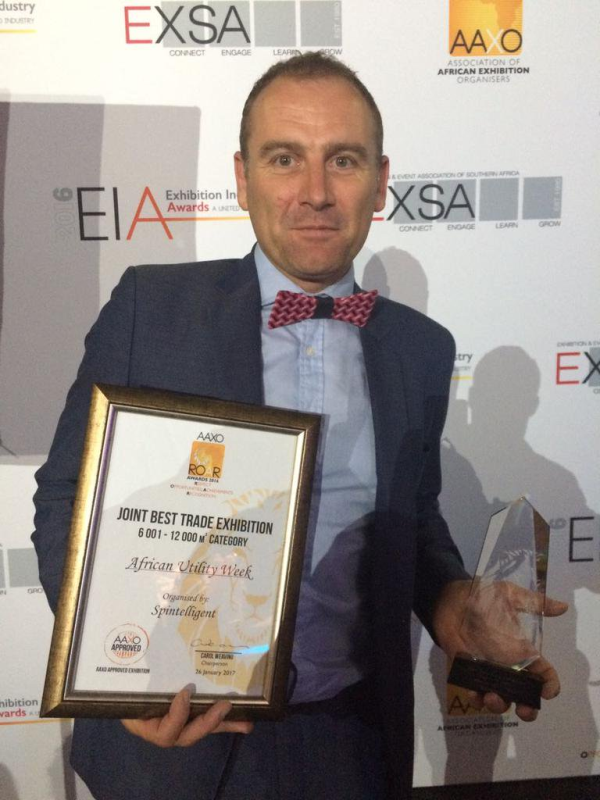 African Utility Week, Spintelligent's flagship energy event for the last 18 years, won two awards: as the Best Trade Exhibition in the 12000+ sqm category, as well as the Best Overall Exhibition for 2017. Agritech Expo Zambia was named the Best African Bound Trade & Consumer Exhibition in the 12000+ sqm category while the Property Buyer Show Gauteng won the award for the Best Consumer Exhibition 6000 sqm and under.
"It is humbling to receive such recognition from our peers in the industry" says an elated Spintelligent MD David Ashdown. "We are proud of these projects that make a real difference for our stakeholders in the energy, agriculture and property sectors. It is also a great boost for the whole Spintelligent team."
He adds: "Just like last year, the AAXO ROAR Awards honoured both long-standing events such as African Utility Week and Agritech Expo Zambia, along with a launch show, namely Property Buyer Show Gauteng, which is part of our expanding property portfolio. It shows that we work hard to keep up the standards that our competitive industry requires from us, while also receiving the nod of approval for our newer initiatives."
ROAR Awards
– Best Trade Exhibition 12000+ sqm category: African Utility Week
– Best Overall Exhibition: African Utility Week
The 18th edition of African Utility Week, the leading pan-African power and water platform, will take place again in Cape Town from 15-17 May and over 7500 decision makers from more than 90 countries to discuss the challenges, solutions and successes in the power, energy and water sectors on the continent. Along with multiple side events and numerous networking functions the event also boasts a seven track conference with over 300 expert speakers.
Says Chanelle Hingston, Power & Energy Portfolio director at Spintelligent: "It is now more apparent than ever that South Africa and indeed the entire continent's economic future depends on the strength and sustainability of its energy and water sector. African Utility Week is proud to have been part of creating a relevant and ground-breaking industry platform for the last 18 years, creating a forum for the industry, by the industry."
– Best Africa Bound Trade & Consumer Exhibition 12000+ sqm: Agritech Expo Zambia
"It is a great honour to have received this AAXO ROAR award for the second consecutive year" says Yolanda dos Santos, event director. "The success of Agritech Expo Zambia would not have been possible without its passionate team and committed partners that come together to deliver a platform that not only drives agribusiness but helps the progress to ensure food security whilst serving as an educational tool for sustainable development for Zambia and the SADC region."
In 2017, the event featured a record number of 18000+ visitors, seven international pavilions and a VIP attendance that included five cabinet ministers and the Zambian President Edgar Lungu who visited the event for the third year in a row.
– Best Consumer Exhibition 6000 sqm and under: Property Buyer Show Gauteng
The Property Buyer Show, this year taking place in Johannesburg, Cape Town and Durban, is a first of its kind exhibition aimed at residential property buyers who either want to buy their first home or build wealth through their own property investment portfolio. The innovative exhibition layout is designed to walk buyers through the property buying process – and includes the finance zone, property zone, a first-time buyer seminar theatre and a property investor theatre.
"Winning an AAXO Award in Property Buyer Show's launch year is a nice reward for the team who have worked so hard to put it together", says Richard Stubbs, Real Estate Portfolio director, "but successful exhibitions rely on the participation and support of sponsors and exhibitors. In particular, thanks needs to be passed onto FNB, Standard Bank, ABSA, Pam Golding Properties and Private Property, without whose efforts we wouldn't have happy visitors and a shiny award sitting on my desk."
Spintelligent is well known for organising exhibitions and conferences across the continent in the infrastructure, real estate, energy, mining, agriculture and education sectors. Other well-known events by Spintelligent include African Real Estate & Infrastructure Summit, Farm-Tech Expo Kenya, Kenya Mining Forum, Future Energy East Africa, Future Energy Nigeria, Nigeria Mining Forum, DRC Mining Week and EduWeek. Spintelligent is part of the UK-based Clarion Events Group.
Website: http://www.spintelligent.com
Twitter: https://twitter.com/spintelligent & https://twitter.com/AAXO_SA