The Project Management Professional (PMP)® is the world's leading project management certification. Now including predictive, agile and hybrid approaches, the PMP® proves project leadership experience and expertise in any way of working. It supercharges careers for project leaders across industries and helps organisations find the people they need to work smarter and perform better.
The Project Management Institute (PMI) offers a professional certification for project managers, known as the Project Management Professional (PMP)®. UFS is an Authorised Training Partner (ATP).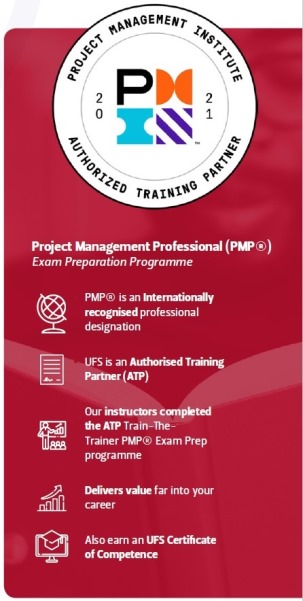 PMI's examination development processes stand apart from other certification programmes. PMI aligns its process with certification industry best practices, such as those found in the Standards for Educational and Psychological Testing. The PMP® certification is also accredited against the internationally recognized ISO 9001 and ISO/ANSI 17024 standards.
Research indicates that employers will need to fill nearly 2.2 million new project-oriented roles each year through 2027. This means skilled project managers are in high demand.
The PMP® certification is designed by project professionals, for project professionals and validates that you are among the best – highly skilled in:
People: Emphasising the soft skills you need to effectively lead a project team in today's changing environment.
Process: Reinforcing the technical aspects of successfully managing projects.
Business Environment: Highlighting the connection between projects and organisational strategy.
PMP® certification validates that you have the project leadership skills employers seek. The new PMP® includes three key approaches:
Predictive (waterfall)
Agile
Hybrid
The purpose of the Short Learning Programme
This programme prepares participants for the Project Management Professional (PMP)® certification exam including:
Pre-assessment of eligibility of all participants prior to course confirmation.
Provision of CV templates, assistance with completion of CVs, quality check, online CV application to PMI®
Who should attend
Project managers
Associate/assistant project managers
Team leads/team managers
Project executives/project engineer
Software developers
IT managers
Any professional aspiring to be a project manager
For all the information, view or download the Project Management Professional (PMP)® Exam Preparation Programme (PDF).
Or contact Ansie Barnard, Strategic Partnerships: barnardam@ufs.ac.za