Resources 4 Africa is pleased to announce the 5th edition of the annual PGMs Industry Day, taking place on 6th April 2022 as both an in-person and online event. A high-level strategic gathering that brings together the leading industry players, including PGMs mining companies, users and investors, the PGMs Industry Day will tackle all the critical industry issues facing the PGMs sector in South Africa and internationally in a frank and open discussion.
Chaired by Bernard Swanepoel, some of the crucial issues to be addressed include:
Climate change and COP26 – what are the implications for PGMs?
What is the future role of PGMs in a low carbon economy?
Forecasts for the PGMs basket price
Substitution pros and cons and impacts
Conversations with CEOs on production, growth, diversification, investment, capital allocation, ESG, M&A and more
The growth conundrum – M&A vs organic – and future impacts
International investors' perspectives on the PGMs industry
Internal Combustion Engine (ICE) vs FCEVs vs BEVs – which will be the winner?
Wider applications for PGMs – where do the value chain opportunities lie?
Can SA realistically become a global green hydrogen hub? How do we deliver on this vision?
And more…
Early confirmed speakers include:
Neal Froneman, CEO, Sibanye-Stillwater
Nico Muller, CEO, Implats
Natascha Viljoen, CEO, Anglo American Platinum
Stephen Forrest, Executive Chairman, SFA Oxford
Huw Daniel, CEO, Platinum Guild International Hong Kong Limited
Kevin Eggers, Partner, AP Ventures
Bernhard Fuchs, Senior Vice President Precious Metals Management, Umicore AG
Dr Philipp Walter, Executive Vice President, New Business Development, Heraeus Precious Metals
Benny Oeyen, Executive Head Market Development, Anglo American (London)
Sandra du Toit, Market Segment Leader for Energy & Natural Resources, EY
Fiona Perrot-Humphrey, Senior Adviser, Mining Team, Global Advisory, Rothschild & Co. London
The full programme and speakers will be announced shortly. Keep checking the website for announcements.
We are delighted to welcome EY-Parthenon as the Lead Sponsor of the 2022 PGMs Industry Day and our numerous mining industry partners and regular sponsors.
Mining Industry Partners include: African Rainbow Minerals, Anglo American Platinum, Implats, Minerals Council South Africa, Royal Bafokeng Platinum, Sibanye-Stillwater.
Sponsors include: DRA Global, OIM Consulting.
2022 PGMs Industry Day
For Producers, Investors & Users of PGMs
Wednesday 6th April 2022, Country Club Johannesburg & Online
08h45-17h00
Guarantee your place by registering HERE.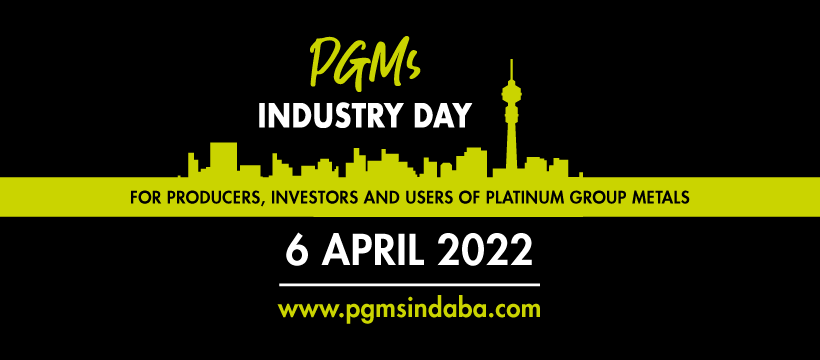 The PGMs Industry Day is brought to you by Resources 4 Africa, the organisers of the Joburg Indaba.
"By the industry for the industry"