As Namibia's upstream oil and gas industry has been focused on exploration, with promising big discoveries, Namibia could soon join the league of oil producers. In this brand-new complimentary report, produced in partnership with our Data and Analytics Partner, Welligence Energy Analytics, we explore Namibia's recent discovery and its opportunities.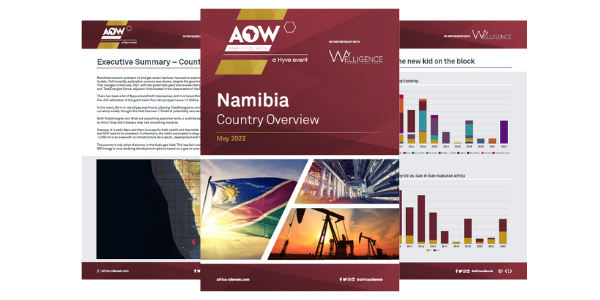 The Namibia country report includes:
What is currently happening with the country's oil and gas exploration
A look into the country's Orange Basin discovery
Regional gas-to power market and commercial opportunities
The benchmarking of greenfield deepwater projects
Africa Oil Week expects Namibia's massive oil discoveries and potential investment in this region to be key agenda points when African and global leaders in the oil and gas sector converge in Cape Town from 3 – 7 October 2022.
Africa is the new energy frontier, offering a wide mix of energy solutions which could provide long term relief. "This is a clear indication of the potential return on investment in this market. With discoveries in Côte d'Ivoire's Tano Basin, Namibia and potentially South Africa, the continent is the new frontier for energy exploration and development," says Paul Sinclair, Vice President of Energy & Director of Government Relations, Africa Oil Week.
Continue the conversation at Africa Oil Week 2022 where we'll be discussing energy solutions that spark increased investment and exploration in coming years. Get in touch with our team today to find out opportunities for your business at the event.