Pilanesberg Platinum Mines created Community Crusher as a non-profit enterprise, but with 14 employees and a steady set of orders for building projects run by the company, the small business is showing the potential to become a bigger business.
Many mines run similar programmes, sourcing goods and services from local community-based companies and sometimes providing mentoring and advice on how to improve as businesses. Impala Platinum (Implats) has a programme of procurement in which it supports local business and black-owned businesses through enterprise and supplier development programmes.
Pilanesberg Platinum Mines has been active 80 km north-west of Rustenburg for just over ten years. Mining operations are conducted by contractors while PPM manages the concentrator (screen, crush, mill, float, thicken and dry). The operation has annually achieved an average of about 150 000 ounces of platinum group metal (PGM) concentrate.
The Provincial Government of the North West is in talks with several mining companies in the Matlosana Local Municipality area (which includes Klerksdorp and Orkney) as some mines are being closed down. One of the initiatives to extract more value from mining is the proposed Platinum Valley Special Economic Zone. Creating a base for companies to supply the mining industry is one of the key drivers behind the scheme.
The SEZ is intended for Mogwase in the Bojanala District, north of Rustenburg and east of Sun City. When fully developed, 200 ha of land will be taken up by three infrastructure facilities comprising Logistics, Light Manufacturing and Heavy Manufacturing.
The Seda Platinum Incubator (SPI) is an initiative of the Platinum Trust of South Africa and is funded by the Small Enterprise Development Agency (Seda) through its Seda Technology Programme (Stp) with the support of the North West Provincial Government and private companies.
North West mining news
Several mining companies are investigating energy – both in order to power their own operations because of the risk of the national utility failing to supply electricity, and to find new uses for platinum.
Bushveld Minerals has two arms; Bushveld Vanadium and Bushveld Energy which is working on Vanadium Redox Flow Batteries (VRFB). Energy storage is the focus of much research across the globe and Bushveld Energy intends its solar installation at its Vametco mine, supported by VRFB, to answer many questions. Bushveld Vanadium is one of three vanadium producers in the world.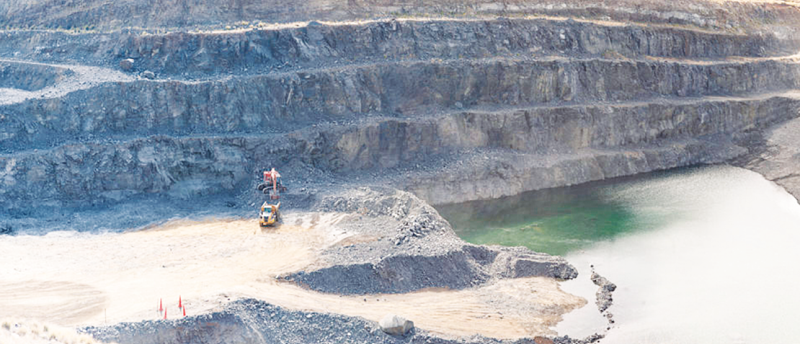 Sibanye-Stillwater has renamed the mining operation it bought from Lonmin in 2019,
Marikana. The sale was comple-ted in June 2019. This is Sibanye-Stillwater's second major purchase of platinum assets in the North West, after buying Anglo American's Rustenburg Platinum Mines Limited.
Between the fourth quarter of 2018 and the fourth quarter of 2019 the global price of platinum slumped, but a later surge in the price of other PGMs such as palladium and rhodium offset this downturn. The fact that the mining industry continued to operate through most of the lockdown that accompanied the Covid-19 outbreak helped to bring some stability back to the sector.
In early 2020 rhodium rose to its highest price since 2008, $8 200/oz, and palladium ach-ieved a new record high of nearly $2 150/oz. Some mining companies discovered that several of the other minerals that are present in their mines (gold, copper and nickel) were surging in price, causing them to investigate ramping up operations.
Some companies chose to sell assets while others have undergone major restructuring. Impala Platinum will spend R2.7-billion over two years to scale down production from 11 shafts to six lower-cost, profitable, shafts. In FY2018 Impala produced 580 800 ounces of refined platinum. Impala Refinery Services (IRS) smelts and refines concentrate and matte and recycles auto catalysts.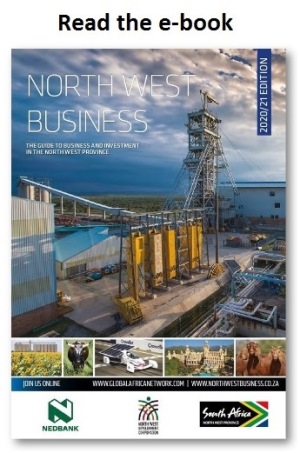 The mining sector still makes a big contribution to provincial GDP although that percentage is now below 30%. About 18% of total employment in the province is in mining.
North West mineral resources
The North West Province is aligned with the Western Limb of the Bushveld Igneous Complex, a remarkably rich minerals formation. Mines in the province produce 50% of the platinum produced in the world, and 65% of South Africa's PGMs. Chromite is the other major mineral mined throughout the province, and there are several ferrochrome smelters and other processing plants.
South Africa produces about 70% of the world's chrome. Gold and uranium are found along the border of the province with Gauteng and the Free State (in Klerksdorp and Orkney). Diamonds are mined at Christiana, Bloemhof and Lichtenburg. Other minerals include fluorspar, vanadium, rhodium, uranium, copper, limestone, slate, phosphate, manganese, coal and nickel. Limestone quarries run by G&W Base and Industrial Minerals in the Marico District are located next to a PPC cement factory.
One of the last economically viable limestone deposits in South Africa is mined and processed by Sephaku Cement. Sephaku runs a 6 000-ton-per-day clinker plant near Lichtenburg. AfriSam, PPC and Lafarge are active in the Mahikeng/Lichtenburg area, but Sephaku is confident that its clinker and cement-production facilities will be supported by raw materials for at least 30 years. AfriSam has taken measures to reduce carbon emissions at its Dudfield cement plant.