One day in the future, a graduate of Kimberley's Sol Plaatje University will write her or his doctoral thesis on some aspect of a far-away star yet to be discovered. The information will come from the Square Kilometre Array (SKA) Telescope, currently under construction in the Karoo. Unimaginable amounts of data are set to be collected in this transformative radio telescope project that is centred on Carnarvon but has global reach.
The data that the SKA will collect in a day would take two-million years to play back on an iPod. The radio telescope's image-resolution quality will exceed that of the Hubble Space Telescope by a factor of 50.
The SKA will be the world's largest radio telescope, made up of thousands of antennae throughout Australia and Africa. SKA will be tackling the big questions: What is dark matter? When did life begin? How are galaxies created?
In March 2019, 15 countries involved in the SKA Project gathered in Rome for the signing of the international treaty establishing the intergovernmental organisation that will oversee the delivery of the world's largest radio telescope. This is the Square Kilometre Array Observatory (SKAO), which is tasked with delivering and operating the SKA.
That inquisitive future student will be a graduate of the Data Sciences Programme of Sol Plaatje University (SPU), South Africa's newest tertiary institution. Having a technological marvel such as the SKA within the province will boost scientific curiosity and provide many opportunities for researchers and academics. At community level, an SPU Knowledge Hub for Rural Development is in the pipeline for locals near the town of Carnarvon.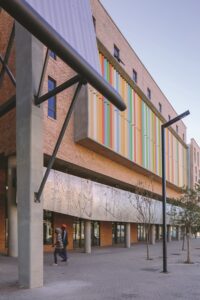 The SPU's first vice-chancellor, Dr Yunus Ballim, holds a doctorate in civil engineering and is rated by the National Research Foundation.
The first intake of students at the Kimberley campus in 2014 was 124. There are now more than 1 000 students enrolled in a range of degree and diploma courses. Approximately 60% of the students are enrolled in teacher training courses.
The university has set itself a goal of catering to specific niches, such as heritage studies. The McGregor Museum in Kimberley is one of the most respected museums in the South Africa and heritage tourism is seen as a growth market, so university students concentrating on this area will have good support and good prospects. SPU's first postgraduate students will include students specialising in agricultural sciences and a new course in Creative Writing in African Languages.
The academic programme is housed in four schools: Education; Humanities; Natural and Applied Sciences; Economic and Management Sciences. Bachelor's degrees are offered in education, science, science in data, commerce and arts. A diploma in retail business management (three years) and a one-year higher certificate in heritage studies completes the prospectus.
The key to education
More than one philosopher has noted the link between beautiful surroundings and a good educational experience, so when the decision to create a new university in Kimberley was made, it was also decided that every effort would be made to build fine buildings that would enhance the experience of lecturers and students.
A competition was held to choose the architects to work on the new university. From a total of 59 entries, nine firms were selected in 2013 to enter the second round of the competition. Ultimately, five firms were chosen as winners, and they would be tasked with completing work on the campus over the three years to 2016: Activate Architecture; Savage + Dodd Architects; designworkshop:sa; Comrie Wilkinson Cape and Urban Studio JV; Wilkinson Architects in Joint Venture with Mashilo Lampbrechts Architects and GXY Architects.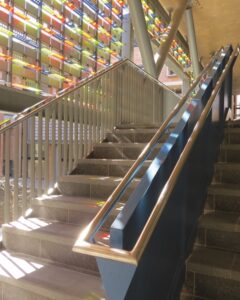 Sol Plaatje University Library and Student Resources Building, designed by designworkshop: sa, won the 2017 Fulton Concrete Awards for "Buildings Greater Than 3-Stories" (main picture). The construction work was done by Murray and Dickson and Aurecon provided structural, civil, electrical, fire and wet services design for the project.
Another striking building, designed by Savage + Dodd, was "highly commended" at the World Architecture Festival in 2017 in the Higher Education and Research category and won "Best Use of Colour". The multi-purpose building encompasses a residence, offices, meeting spaces and retail space on the ground floor.
External and internal images on this page show the details of the design. The colourful, wind-driven louvres which act as sun shading were designed by Savage + Dodd Architects and executed by RVI Architectural Solutions. The project was a finalist in the Southern African Institute of Steel Construction (SAISC) awards.
Article origin: Special Feature, Northern Cape Business 2019/20 edition. Written by John Young.