Part of the Smart Procurement World series of events, the exclusive, invitation-only Africa Procurement & Enterprise Development Summit Southern Africa is being held for the second time at Victoria Falls from 11 – 13 November 2019.
The event will be attended by government officials and senior procurement and supply chain management executives in the region. "This platform is aimed at assisting procurement professionals better understand the demands placed on them to source locally and provides them with an opportunity to source SMMEs who can fit into their business structure," says Debbie Tagg, COO of the event's organisers, Commerce Edge.
"We have chosen to host this unique networking opportunity at Victoria Falls to provide an environment that is conducive to learning, through the comprehensive conference programme, as well as being centrally located to suit the visiting delegates from Zambia, Zimbabwe and Malawi," Tagg points out.
Themed 'Procurement's leadership role in driving corporate objectives and economic development', the conference features procurement gurus from both Africa and globally who will help attendees solve strategic procurement problems during the interactive presentations, panel discussions and masterclasses.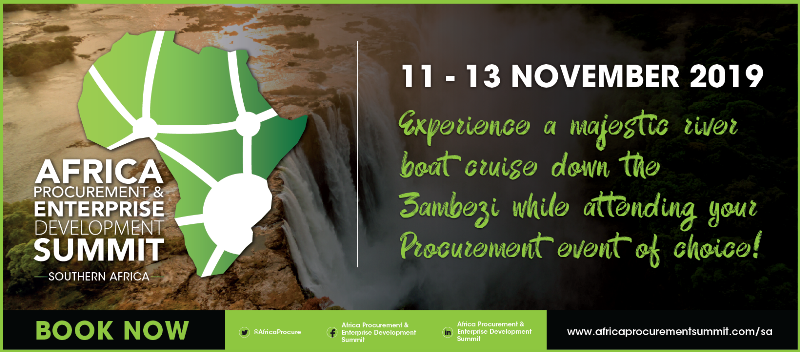 "Procurement is now at the heart of every organisation. It's no wonder that Africa is embracing it as an effective lever to achieve socio-economic aspirations. The summit will examine the feasibility of creating platforms necessary for small businesses to grow into recognised industry players. We believe that content is king at events of this nature and small-group interactive formats ensure that delegates are continuously challenged to rethink and improve their existing procurement strategies," says Andre Coetzee, Managing Director of Africa of the event's organisers, Commerce Edge.
The delegate list reads like a Who's Who of the region's top management that includes directors, CEOs, CFOs, CPOs, policy makers, transformation managers, heads of supply chains, as well as commodity and category managers.
The co-located trade show presents excellent opportunities for companies to exhibit their wares to a targeted southern African audience. "This event is committed to building the businesses of entrepreneurs and contributing to the growth of the economy in this region. We urge businesses to capitalise on the benefits that accrue from such a well-positioned event by participating as exhibitors. This is the place to be for networking opportunities and leads that result in tangible sales. There is no other business trade show in the region that brings such a comprehensive range of buyers and suppliers together like this one," says Tagg.
This niche platform of carefully selected service providers will allow buyers the opportunity to source locally, while exhibiting companies have the opportunity to professionally position their brand. Tagg adds that throughout the expo, businesses are able to explore a variety of non-traditional funding solutions to help them grow.
For more information on becoming an exhibitor at the Africa Procurement & Enterprise Development Summit Southern Africa: https://africaprocurementsummit.com/sa/