Is there a clustering of enterprises taking place?
It was always the intention to create an Industrial Park that operates as a "one stop shop" where businesses are able to operate with ease and we are pleased to see these synergies developing between the tenants. The park offers a host of support services, some of which are offered by current tenants and others through in-house expertise. This ranges from diesel supply, compressed natural gas supply, security services, on-site laboratory and environmental support services to emergency services.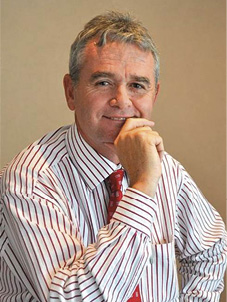 What are the logistical advantages the park enjoys?
Highveld Industrial Park has large-scale infrastructure to deal with the high level of traffic and heavy operations including road infrastructure, on-site weighbridges, tipplers and cranes. The park is ideally situated in the heart of South Africa's coal-producing region and within 80 kilometres of eight Eskom power stations.
It is on the outskirts of eMalahleni situated next to the N4 highway and close to the N12. One of South Africa's largest private sidings is directly linked to the Richards Bay and Maputo line and in the past two years coal, in excess of three-million tons, has been moved through the site.
What is your unique selling proposition?
We are logistically well situated and able to provide the necessary support services to our clients on-site, which includes provision of security, maintenance and utilities. The current team are all ex-employees of Evraz Highveld and have specific skills, which range from environmental to engineering.
We pride ourselves on the diverse nature of the businesses we have on-site and are able to accommodate with ease; no business is too big or too small. We have a number of facilities – ranging from offices to large heavy industrial workshops – and we can accommodate everything in between.
How significant is the recent purchase by ArcelorMittal of Highveld Structural Mill?
This is a significant milestone as ArcelorMittal will be one of our anchor tenants at Highveld Industrial Park. However, this purchase is also important for the country as it secures a strategic steel manufacturing asset, which is the only one of its kind in Africa.

Find more information about Highveld Industrial Park here, or visit the website: www.highveldindustrialpark.co.za