As Carsten Lützen, an architect in the Danish city's Centre for City Development and Mobility Planning says, "Wherever it makes sense to use smart technologies, we use it." Key focus sectors are mobility, transport and energy.
Makgorometje Makgata, Tshwane's acting head of Economic Development and Spatial Planning, points out that smart city thinking is not necessarily the central idea, rather, "Whatever programmes you do, you ensure that you incorporate smart city planning. You look at the bigger picture, for example with the traffic congestion, you look at various modalities, how can you use technology to help you."
Lützen and Makgata met in Copenhagen recently, and discussed the options for cooperation between the two cities. The first step will be the formal signing of a memorandum of understanding and then more specific projects will be targeted.
"One of our tasks," says Lützen, "is to facilitate links between companies in our region and in the Gauteng region. Big companies like Kamstrup and Vestas are present in South Africa, but there is a huge potential for other companies to start up." There are possibilities for partnerships and joint ventures between universities, architects, city planners and suppliers of services.
"There might be various fields of cooperation in the future. We aim to facilitate whatever makes good sense to make people connected."
Makgata was in Denmark as part of an African delegation of urban planners and architects studying urban design. He was a guest of the Danish Embassy in Pretoria.
During his time in Denmark, Makgata was introduced to the Danish Outdoor Lighting Laboratory (DOLL), a 1.5 km² industrial park in Copenhagen that doubles as a living experiment in street lighting and technology applications. Private companies use space at the publicly-funded DOLL to experiment among the 12 km of road and bicycle lanes. Eighty separate experiments are under way at any one time, via 156 sensors placed around the industrial park.
Testing for air quality, waste removal bins that send signals to headquarters when they are full, smart parking and intelligent lighting (that reduces intensity when no cars or bicycles are around) are among the ongoing trials.
Makgata thinks this kind of experimental park is something that the City of Tswhane could replicate: "We want to use that concept to resolve urban issues." Several of Tshwane's automotive manufacturers like BMW have already said that they are receptive to the idea.
A smart city network requires three layers of infrastructure. Firstly, it needs cables and sensors and places to put them. Fortunately, cities have lots of street light poles which can carry many cables, not just cables for the individual street light. Street furniture can also be used for this purpose. Secondly, there must be data platforms and networks that can interpret the data being collected at street level. Finally, smart cities must deliver smart urban services in the form of apps (to tell drivers where parking is available as shown in the photograph on this page of a DOLL manager reading parking space data) and other value-added services.
The system does not need very high power as the individual sensors would not be communicating all day: the smart waste bin might only send a message when it is full.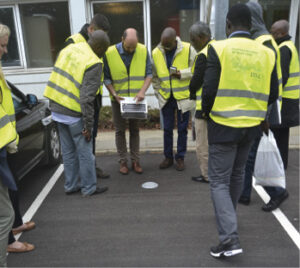 Makgata sees potential for multiple uses in Tshwane: "On one platform you can have solutions for safety and security (including lighting), traffic management and other aspects. In waste management, instead of sticking to our schedule which says come on Monday but the bins are empty, we rather receive the signal when the bin is full. We can rearrange the traffic flow if there is an accident."
Tshwane plans to build four multi-storied parking stations on the outskirts of the inner city linked to the bus rapid transport (BRT) system. Up-to-date data on car movements will help the city allocate busses.
Aarhus is Denmark's second-biggest city and is a renewable energy hub and research centre. The city hosts the head office of wind turbine company Vestas and already uses smart technology for traffic management. "In Aarhus when people arrive in the city by car, you can always find information about where to find free parking spaces," says Lützen.
He makes the point that a lot of smart city applications are invisible. "The whole traffic system, including the traffic lights, is coordinated in a smart way so you get the best flow via sensors in the roads."
Sophie Meritet, Affiliate Professor at the Paris Institute of Political Studies, argues that the particular dynamics of African cities must be taken into account when planning smart cities. African Cities quotes Meritet on Africa's design priorities which should be "mobility and energy efficiency for cities, and this should be done by designing low-consumption urbanism".
The South African and Danish representatives agree that the focus must be on local issues. Makgata was impressed that at the DOLL laboratory: "Whatever they do, there is a focus on how you resolve urban management issues." Lützen stresses that the Danes don't want to impose any solutions. Rather, he says, the key question is, "Where can we make a positive change?"
At national level, the Danish and South African governments have several agreements such as the Strategic Sector Cooperation on Water and the Environment. Renewable energy is another area of cooperation.