The Northern Cape Provincial Growth and Development Strategy (PGDS) supports the idea of a truly industrialised economy deeply entrenched in the principles and philosophy of the 4th Industrial Revolution. Empirical evidence presented in the form of provincial statistics indicates that a number of multi-national companies have already invested in the province in sectors such as renewable energy, minerals, metals and chemicals.
With other sectors such as agro-processing, aviation, petro-chemical and health remaining untapped, this is an opportunity for any investor to channel an investment where extra care is taken not only to ensure that normal costs associated with doing business in an otherwise rural setting are remarkably reduced, but an investor is offered world-class infrastructure. The structural enablement of investments are key cost drivers and this is addressed via the industrial corridor and nodes approach.
These efforts are made not only to encourage the investor, but also to enable investors and existing businesses to grow the economy and create local employment and opportunities while being globally competitive.
True to the proposition of the resource-based view, our province has the necessary resources that can accommodate investors, being globally competitive, to grow market share and create upstream and downstream opportunities. Our Provincial Growth and Development Plan (PGDP) is premised on the competitive advantage we have over other provinces, given the resource richness of the province. In order to achieve and maintain this competitiveness we offer opportunities to you, the keen investor, along our industrial development corridor.
This corridor, pictured below, enables developers to stretch their investments along our economic nodes, Industrial Parks and Special Economic Zones based on the depth of their investment potential and appetite. The opportunities in the province also extend beyond the Northern Cape N14 corridor and we urge you to contact us and our dedicated Investment One-Stop Shop.
Northern Cape Industrial Development Corridor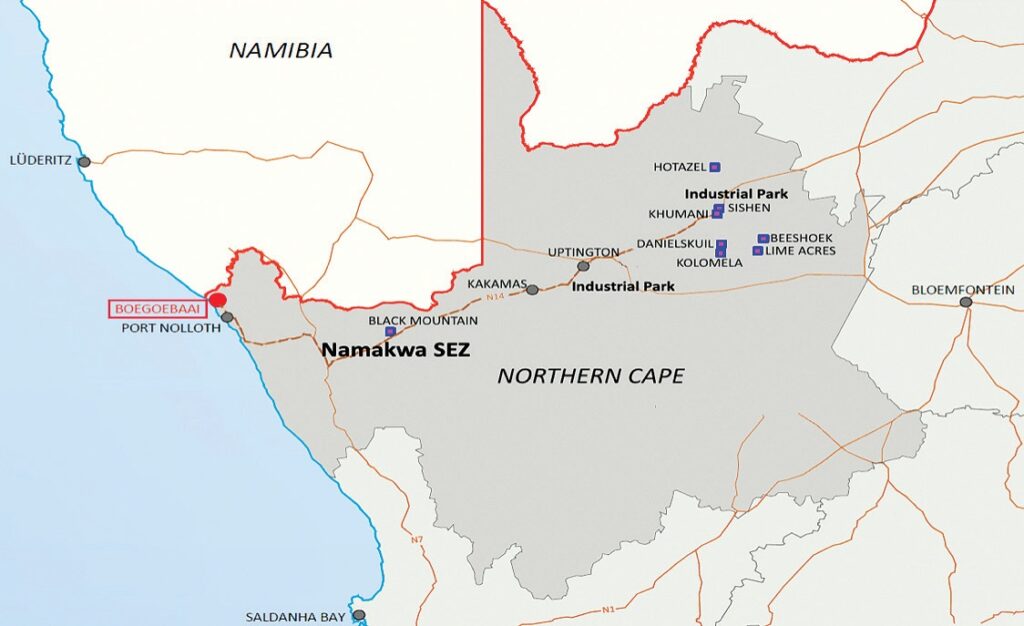 Learn more about the Northern Cape Industrial Development Corridor
Contact: