Air Products claims the key to their success in sustaining long term relationships is to provide a high level of service coupled with the supply of high quality gas products. Supplying established manufacturers, Acepak Laser and Loci Laser in Cape Town with high quality gas for their laser cutting operations, and playing a role in their continued growth over the years, is testimony of the successful outcome of being a trustworthy supplier.
High quality gas with an array of raw materials are used in the laser cutting process which ensures a precise finished product as soon as the process has been completed, thereby eliminating the need to rework or smooth out rough edges. The process also eradicates the possibility of contamination of the work piece, which leads to improved production. The use of sophisticated equipment and software leads to a reduction in costs of raw material and ensures that the final product after cutting will be of the highest quality. Besides the quality, laser cutting also increases production output when compared to more traditional mechanical cutting.
Laser cutting is by far a more advanced method than the mechanical method of cutting metal, and the purity of the gas used plays a vital role in the quality of the final product. Over the years, Air Products has placed a lot of emphasis on ensuring strict quality control of the gas supplied, as well as offering customers such as Acepak Laser and Loci Laser a secure supply of gas to support their operations. The quality of the cut is completely reliant on the purity of the gas. These manufacturers rely heavily on Air Products' high quality gas which they have come to appreciate over the years, as it plays a crucial role in the quality of their final products.
Being a trusted partner in a "family" laser cutting business
Air Products started supplying Loci Laser in Stellenbosch with gases such as nitrogen, oxygen and helium in liquid and gas form in 2003 for their laser cutting and bending operations in which they use mild steel, stainless steel and aluminium. Director Jaco Wiese explains that they foster a culture of being "a family", rather than purely colleagues.
Wiese comments on the business and employees: "At Loci Laser, we pride ourselves in the quality of products we supply to our customers. We have longstanding customers with whom we have built a solid relationship over the years. They know we go out of our way to supply products of the correct quantities, highest quality within their required time frames. We use Air Products' gas as we are confident that we receive a similar service and products that compliments, and ultimately enhances, the final product we produce."
Loci Laser is the first laser cutting business in Cape Town to employ a female as a floor manager. Wiese mentions that he has personally coached and mentored this employee and is extremely proud of her achievements and the asset she has become to his company. Wiese concludes: "Loci Laser has always been open to incorporate new and advanced technology to improve our processes and systems, but we have never compromised on our suppliers and only use those who provide us with an outstanding service and highest quality products. We are positive that we will grow Loci Laser even more with our trusted gas supplier Air Products alongside us."
Supporting established manufacturers' growth
Acepak Automatics, the market leader in quality packaging machinery, started their laser cutting division in 2007 to reduce the outsourcing of parts used for the manufacturing of their machines. Since then, the business has grown from satisfying their own needs to supplying products to meet external market demands.
For the last 11 years, Air Products has been in the fortunate position to be a part of this growing business and aligned innovative modes of liquid nitrogen supply to volume growth demands. Currently, the liquid nitrogen is supplied to Acepak Laser via CryoEase® which is an alternative mode of supply to cylinders. CryoEase® offers benefits such as guaranteed gas purity, increased productivity and operational efficiencies.
According to Clinton Meadows, General Manager at Acepak Laser, the high purity nitrogen supplied by Air Products enables them to cut stainless steel with oxide-free, bright clean edges. He further says: "We have grown our laser cutting business from purely manufacturing for our own needs to our current position where we supply to a customer base and it is good to know that Air Products has been a trusted partner on this journey. We receive an outstanding service and have never been in a position where the quality of our products has been compromised as a result of the gas supply."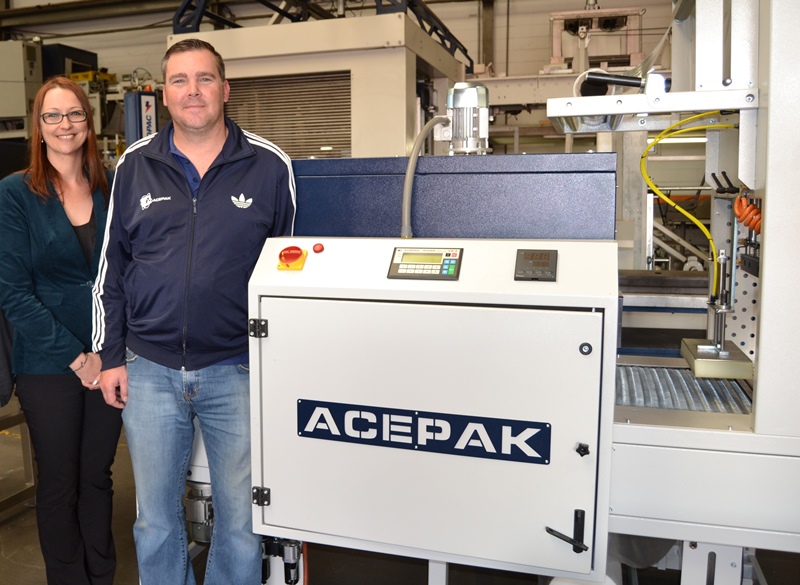 Meadows conclude by saying that Acepak Laser is optimistic about the future growth opportunities and pleased to have Air Products as their loyal gas partner.
Nita Müller, Regional Sales Manager for the Western Cape, says that Air Products is aware of the vital role that the quality and a secure supply of product means to customers and for this reason they do not compromise when it comes to service delivery and quality. "We have formed a solid relationship with Loci Laser and Acepak Laser over the years and we pride ourselves in the fact that through our efforts to deliver to their requirements, we have had a positive impact on their processes and success as a business. Although these two customers are both in the laser cutting business, their needs are different and are therefore treated with the necessary care and respect. Air Products strives to ensure that we are one of the market leaders when it comes to aspects such as innovation, and a prime example of this is the mode of supply we use for Acepak Laser's liquid nitrogen, CryoEase®."
Müller concludes by saying that Air Products' focus is not only on product and service delivery, but more importantly on safety. "We do not compromise on the safety of our employees or that of our customers, and regardless of whether we supply a single cylinder or large volumes, we ensure that all parties are trained on all the necessary safety aspects. From a strategic point of view, safety and quality are extremely important to Air Products South Africa and we have worked hard to obtain accreditation for the quality management systems at all of our facilities nationally. We feel that we are an integrated part of a vast number of businesses in the Western Cape and proud to support businesses to grow to their full potential."
For more information on Air Products, visit www.airproducts.co.za