Craft beer brewing has evolved from being a home-brewing hobby to a precise and complex process, aimed at delighting craft beer lovers who have become enthusiasts of this new era of beer where there are more distinguished tastes on offer in the market. As a supplier of gases, which is vital to the brewing process, Air Products has been playing an important role to support microbreweries in creating craft beers suited for this local, expanding and trendy craft beer market.
Words such as hops, vessel, malt and fermentation comes to mind, but it is much more complex than simply adding certain ingredients together and hoping for the best taste once the 'beer' has matured. Craft beer brewing has become a form of art and the use of the correct gases, at the correct time, in the correct quantities are vital in ensuring the best outcome. Air Products supplies gases such as oxygen, carbon dioxide and nitrogen to a number of microbrewies in Gauteng.
Craft beer is an art – a brewer is able to create unique beer by producing small quantities which delivers strong flavours. The ingredients used by microbrewers are different to those used by large, commercial brewers. The introduction of craft beers to South African beer drinkers has created a new excitement in the marketplace as there is now a wide range of tastes available and beer drinkers are no longer restricted to the same brands and styles which have been available over the last few years.
Freshline oxygen, which is added to the wort during the fermentation process, modifies the yeast activity, ultimately affecting the flavour of the beer. Freshline carbon dioxide is used for carbonation of the final product and the Freshline nitrogen is used to create the 'head' or 'collar' of a beer, which adds to the attractiveness of enjoying a 'cold one'.
Air Products' Freshline Product Manager Nelisiwe 'Neli' Dlamini explains the use of Freshline oxygen in craft beer brewing: "Brewing craft beer is an intricate process and it is important to ensure a secure supply of oxygen to the brewery – malt and hops, water, yeast and oxygen is required for the fermentation process and without the oxygen, the entire process and ultimately the quality of the beer is affected. We understand the process and aim to ensure that we supply product to the microbreweries, enabling them to produce quality, tasty craft beer".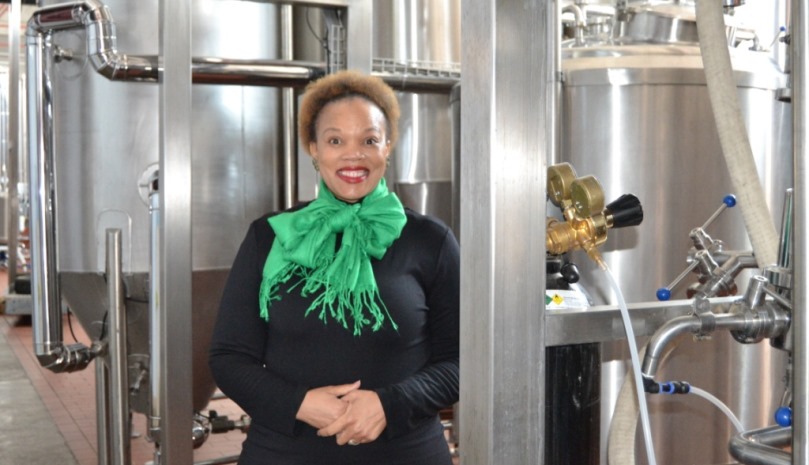 Air Products has formed a strong relationship with a number of microbreweries in Gauteng and is proud to be associated with their growth in market share in the last two years. For breweries such as Drayman's Brewery, Mad Giant and Ubuntu Kraal Brewery it is of extreme importance to ensure that gases are available during specific parts of the brewing process, as delays or interruptions as a result of a lack of oxygen and other ingredients will have an impact on the final product.
Air Products' infrastructure enables them to supply microbreweries via cylinder, Maxitank, Minitank or CryoEase®, which is an effective and convenient alternative to cylinders, suited for customers with smaller operational spaces.
Moritz Kallmeyer from Drayman's Brewery comments: "As a craft beer brewer, I strive to constantly improving the brewing process. A part of what I would like to achieve is to brew beer with a lower oxygen count, more stability, greater clarity, improved balance and better head retention. As a micro brewer, modern technology is costly to acquire, however, we do not hesitate to consult the Air Products team to advise us on improving our beer quality by altering our gas usage and composition. We consider Air Products to be a part of our brewing team".
According to Chief Beer Officer at Ubuntu Kraal Brewery, Ndumiso Madlala, Air Products has been a part of their operations from the beginning when the brewery was being commissioned. On the role of Air Products in their operations, Madlala states: "It is important for us to ensure that our product is available to our customers at all times. With the assistance of Air Products, we can ensure that our beer is available to our Soweto Gold lovers through the focus on prompt delivery and efficient customer service".
"As a chemical engineer and a beer lover myself, quality is of the essence, whether it be the clarity or taste of the beer. Through Air Products' commitment to ensure a supply of product when we need it for our delicate brewing processes, we can pride ourselves in the quality and availability of our blends as the market demands, especially in the light of the fact that we also sell our beer at the brewery" says Eben Uys from Mad Giant.
According to the craft brew masters, craft beer is expected to take at least 10% total market share of South Africa by 2022.
Dlamini concludes: "We are fortunate to form part of the growth of the craft beer market. With the knowledge, skills and insight of brewers such as Kallmeyer, Madlala and Uys, the growth of craft beer is inevitable. There is no question – Air Products will be supplying the product needed by the brewers to continue to brew quality craft beer".
For more information, contact Air Products.


About Air Products South Africa
Air Products South Africa (Pty) Limited manufactures, supplies and distributes a diverse portfolio of atmospheric gases, specialty gases, performance materials, equipment and services to the Southern African region.
Air Products touches the lives of consumers in positive ways every day, and serves customers across a wide range of industries from food and beverage, mining and petrochemicals, primary metal and steel manufacturers, chemical applications, welding and cutting applications to laboratory applications.
Founded in 1969, Air Products South Africa has built a reputation for its innovative culture, operational excellence and commitment to safety, quality and the environment. In addition the company aims to continue its growth and market leadership position in the Southern African region.
About Ubuntu Kraal Brewery
The Ubuntu Kraal Brewery, situated in the heart of the iconic Orlando West, Soweto was started in 2013 and was the meeting of two minds. Ndumiso Madlala, a seasoned brewer who had previously worked for big beer giants like SAB Ltd, Heineken, and SABMiller Africa and Josef Schmid with a background in the hospitality industry within big hotel groups joined forces to establish the brewery. Ubuntu Kraal Brewery is owned and operated by Mad Mead Brewing Co., the makers of the first regional township brand craft beer called Soweto Gold.
Ubuntu Kraal Brewery currently targets craft beer enthusiasts, with a future view of extending their appeal to the mainstream market.
The Kasi Beer Garden, situated at the Ubuntu Kraal Brewery is a vibey kasi-style eatery, serving gourmet township grills.
About Drayman's Brewery
Moritz Kallmeyer had his first encounter with 'mielie beer' in the 7th grade and worked as a brewer in Firkin, the first brewpub in Pretoria. He started brewing full time in his garage in January 1997 in Villieria, Pretoria, using converted copper geysers for his brewhouse. Six months later he moved to the first official premises on the original farm in Koedoespoort.
With the financial help of his father and other investors, he bought an old house in the Silverton industrial area and had it revamped into a fully functional craft brewery in January 2000. Drayman's microbrewery specialises in brewing a range of outstanding craft beers equivalent to the finest in the world.
The beer is distributed throughout the Gauteng area to upper class restaurants, bars, pubs, taverns and selected bottle stores. Increasing demand for these fine beers will see them cautiously expanding the brewery and distribution network of what has now become a renowned South African craft beer. Since the brewery's inception, Drayman's beers have been enjoying increasing popularity amongst beer lovers as an alternative to costly imported styles.
About Mad Giant
Mad Giant brings together science and an immense love of beer – the brand's co-founder, Eben Uys, is a thirtysomething chemical engineer whose thorough understanding of froth has made its way into scientific journals.
The craft brewery is located in the 1 Fox Precinct, a collection of restored warehouses in Johannesburg's historic Ferreirasdorp district. The spectacular downtown craft brewery consists of Mad Giant brewery's shed that is very easy to find – it has a huge retro-style sign on its roof and a spacious beer garden that stretches around the building. Inside the space has been given a fun makeover with quirky light fittings and unusual Meccano-inspired tables and chairs.
Striding behind the bar is a giant metallic Mad Giant sculpture, and there's also a small shop selling Mad Giant-branded glassware and bottles of beer. The brewery also shares space with the exciting Urbanologi restaurant known for its unique Asian-inspired gourmet tapas.