Has your varied educational and work experience been a good preparation for the complexities of leading a retail giant?
My role at Clicks has always been broader than HR as I have always been a member of the four-person group executive team which is the highest decision-making body in the group and which is also responsible for strategy development and execution. I am also fortunate that both of my predecessors actively championed for the "people agenda" to be integrated into the business and for HR to have a seat at the decision-making table. This philosophy helped to facilitate my progression to where I am currently.
What has surprised you about the task?
The confidence placed in me by our board and the support I have received from our people, especially by the executive teams in our organisation.
You have presumably been the "first" in many of the roles you have filled on your way to being the first to lead a JSE-listed retailer. What are some of the key attributes that have helped you achieve these firsts, and how would you describe your leadership style?
I regard myself as an inclusive leader who listens and engages with people. I trust in people's competence which helps to foster a collaborative and accountable culture. I appreciate dialogue that introduces new perspectives and innovation. And I've never been afraid of being challenged, in fact I encourage and value it.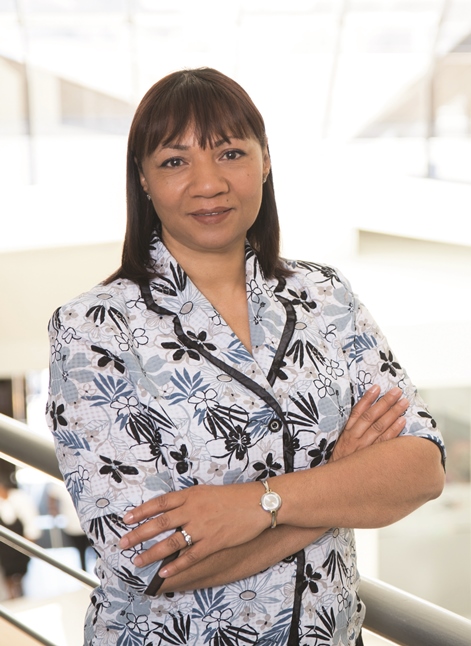 In my opinion, a good leader advocates for inclusivity and does not alienate those who may have different opinions. At times this may require holding off on expressing your own views in order to hear the views of others.
There is a positive shift in the leadership space in terms of who assumes the role of leader – increasingly it is people who have a track record of performance and of building organisational capabilities. I hope to contribute to this ethos and enable the development of other new leaders.
Ultimately, I'm determined to be my authentic self in this role, rather than trying to emulate male characteristics which may be more reflective of male leaders.
Clicks Group has done a Women's Empowerment Gender Gap Analysis evaluation: were you pleased with the results?
I was very encouraged that we achieved a result well ahead of the norm beginner-improver category presenting in the achiever category (63%). The majority of our workforce are women with representation across all levels of the business. The evaluation has been a good opportunity to understand the areas we lead, as well as to identifying the areas that we need to focus on.
Overall, Clicks continues to make good progress in terms of ensuring equity within the organisation through good governance, policies and practices, as well as building a culture that enables a diverse and inclusive culture. We plan to continue advancing our diversity and inclusivity programme.
How is Clicks Group integrating transformation into its overall business?
Clicks has always embraced its heritage as a proudly South African business and has long been committed to shaping an inclusive organisational culture. From being a laggard in the empowerment space, we were the most empowered retailer by 2015, integrating transformation into our overall business.
Our employee ownership scheme is something I'm particularly proud of. In 2018, it vested fully, resulting in the first 50% pay-out of R1.3-billion to employees and a final pay-out of R1.5-billion in February 2019. I'm very proud of the fact that the Clicks Group has one of the most successful employee share schemes to date.
We regard transformation as an ongoing journey rather than an end destination. As such, we're heavily focused on preferential procurement which supports local suppliers, in particular black- and female-owned enterprises. We're currently investigating how we can advocate for equity equivalence programmes that benefit local suppliers.
In 2021 we launched a supplier development programme as well as a user-friendly portal on our website via which local entrepreneurs can apply to become a supplier. We plan to target over R4.5-billion sourced through black women-owned suppliers over the next three years. Currently, Clicks has between 40 and 50 local suppliers across different categories representing close to 780 products.
How do you think the retail sector can speed up the transformation journey?
The retail sector already plays a critical role in the development of people with thousands of school leavers gaining accredited, portable qualifications offered by most of the retailers via their accredited learning academies. Retailers also invest substantially in the education sector by providing bursaries to students in registered tertiary institutions. And the role of our sector in transforming the demographics of our labour market is impressive.
Beyond this, retailers invest in the socio-economic development of the communities in which we all operate and have also led the way in the development of black- and female-owned suppliers and enterprises with a number of retailers having structured supplier development programmes that support the advancement of SMMEs to fully fledged suppliers.
How important is localisation for the SA economy?
It's critically important. As global supply chains continue to be under pressure it has reiterated the need for businesses to source locally. Sourcing locally is also an important part of building healthier futures for South Africa's small and medium-sized enterprises and this will create stable jobs and a healthier economy for our country.
As a proudly South African retail group, Clicks Group has long had the philosophy that a prosperous local economy is an advantage for everybody. Given South Africa's huge unemployment challenge, there is no question that sourcing locally is a sustainable strategy to create both upstream and downstream employment opportunities.
Clicks is very focused on its local sourcing strategy. This year alone we have grown our local sourcing of Clicks Private Label products by more than 24%, from Level 1 to Level 4 B-BBEE businesses. These were all products that would previously have been imported.
Where is Clicks Group targeting growth in the years ahead?
Our aim is to expand our footprint by opening between at least 25 to 30 new stores each year with an overall target of 900 stores situated throughout South Africa by 2026. This rate is accelerated as increased space opportunities become available.
One of the drivers of Clicks' success, we believe, is predicated on convenience. This is reflected in a growing footprint of stores to ensure customers are easily able to access Clicks' affordable range of health and beauty products. Our aim ultimately is that the majority of households in South Africa are situated within a 5km radius of a Clicks store, with each store tailored to the needs of the community it serves.
As a group, Clicks is committed to investing in and growing the South African economy. Each new store creates around 20 in-store employment opportunities as well as five additional employment opportunities for support staff, and of course countless more indirect job opportunities.
What are your focus areas for the remainder of 2022 and going into 2023?
Entrenching our position as the customers' first choice in the health, beauty and wellness sector is a priority. Not only is Clicks an iconic brand, but it is the preferred choice for millions of consumers when it comes to health and beauty retailing. Maintaining this position requires that we strengthen our engagement with all stakeholders – including customers – and highlight our achievements particularly around our localisation strategy, empowerment and sustainability commitments.
I'm of the school of thought that believes that businesses have a responsibility to deliver sound financial performance and to do so in a way that positively impacts all our stakeholders. There is extensive research available indicating that today's employees want to work for organisations that are ethical and have values that resonate with their own. Likewise, customers are attracted to companies that conduct business ethically and sustainably. 
---
Bertina Engelbrecht was appointed CEO of Clicks Group in January 2022. An admitted attorney, she joined the group in 2006 as group human resources director and was appointed an executive director in 2008. Prior to joining Clicks Group, she was general manager for Shell SA Energy and regional human resources manager for Shell Oil Products Africa. Prior to this she was director of organisational effectiveness at Sea Harvest, managed her own legal consultancy practice and spent eight years with Transnet.