Location: eThekwini Metro
Economic sector: Property development (residential, office space and retail)
Project overview
The Durban Point Waterfront Development is a joint venture with a Malaysian company and the Durban Point Development Company.
The R35-billion investment located on the South Point of the central beachfront is set to include a number of mixed use developments projects, including upmarket residential and commercial developments, retail mall, a hotel and leisure facilities.
The project will be undertaken in three phases over the next five to ten years.
The project forms part of the city's initiative to redevelop and regenerate the inner-city. The first phase commenced in 2017 and relates mostly to the provision of bulk infrastructure.
The balance of the project will cover a 10 to 15 year horizon at between R30-billion to R35-billion of public/private sector investment.
When completed, the development will create 6,750 permanent jobs and provide 11,000 construction jobs with an annual rates contribution of R200-million to the municipality.
Investment value: R35-billion ($2,4-billion)
Project Finance
Private Developer
eThekwini Metro
Project status
Work package 1: Watermain upgrade has commenced with construction
Work package 2: Watermain upgrade has commenced with construction
Work package 3: Promenade extension has been completed (learn more)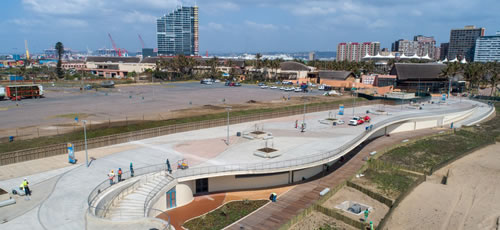 Partnerships
Public-Private Partnership – between eThekwini Municipality & UEM Sunrise under development company called Durban Point Development Company (DPDC), Malaysian Investor
Public Works – Implementable plans with timelines to address Dilapidated Buildings
Buildings
AMAFA – Support the city in the eradication of very old buildings that are classified as Dilapidated Buildings
Transnet – Implementable plans with committed financial resources and timelines for the redevelopment of the Harbour and Cruise Terminal
Increased Joint Operations with SAPS for crime prevention and management (crime hotspots, drugs and weapons, etc)
Department of Higher Education and Tertiary institutions to work with the city in the development of integrated plan for safe and appropriate student accommodation facilities that meet required quality standards
Contact the team
To enquire about investment and business opportunities within this development, please contact the project team below.
(Kindly use the project name – Durban Point Waterfront Development – as reference in the subject line):