The eight kilometers of the breathtaking promenade stretches from the Durban harbour mouth to Blue Lagoon. The promenade extension is wheelchair friendly and boasts a first aid room, undercover parking bays and a lifeguard tower, all located between the harbor mouth and uShaka Marine World. It will officially be opened to the public on 16 November.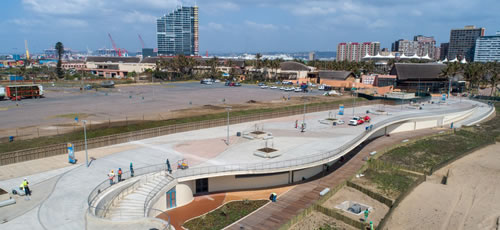 During the multi-million rand promenade final inspection walkabout on 24 October, eThekwini Mayor Councillor Mxolisi Kaunda said the completion of the promenade, which commenced in March 2018 and stringently kept to the construction timeframes, has immensely contributed to President Cyril Ramaphosa call of "Khawuleza", to move with speed in building a better life for all.
He said the launch of the promenade extension makes a bold statement to spatial transformation by taking a beach node that was once exclusive and opening it up to the public. Mayor Kaunda said the development will soon fulfill its envisioned goal of attracting investment to boost local tourism. He was referring to the first phase of R3.5-billion of the total R35-billion Point Waterfront Development, which is expected to start soon.
This phase, earmarked to commence around May 2020, will include a hotel and retail mall. "The second phase will boast residential and commercial facilities with the third and final phase being a mixed-use development including an iconic 55 storey building which will change the skyline of Durban in the harbour mouth." Listing economic spinoffs from the promenade extension, Mayor Kaunda said he is very excited that the project delivered on radical economic transformation objectives. "Over 40 percent of sub-contracting opportunities over various sectors benefit local businesses."
The entire Point Waterfront Development, once completed, is set to contribute in excess of R200-million in rates income, creating 11 000 temporary construction jobs and 6 750 permanent jobs. The first 1 100 jobs were created during the promenade expansion construction. The promenade extension will officially be launched on 16 November where it will also be opened to the public.
Mayor Kaunda said this will signal eThekwini's unending commitment to the Inner-City Regeneration Programme, as the Point Waterfront precinct will go a long way in changing the face of the Durban central business district. He said breaking ground for the promenade to connect with the new cruise terminal will commence in two weeks, adding that Transnet has committed to begin construction during the third quarter of 2020 on their section of the promenade. "This will further elevate the promenade, which is 750 meters long and 30 meters wide, giving visitors and locals uninterrupted and continuous access into the Point Waterfront Precinct along the beach and to the harbour's edge."
To enquire about opportunities to invest in the Point Waterfront Development, contact Invest Durban: