Please tell the story of how the company came to be founded.
In 2011 I had a business partner, but we parted ways in 2016. In 2017 I opened my own proprietary company.
What inspired you to go into engineering and to start a company?
I enjoy finding out how things work. The fact that engineering is so much an essential part of everyday life was part of it, plus the fact that I like to challenge myself.
Another factor that led me to start my business was to improve people's lives. I have a desire to make this world a better place.
I always knew I wanted to run my own business even when I was young. Early examples of that include selling candy in school to doing catering while I was at university.
Where does the name of the company come from?
It is inspired by my music background. I studied music at the University of KwaZulu-Natal. In music every song that is composed is made up of specific musical notes that come together to shape the song.
Mechanical engineering is the same in that every single phase in the engineering process needs to be composed, designed and crafted to perfectly fit the structure that is being created. Nothing can be allowed to be out of tune. Similarly, just like the notes are carefully crafted, in engineering each process is methodically executed with expert passion and skill to create a structure that will be like a beautiful song – and stand the test of time.
What were the major challenges you faced in the early days?
Being in charge of an emerging company in an industry that is dominated by men was a challenge. My dad always taught us as his children to be constructive. He would always make us do the sort of duties that were normally allocated to boys. I think this really helped to build me up to be able to face challenges.
In engineering each process is methodically executed with expert passion and skill to create a structure that will be like a beautiful song – and stand the test of time.
What else helped you get through those tough times? Did you have support systems?
My number one supporter is my husband, Vezwa Mpunzana. Chief Operations Officer Hlengiwe Gumede has also been very supportive. These two people have been my pillars since the inception.
I am grateful to both my parents who instilled in me the message from the Biblical passage, Phillippians 4, that I can do all things through Christ, who gives me strength.
Have you found any obstacles to you as a woman in the engineering field?
In this male-dominated industry, men always feel that they are superior to women. My ability has been challenged on numerous occasions. To survive in this industry, you need to stay strong, ignore negative comments and speak up when you are treated unfairly because of your gender.
Which section of your business has been growing the most in the last two years?
Steel fabrication is growing at a steady rate and it is rising. The global market is anticipated to rise at a considerable rate between 2022 and 2028.
Demand in steel fabrication is high in most countries due to an increase in industrial activities and also because of the increased demand in various end-user industries such as automotive, shipping, railways and power and energy.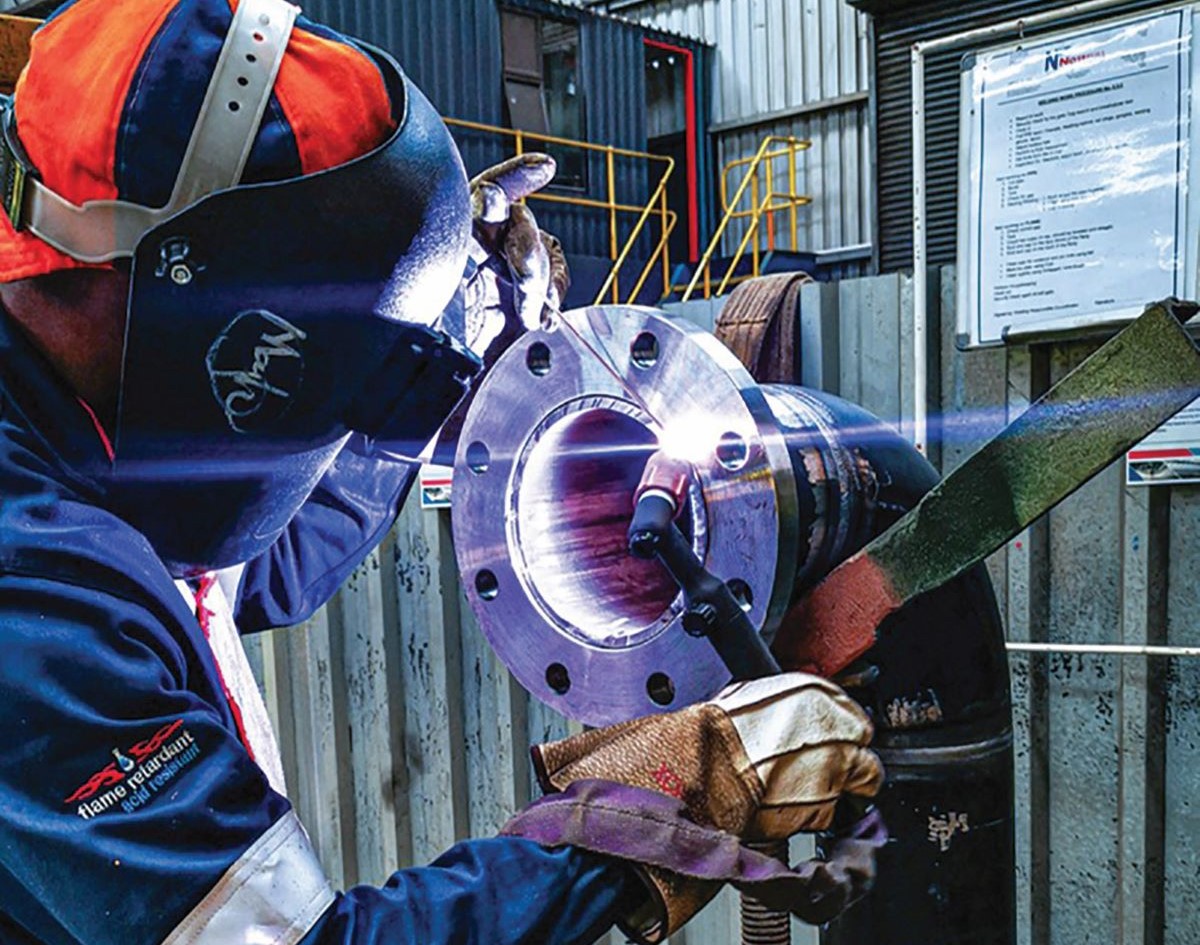 What is the nature of the work done by Notefull Engineering?
All steel fabrication, refurbishment, maintenance and repair, sandblasting and painting
Installation of power lines
Steel pipe fabrication and installation
Welding
Boilermaking
Laser cutting
Rigging
Plate bending and rolling
Steel structures
Engineering design
Computer numerical control (CNC) machining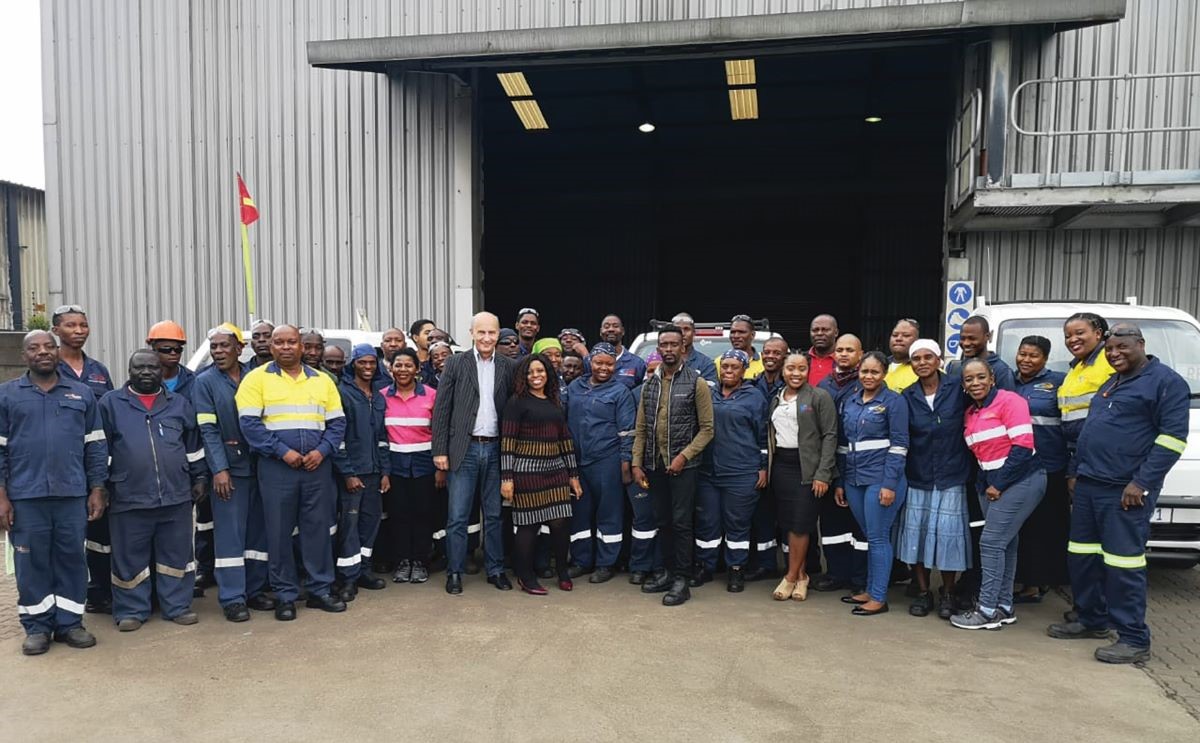 You now have several blue-chip companies on your client list. How did you build up your client base?
We started very small. Our unique selling proposition is providing excellent customer service and support. This has helped to attract even international clients and has been vital in maintaining our client base. The other major factors where we are strong are:
Uncompromising quality. We work around the clock to ensure our clients get the best.
Health and safety. We always strive for zero injuries. We are currently implementing ISO45001 to provide for an even safer and healthier workplace and to align with international best practice. The health and wellbeing of our employees is very important to us. I have seen that a team that feels cared for works better and produces good results.
Innovation. We exist to solve complex problems and we try to be innovative as much as possible.
How many staff do you have?
We have 143 permanent staff which includes double-coded welders, riggers, boilermakers, fitters, engineers, pipe fitters, fitter and turners, supervisors, site managers, painters and semi-skilled workers.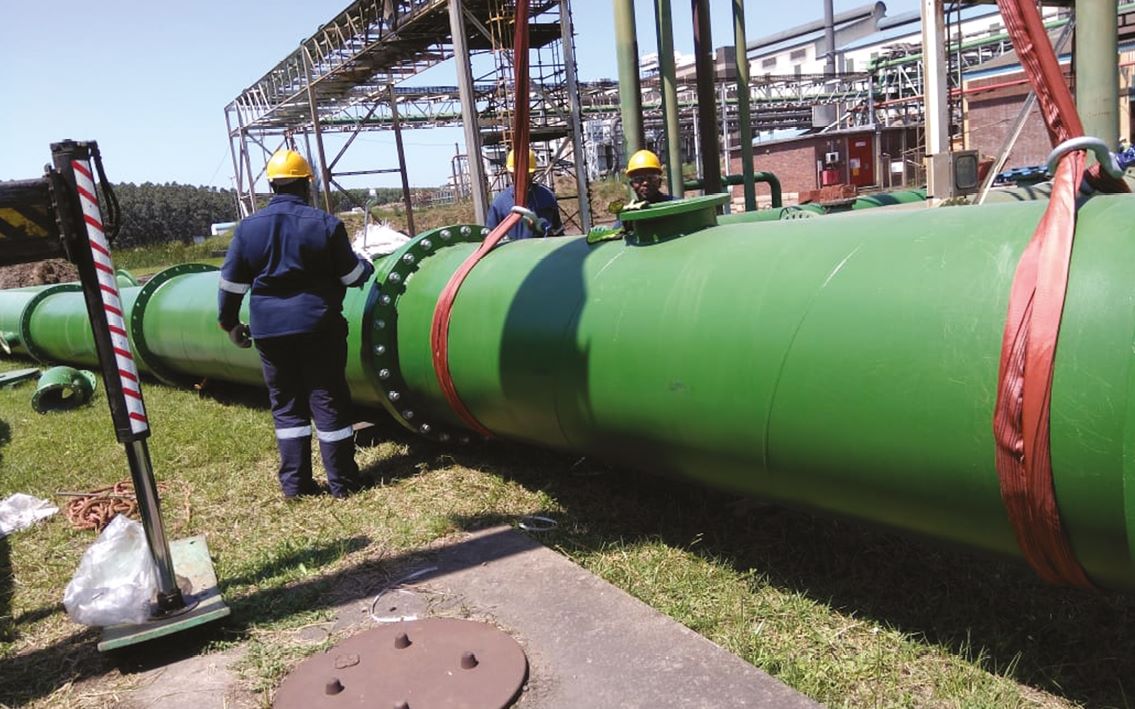 Do you have programmes that encourage staff to further their education?
We believe in training, education and the development of our staff. This approach has helped us in improving our employees' level of performance through the acquisition of skills, abilities and knowledge. We have an annual budget of over R1-million for education and bursaries.
All of the children of our employees who matriculated in 2022 will receive bursaries. We also work closely with TVET colleges to provide learnerships and we have hired some of the students who excelled at college.
Where do you see Notefull Engineering in five years' time?
Our goals include:
Registering on the Johannesburg Stock Exchange. This would allow our employees to have a stake in the business by buying shares.
Creating Notefull as a franchise operator.
Taking Notefull into the automotive sector.
Establishing a global footprint.
When did you join SACCI?
November 2022.
---
Contact Notefull Engineering:
Richards Bay (Main Branch):
9 Ceramic Curve, Alton, Richards Bay 3901 | Tel: +27 35 761 1015
Automotive Supplier Park, 30 Helium Road, Rosslyn, Pretoria | Tel: +27 12 564 3503
Email: nokuthula.m@notefullkzn.co.za | Website: https://notefullengineering.co.za