When farmers in the Cape Colony wanted better returns for their hard work, they introduced sheep which produced a better quality of wool. That tactic was so successful that the value of wool exports increased exponentially in the four decades after 1820.
However, when Angora goats were introduced, the value of exports of mohair shot up in just five years from £15 000 to £107 000. South Africa had found its "diamond fibre" before the first real diamond was discovered in a field near Kimberley which would launch South Africa's mineral revolution.
The other high-value livestock idea introduced was ostrich farming and that went very well, until the market crashed around the time of the outbreak of World War I. Mohair continues to shine.
The first Angora goats came to the Cape in 1838 but it took some time for commercial operations to take hold. By 1860, bales of wool and mohair were responsible for the port at Port Elizabeth handling more cargo than Cape Town.
Mohair is a white, lustrous fibre (thus the "diamond fibre") that is strong and elastic, and it forms a fabric that is easily dyed. Also sometimes called the "noble fibre", mohair is lightweight, durable, breathes well and is crease-resistant.
The great fashion houses of the world create garments from mohair which is also used to create scarves, socks, blankets, ponchos and throws.
China and Italy are the two main export destinations of South African production, fully 95% of which is exported.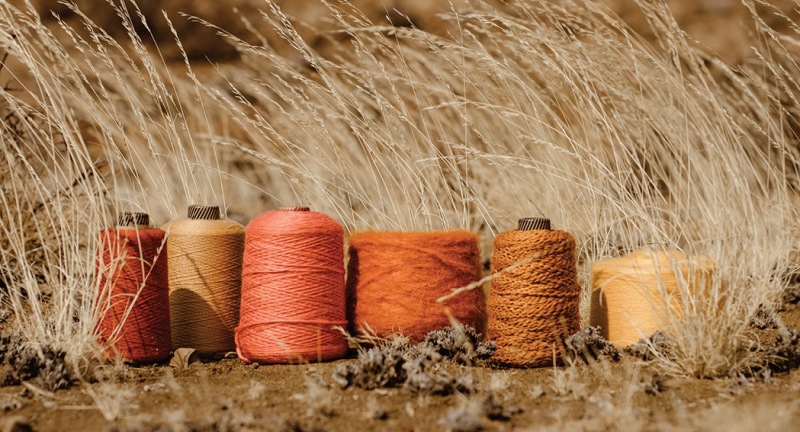 South Africa now produces about 54% of the world's mohair and Port Elizabeth is the mohair capital of the world in the sense that its port handles the bulk of South African exports, many companies have their headquarters there and the sector association, Mohair South Africa, is based there.
As the industry's representative, Mohair South Africa develops international partnerships and promotes the marketing of mohair products. The body's stated aim is to "create sustainable demand and profitability for all role-players from producer to processor, and from buyer to manufacturer".
Mohair South Africa is involved in several fashion shows around the world (and other events, such as a series of Vogue magazine knitting events in the USA), which, together with engagements with international brands and textile organisations and attendance at international trade shows, help to keep mohair in the global public eye.
The Empowerment Trust is a Mohair South Africa initiative that helps small-scale farmers towards becoming commercial mohair producers. It also has programmes that train and develop individuals throughout the mohair value chain.
These include farmworkers, shearers, manufacturers and entrepreneurs. If a candidate can show that he or she has the land and a good business plan, interest-free loans (in the form of goats) are paid out, repayable after five years from the profits that come from shearing, which happens twice every year.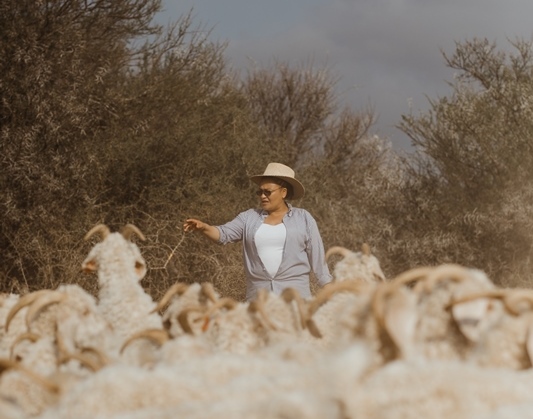 Farms around the small towns that dot the open plains south of Graaff-Reinet, Aberdeen, Somerset East, Jansenville and Willowmore routinely produce nearly half of South Africa's production.
The office of the South African Mohair Growers Association (SAMGA) is in Jansenville. SAMGA negotiates with government and non-governmental organisations on issues to do with mohair production. When the International Mohair Summit was jointly hosted by Jansenville and Graaff-Reinet, a Mohair Museum was created in Jansenville.
Grootfontein College of Agriculture, the only tertiary educational institute in the country to offer a programme aimed at Angora goat farming and mohair production, is located in Middelburg, north of Graaff-Reinet.
Processing of mohair takes place in Uitenhage, Port Elizabeth and Berlin outside East London. The mohair value chain includes brokers, buyers, processors, spinners, manufacturers and retailers.
SAMIL Natural Fibres has divisions all along the value chain. This covers farming, combing, trading, spinning and dyeing. The Angora Genetics Laboratory (ANGELA) was established in 2013 to improve yields. The Stucken group controls Mohair Spinners South Africa, Hinterveld (a mill) and a processing company called Gubb & Inggs in Uitenhage.
Several agricultural companies have mohair divisions. OVK has a 100% shareholding the Cape Mohair Wool (CMW), a mohair brokerage. BKB has a mohair division that includes auctions and brokering. The company markets about 35% of mohair produced and runs bi-weekly sales in Port Elizabeth.
Mohair auction facts:
CMW, a part of the OVK Group, recorded a turnover of R41-million at a sale in 2018.
In the same year a pair of farmers achieved a price of R1 256.10/kg at another CMW auction. That worked out to more than R100 000 for a single bale.
At the third sale of 2019, an average price was achieved of R289.66/kg. The highest price paid was R613/kg, for a 23-micron kid mohair clip. By the final sale of the year, the average was R218.97/kg (Mohair SA).
A ram sold at an auction organised by the Angora Ram Breeders' Society in 2018/19 fetched R86 000.
Links:
---
This article first published as a Special Feature in the Eastern Cape Business 2020 edition business and investment journal.
View the e-book: