The speakers for the much anticipated 2nd Annual Africa Diversity, Equity and Inclusion Summit have been announced. The continental 2-day summit will be hosted 28-29 September 2023 at the Hyatt Regency Hotel in Cape Town, South Africa.  
The event which Includes Transformation, Culture, Justice and Belonging and under the theme "Enhancing Diversity, Equity & Inclusion for shared prosperity and Development" is part of the Annual Africa series of summits to be hosted regionally in Southern Africa, East Africa and West Africa.
This year's event comes after the successful hosting of Southern Africa summit hosted in Sandton, Johannesburg, South Africa in September 2022 and which brought together over 40 local and international speakers, and more than 150 delegates from over 20 countries.
The summit will cover African Perspectives (East, West, South and North) and will feature local, regional and global thought leaders and bring together key stakeholders in the Diversity, Equity and Inclusion sector such as; DEI professionals and experts, human resources practitioners, labour law and legal experts, transformation specialists, wellness coordinators, recruitment agencies, advocacy groups, policy makers, people and culture professionals, development finance institutions, multi-lateral agencies, legal and regulatory frameworks experts, social development entities, gender focussed entities, consultants, ESG/Governance leaders, strategists and business leaders, public and private institutions, labour organisations, human rights and inclusion stakeholders, policy makers and governance professionals, etc.
Speaking during the announcement, the convener and chair of the organizing committee, Mr. Stephen Munyao, reiterated the need to close the diversity gap across the continent, saying "The Diversity gap in Africa is huge and the continent faces extreme challenges when it comes to Diversity, Equity and Inclusion both in the work and corporate worlds".
Some published reports have shown that Sub-Saharan Africa will take close to a century to achieve gender parity at the current pace. This is even worse in the Middle East and North Africa and compares badly to Europe, which is expected to take around 54 years. Although gender and race have been the dominant focus areas especially in the West, organisations globally are now implementing business and governance strategies and developing work cultures and environments that remove barriers and discrimination based on religion, age, sexual orientation, education, language, ethnicity or physical disabilities.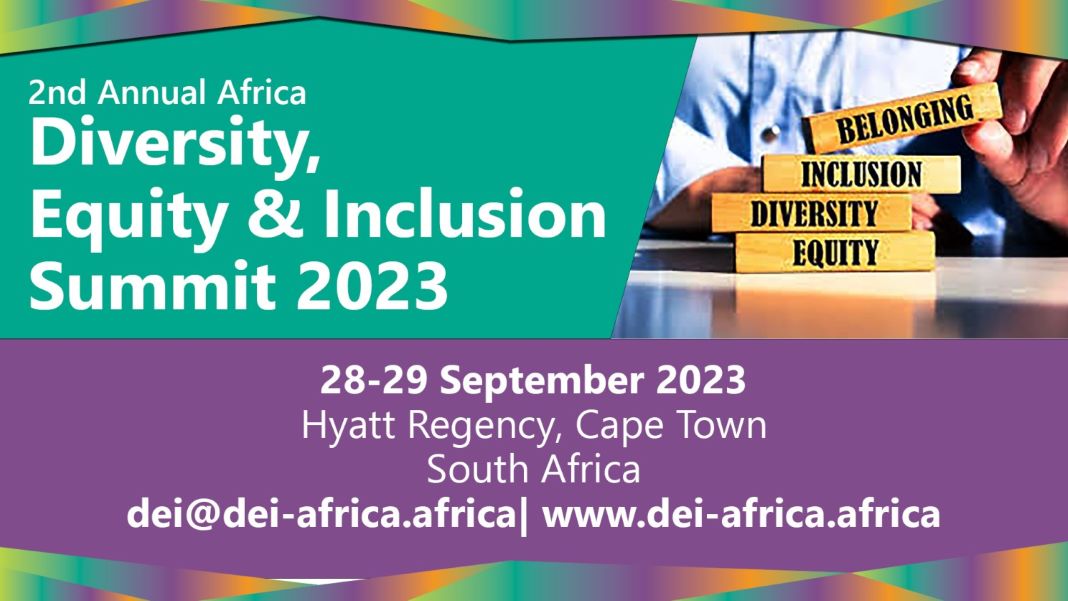 Research has shown that organisations that score highly on DEI are more likely to innovate and perform better, increase productivity, better customer feedback, improve employee engagement, attract staff/skills and increase staff retention, lead to increased market understating as well as the possibility to be socially responsible and incorporate new ideas.
Mr. Munyao added that Africa needs to accelerate the development of national diversity, equity and inclusion policies and strategies in order to achieve most of the sustainable development goals. He indicated that "most of the SDGs can be achieved through the adoption of intentional, honest and well thought out DEI policies across the continent where a myriad of groups still face discrimination in one way or another".
In South Africa, several legislative efforts chiefly driven by the country's discrimination legacy have been implemented and achieved some level of success, although a lot still needs to be done. The labour relations act of 1995, the employment equity act of 1998 and the BBBEEE have addressed some of the critical diversity and inclusion concerns in South Africa but there are still disparities in levels of representation such as women in business, diversity at ownership and management of businesses, development and promotion of women, ownership of businesses by black and other previously disadvantaged groups, skills and socio economic development disparities, etc.
Therefore, having an integrated Diversity, Equity and inclusion strategy alongside an organisations business strategy is a good thing for the organisation's bottom line – which means that all DEI strategies and initiatives should be perceived as an investment rather than a cost to the organisation. DEI strategies have the capacity to positively impact an organisation's outlook as well as society by driving reduction in wealth inequality, poverty and unemployment while at the same time achieving an organisation's financial goals for a shared prosperity for all stakeholders.
Confirmed Speakers include:
Amanda John FSA™, M.EDTX Head, Black Distributors Trust and Business Development Manager, Old Mutual Group
Chule Gobodo, Founder, BrainBow
Kutlwano Mabusela, Director & CEO, BrainBow
Kholekile Mnisi, Head of Media and Communications, Foundation For Human Rights
Rikky Minyuku, Associate Director, Womaniko
Lydia Turner, Founder & CEO, GBBI
Yinka Olaito, Executive Director, Centre for Disability and Inclusion Africa
Celesti Azor, Contingency Outsourcing Specialist Measured Ability South Africa (MASA)
Fundi Ndaba, Director & CEO, Business Goals Coaching
Dolly Nqonji, Vice President, Culture, Diversity, Equity & Inclusion, Massmart Group
Zinhle Mpungose, Head of People Management, Transnet Property
Dr. Siyabulela Fobosi, Senior Researcher, UNESCO 'Oliver Tambo' Chair of Human Rights, Faculty of Law, University of Fort Hare
Lynette Nabbosa FRSA ACMI, CEO and Co-Founder, Elimu UK
Mashnee Gounden (She/Her), Founder & DEI Expert, Transforme
Rohini Anand PhD, Founder and CEO, Rohini Anand LLC
Dr Sorayah Nair, Director & CEO, Business Health Solutions
Vic McKinney, Board Member, Disability Studies, ShonaQuip Social Enterprise
Marleen Potgieter, Founder and CEO, Equity Works
Yanga Duma, Chief Executive Officer, IF Insurance
Dr Karina Fischer Mogensen (She/Her), Director, BFM & Associates
Motshetela TeeTee Mashao, Managing Director, Leewika Capital
Thevan Naidoo, Project Manager-Social Transformation, NBI
Smita Tharoor, Founder and Co-Founder, Tharoor Associates and Culturelytics (UK)
---
For media enquiries contact: Imani Makau, Head of Operations & Partnerships, Africa Diversity, Equity & Inclusion Summits 2023.
Phone: +27 60 713 9199, email: dei@dei-africa.africa
---