The African Export-Import Bank (Afreximbank) and the Export Credit Insurance Corporation of South Africa (ECIC) have entered into a memorandum of understanding (MOU) to launch a $1-billion financing programme to promote and expand trade and investments between South Africa and the rest of Africa.
Under the terms of the MOU signed in Cairo on Monday 12 March, Afreximbank and ECIC will jointly implement a South Africa-Africa Trade and Investment Promotion Programme (SATIPP).
SATIPP will involve the two institutions working together on identification, preparation and appraisal of trade transactions and projects; exploration of co-financing and risk-sharing opportunities; and knowledge-sharing work, with particular emphasis on intra-African trade matters, through technical cooperation, staff exchange, research and joint events.
South Africa, which joined Afreximbank as shareholder in November 2017 and named ECIC as its designated investor, became eligible for the Bank's trade promotion programmes and financial services as a result of that shareholding.
Speaking during Monday's signing ceremony, Dr. Benedict Oramah, President of Afreximbank, said: "In line with our strategy, IMPACT 2021: AFRICA TRANSFORMED, which prioritizes intra-African trade, industrialization and export manufacturing, we decided to develop this joint programme as it provides a platform for the realization of our strategic objectives while also aligning with South Africa's strategic goal of expanding trade with the rest of Africa."
The President said that in addition to being Africa's most industrialized country and a regional manufacturing hub, with one of the largest and most diversified economies in the continent, South Africa also accounted for the largest proportion of intra-African trade for both exports, at 24.5 per cent, and imports, at 15.4 per cent.
The joint initiative would support businesses through capacity building and market information initiatives; help small and medium-sized entrepreneurs join regional supply chains; and provide advisory services and guarantees to South African investors seeking trade and investment opportunities in Afreximbank African member states, added Dr. Oramah.
Kutoane Kutoane, Chief Executive Officer of ECIC, in his response, said that joining Afreximbank as a shareholder had made it possible for South Africa to widen its access to other African markets.
Beyond ECIC's mandate to increase the volumes of South African exports, the institution was committed to contributing to the Africa's industrialization in an inclusive manner.
"We realise that one of the best ways to enhance our exporting capabilities as a country is by intensifying mutually beneficial trade with the rest of the continent," said Mr. Kutoane.
Also speaking, Kanayo Awani, Managing Director of Afreximbank's Intra-African Trade Initiative, said that SATIPP offered numerous opportunities to South-Africa-based entrepreneurs expanding to the rest of Africa, including trade and project financing, guarantees, twinning/business matchmaking services, export logistics facilitation, capacity-building, and trade information and advisory services.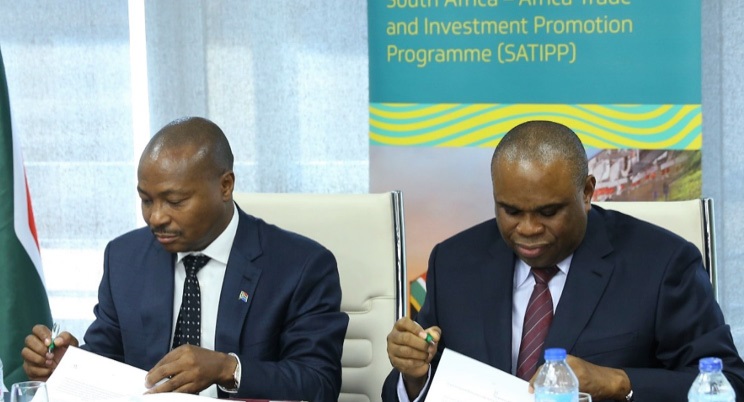 Implementation of the MOU will involve technical teams from the two institutions collaborating in the identification of trade transactions and projects eligible for financing.
The South Africa – Africa Trade and Investment Promotion Programme ("SATIPP") is a joint programme launched by the African Export-Import Bank ("Afreximbank") and the Export Credit Insurance Corporation of South Africa SOC Limited ("ECIC"), with the aim of promoting and expanding trade and investment between South Africa and other African countries.
About ECIC
The Export Credit Insurance Corporation of South Africa (ECIC) was established almost 17 years ago, in July 2001, when it was given the mandate of filling a market gap through the provision of medium to long-term export credit and investment guarantees by underwriting bank loans for political and commercial risk insurance cover, on behalf of the South African government.
The ECIC is committed to sustainable business through innovative solutions, operational and service excellence, business development and strategic partnerships. In enabling frontier markets to optimise production, the ECIC is effectively motivating a positive socio-economic impact.
Our mission is to provide export credit and investment insurance solutions in support of South African capital goods and services by applying best practice risk management principles.
About Afreximbank
The African Export-Import Bank (Afreximbank) is the foremost pan-African multilateral financial institution devoted to financing and promoting intra- and extra- African trade. The Bank was established in October 1993 by African governments, African private and institutional investors, and non-African investors. Its two basic constitutive documents are the Establishment Agreement, which gives it the status of an international organization, and the Charter, which governs its corporate structure and operations. Since 1994, it has approved more than $51-billion in credit facilities for African businesses, including about $10.3-billion in 2016. Afreximbank had total assets of $11.7-billion as at 31 December 2016 and is rated BBB+ (GCR), Baa1 (Moody's), and BBB- (Fitch). The Bank is headquartered in Cairo.
For more information, visit: