Airlink is the largest independent regional airline in southern Africa, linking more customers to the smaller towns, cities and regional centres than any other local airline; connecting 39 destinations, utilising a fleet of Grand Cessna Caravan 208BEX, Jetstream 41 aircraft, Embraer ERJ 135/140/145 jet aircraft, BAe RJ85 aircraft, Embraer E-Jet 170 and Embraer E-Jet 190.
Airlink is a member of IATA – The International Air Transport Association. IATA is the trade association for airlines across the globe. IATA supports many areas of aviation activity and help formulate industry policy on critical aviation issues. IATA assists airlines to operate safely, securely, efficiently and economically under clearly defined rules.
Website: https://www.flyairlink.com/


Related to Airlink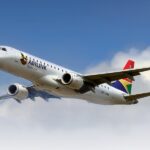 The additional routes will provide business and leisure travelers with more destinations, flight choices, travel opportunities and better connectivity.
Airlink adjusts Johannesburg/Nelspruit flight times to enhance customer convenience and better connectivity with a new special fare.