Project background
Sishen Iron Ore Company (Pty) Ltd (SIOC) and the Industrial Development Corporation (IDC) have funded various studies to assess the feasibility of developing an industrial park to stimulate sustainable long-term economic development for the Northern Cape region. The envisaged development will attract varied tenants delivering industrial goods and services to an environment leveraging economies of scale from centralised facilities and complemented by a business incubation and training complex.
With the mining industry being the largest real economic sector in the Northern Cape economy, the town of Kathu is the preferred location due to its central proximity to the Postmasburg-Hotazel iron-ore/manganese belt and various established and pending Renewable Energy Power Producer Procurement Programme (REIPPPP) projects. It is envisaged that the KIP serve as a catalyst for accelerated growth of other economic sectors.
The feasibility study has not only confirmed extensive interest from businesses with a vested interest in the Northern Cape region (i.e potential tenants) but has also confirmed the support of various key stakeholders as well as the commitment of a number of investors.
This development, located on the R380, is easily accessible from the N14 highway, a major service route between Johannesburg, the West Coast of South Africa and Botswana, and the Kathu airport. The study process has included an assessment of infrastructural requirements and has confirmed integration with Gamagara Local Municipality planning.
Location of Kathu Industrial Park (KIP):
District: Gamagara Local Municipality
City/Town: Kathu
Physical address: Farm Sekgame, 461 Kuruman Road
GPS Coordinates: S27° 42' 52.5" E23° 02' 33.8"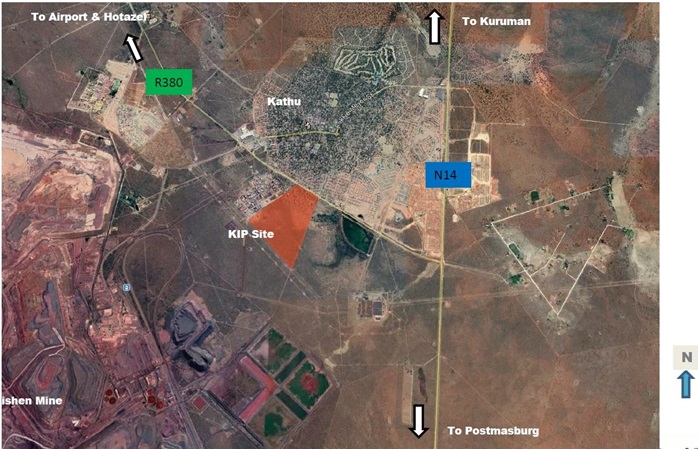 Targeted sectors
The KIP targets all economic sectors requiring serviced industrial space in the region, but with the major portion of the initial tenant makeup (study phase) primarily serving the established mining sector, by virtue of the KIP's central proximity to the Postmasburg-Hotazel iron-ore/manganese belt.
The KIP is also well positioned to serve the emerging REIPPPP sector in the region. In addition to the ongoing development of business opportunities within the tenant supply chains, it will be the role of the KIP business incubator to expand coverage of the KIP into other sectors.
Study phase tenant engagement and commitment to the project has been concluded on a "first come, first served" basis and has covered all possible prospective tenants, regardless of size or level of development.
The KIP development caters for all nature of tenant facilities, from large customised facilities through to smaller, economically efficient mini-factories.
Description of the project
The KIP development comprises the following:
Central hub: This will comprise various facilities and the associated infrastructure network supporting KIP management structures. The scope of facilities is envisaged to include: central administration offices; conferencing facilities; an auditorium; a security office; a restaurant; and other social facilities. These are to be located in a hub within the park in a centrally located single-level building, with visitor parking and appropriate landscaping.
A central logistics facility.
A Business Incubation Centre and Training Centre.
Customised warehouses and industrial buildings and (standard specification) mini-factories.
Security fencing and lighting.
Additional infrastructure envisaged for the functionality of the KIP includes: internal roads (tarred and paved), a storm-water system and an internal water reticulation system.
Facilities & Infrastructure Layout (Phase 1 & 2 Provisional Layout)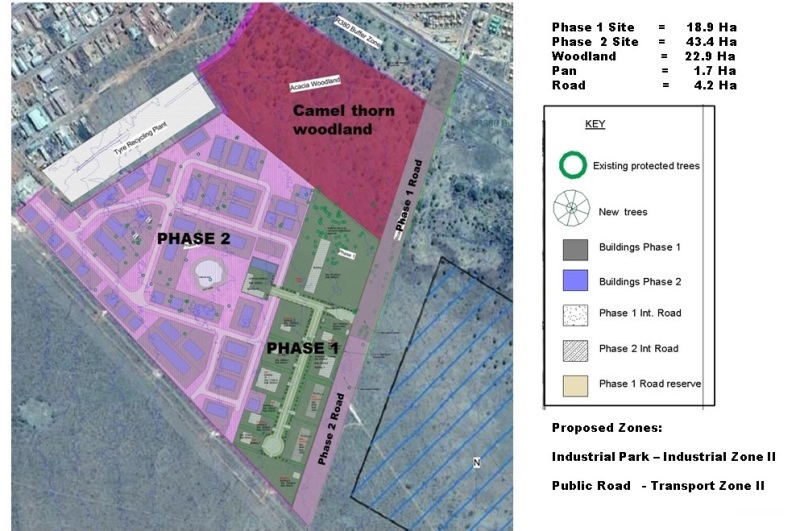 Investment value
Total Project Cost: R530-million (Phase 1 estimate).
Job creation
During development: 1 300 (direct), 805 (indirect) and 2 273 (induced).
During operations: 2 240 (direct), 3 137 (indirect) and 3 446 (induced).
Project finance
KIP is a strategic Social Economic Development (SED) project with extensive short- and long-term benefits which also provides a key point of integration supporting the Northern Cape Share Value Initiative (a strategic initiative recently launched by the Northern Cape Mining Leadership Forum).
Government commitment: Bulk infrastructure contribution.
Private sector investment required: Phase 1 estimated R152-million (to crowd out Industrial Development Corporation equity contribution).
Project status
Feasibility Study, Project Development Plan, Business Plan and Environmental Impact Assessment Study completed. (April 2019)
Currently in the process of finalising KIP Shareholders Agreement, with involvement in the project currently secured from: IDC, Kumba, SIOC-CDT, Assmang and with engagement still underway with South32. Partnerships are in place with the private sector, the Industrial Development Corporation, provincial government and local government.
Partnerships
Private Sector
Industrial Development Corporation
Provincial government
Local government
To discuss the opportunity, please contact the KIP project management team: