The SA Property Investors Network (SAPIN) – the country's largest property network – will be hosting a property roadshow in Cape Town on Thursday, 27th May for property investors and enthusiasts.
The event is being hosted at the J&J Conferences at Belmont Square from 18h30 to 22h00. A line up of high profile guest speakers and property investors will be presenting, including SAPIN Founder and CEO, Andrew Walker and Portfolio Manager at TUHF, Paul Nel, Business Growth Specialist and Coach, Christian Harbeck, Qualified CA, Tax Practitioner and Co-Founder at Intergen, Shillyboy Mothiba, Founder of Bruno Simão Attorneys, Bruno Simão and expert investor, Michael Bowen.
"Investing in property is for the long haul, so while some may have put their investment portfolio on hold due to Covid-19, there are current real opportunities in the Cape property market and it's important to remain consistent, focused and committed to your investment strategy", says CEO and Founder of SA Property Investors Network (SAPIN), Andrew Walker.
The SAPIN roadshow team will also listen to pitches from property investors and enthusiasts for the upcoming Investor of the Year Awards. The pitches will help identify entries for the Award's event in November, that is being sponsored by Absa, Tile Africa, Tufh, Preferental, Private Property, Bruno Simao Attorneys and The Property Academy.
Members of the public attending the roadshow event on Thursday evening will hear talks and presentations from different organisations and gain insights into advanced tools and tactics for property portfolio optimisation, specifically:
Progressive investment strategies for expansion
Overview of all the lending options available to property investors
Property Investment Exit Strategies to mitigate your risk
Advanced deal analysis methods to avoid costly mistakes
Critical drivers of Property Investment Portfolio performance
Tax efficiency that can help you protect your assets
"It's been a while since we've been able to travel and so we are looking forward to getting face-to-face with beginner and big league's property investors in Cape Town. We will also be reconnecting with our existing SAPIN members in Cape Town and we will listen to pitches and encourage entries for The Investor of the Year Awards that are coming up in November this year," says Walker.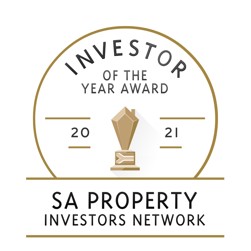 Members of the public can register for the Cape Town roadshow at: https://sapropertynetwork.com/roadshows-cape-town/ 
Strict Covid-19 measures will be in place to ensure everyone's safety. No person will be allowed entry without an appropriate mask covering their nose and mouth. 
Entries for the Investor of the Year Awards can be completed online at www.investoroftheyear.co.za and the closing date for entries is 31st August 2021. 
---