A unique guide to business and investment in Africa
Welcome to the Journal of African Business. The first issue of the journal was published in 2020 as an annual publication. Since then, the quarterly format has been adopted, giving our team more opportunities to bring to readers up-to-date information and opinions and offering our clients increased exposure at specific times of the year.
We continue to cover a broad range of topics, ranging from energy and mining to tourism and skills development. Issues relating to the emerging green economy are becoming more relevant by the day. On a continent where large numbers continue to go without electricity, there is a special urgency to this debate.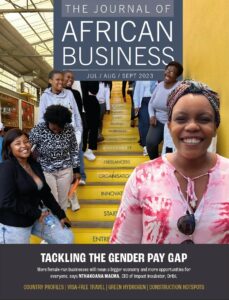 In this edition, a searching analysis is included on the prospects of green hydrogen for developing countries. Rod Crompton and Bruce Douglas Young of the Africa Energy Leadership Centre, University of the Witwatersrand, point out some of the potential potholes on the way to exploiting this greener power source, transport and cost being two big concerns. This article first appeared in The Conversation AFRICA.
Where green hydrogen has future potential, the green minerals that Africa has in abundance are already driving investment as the world looks to make the transition away from fossil fuels. The mining team at legal alliance LEX Africa argue that Africa is well positioned to benefit. African women are benefitting from better access to financing through the medium of mobile phones, as Rashi Gupta, Group Chief Operating Officer at MFS Africa outlines, but Nthakoana Maema, CEO of impact incubator, Oribi, is clear that with regard to the gender pay gap, much still needs to be done.
A snapshot of some of the continent's busiest regions with regard to the construction sector highlights some of the factors underpinning projects, such as infrastructure spending. Travel and logistics are the focus of three articles. Trends shaping supply chains is the subject of one article. Another looks at how access to African countries has improved for travelling Africans, as illustrated by the results of the seventh 2022 Africa Visa Openness Index. Finally, ride-hailer Bolt has established itself in several African countries, pointing the way to a new kind of mobility. 

An important survey of CEOs has been produced. We publish the executive summary of Africa CEO Trade Survey Report 2022 by the Pan African Private Sector Trade and Investment Committee (PAFTRAC).
The tourism industry is in the spotlight as the Radisson Group, winners of the Leading Hotel Group in Africa award, give details of their expansion plans for the continent.
Global African Network is a proudly African company which has been producing region-specific business and investment guides since 2004, including South African Business and Nigerian Business, in addition to its online investment promotion platform www.globalafricanetwork.com
---
---