Unique variety in a prime location
Highveld Industrial Park has over 60,000 m² of prime warehousing and workshop space available for rental, industrial workshops – from 420 to 3,500 square metres. Vacant property is also available for greenfield projects, situated on 650 hectares of prime land.
The warehouses and workshops are suitable for diverse purposes, including steel fabrication, warehousing, heavy and light vehicle and machinery maintenance. Six office blocks offer furnished and unfurnished office space which are also suitable for functions and training.
Where is Highveld Industrial Park?
Within 80 km of eight Eskom power stations
90 km from Pretoria via the N4
120 km from Johannesburg on the N12
200 km from Mbombela on the N4
Has an internal rail and road network.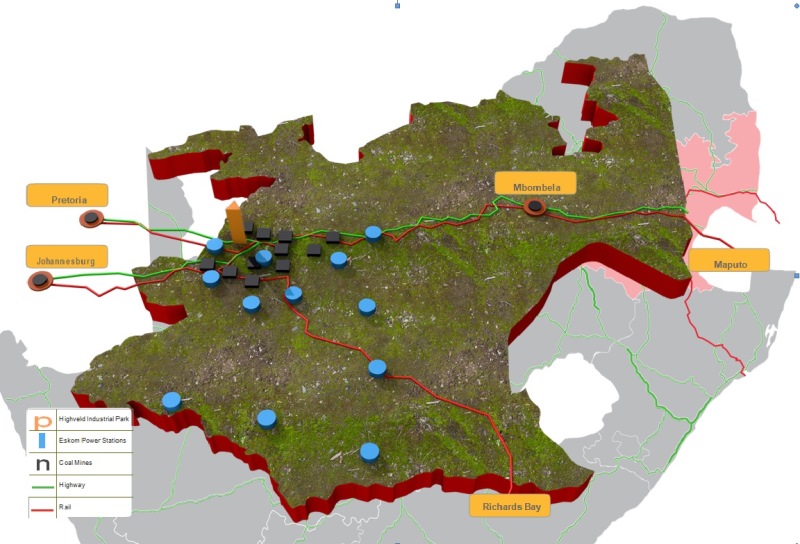 Facilities: value-added services on-site
Diesel supply facility
Electricity supplied directly from the Eskom grid
Methane-rich natural gas directly supplied by Sasol
Abundant raw water and on-site purification
Round-the-clock maintenance services
Specialised environmental and laboratory support services
On-site rail siding
Canteen and laundry facilities
24/7 security and access control
Emergency services: medical and fire-fighting
Find more information about Highveld Industrial Park here, read an interview with CEO Johan Burger here, or visit www.highveldindustrialpark.co.za.
To enquire about available space, contact:

Error: Contact form not found.