The Brickworks Industrial and Business Estate
Catalytic Project: Category B (projects in preparation)
Project description
The proposed development is to take place on a site which is currently zoned as Extractive Industry and is used by Corobrik to mine clay and manufacture related brick and paving products.
The area of the site is 157 hectares (ha) of which 90 ha is proposed to become levelled platforms and subdivided for the development of light industrial, general business, warehousing and related uses.
Project status*
Environmental Authorisation received.
Water Use licence Application approved.
Planning application for Phase 1 has been submitted and advertised with no objections, awaiting ETA approval.
Rates Rebate application submitted for Phase 1A in terms of Brownfields Rebate.
Application submitted to amend Rates Policy to allow for a 'Large Investments' rebate to offset risks on remaining extent.
*As at March 2017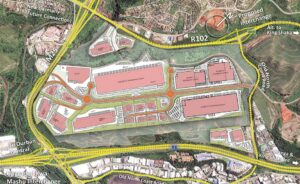 Socio-economic benefits
Investment Value: R4-billion
Construction Jobs: 10 800
Permanent Jobs: 18 000
Other Benefits: This is one of the last greenfield infill opportunities in the North and will therefore contribute towards densification and maximisation of existing infrastructure capacity.
Contact / enquire
For the most current update on opportunities, project progress, outstanding actions and investment requirements, please contact Invest Durban.