Cornubia Integrated Development
Catalytic Project: Category A (in or near implementation)
Area: Northern – Aerotropolis
Project description
Cornubia is a joint venture between the National and Provincial Departments of Human Settlements, eThekwini Municipality and Tongaat Hulett Developments. Cornubia is set to be eThekwini and the Province's largest sustainable integrated Human Settlement initiative.
It is a 1 300 ha multi-billion rand project, on what was an almost totally greenfields site, in a prime location; and will be a mixed use, mixed income development, incorporating industrial, commercial, residential and open space uses.
Socio-economic benefits
Investment Value: R25-billion
Annual Rates: R300-million
Construction Jobs: 15 000
Permanent Jobs: 48 000
Other: Spatial transformation, integration, spatial equity and connectivity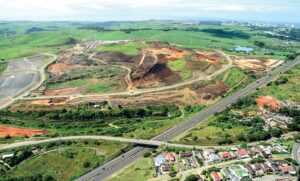 Project status*
Phase 1
Residential: Phase 1A (486 units) complete and occupied; Phase 1B (2,186 units) – underway.
Social Services: Temporary Primary School erected and operational. Retail and sports facility under procurement.
Industrial: CIBE – 70 ha industrial estate infrastructure complete & 100% sold. Some units built and operational.
Phase 2
Phase 2 – EIA approved
Cornubia Business Hub – currently under construction, all sites sold (including a Retail Mall & Call Centre).
Rates Rebate for Shopping Centre – application for rates rebate for the Cornubia Shopping Centre has been approved by Council and agreement signed by all parties.
N2 Business Park – sold and planning underway for business park development.
Flanders Drive Interchange – upgrade and bridge over N2 linking in UNTC underway.
Residential – consultants appointed to undertake the planning and implementation of the various sub-phases.
Transaction Advisors – appointed and finalised study to look into funding models for bulk infrastructure.
Key issues / challenges
Bulk Services Provision: In order for the broader development to roll out in a planned, phased manner as market demand dictates, requires an agreement around how and when the relevant bulk services are rolled out and how the cost contributions thereof are calculated.
Electricity: Lack of bulk electricity currently available to meet demand of private sector development in south east precinct.
Affordable Housing by Private Sector: Current cost contribution ratios make it unaffordable for the private sector partner to market land for the affordable housing sector.
Response and way forward
Transaction Advisors: Engagement on the World Bank study findings needs to take place at Executive Management level and then with THD.
Electricity: Electricity department to prioritise and fast-track the provision of Cornubia no. 1 substation.
Affordable Housing and Bulk Infrastructure: A different cost sharing to be negotiated (as allowed for in the Incentives Policy) which would enable the private sector to bring affordable housing onto the market in Cornubia.
*As at March 2017
Contact / enquire
For the most current update on opportunities, project progress, outstanding actions and investment requirements, please contact Invest Durban.