The Export Credit Insurance Corporation of South Africa (ECIC) was established 16 years ago, in July 2001, when it was given the mandate of filling a market gap through the provision of medium to long-term export credit and investment guarantees by underwriting bank loans for political and commercial risk insurance cover, on behalf of the South African government.
The short-term transaction market was amply catered for, but medium to long-term export transactions still had a need for a dedicated export credit agency, hence the formation of the ECIC. Acting as a catalyst for private investment, the ECIC steps in where commercial lenders are either unwilling to or unable to accept long-term risks
While the ECIC is part of a broader government policy, it remains an independent limited liability company, but with the government as its sole shareholder. The institution is enabled under the amended Export Credit and Foreign Investments Insurance Act of 1957.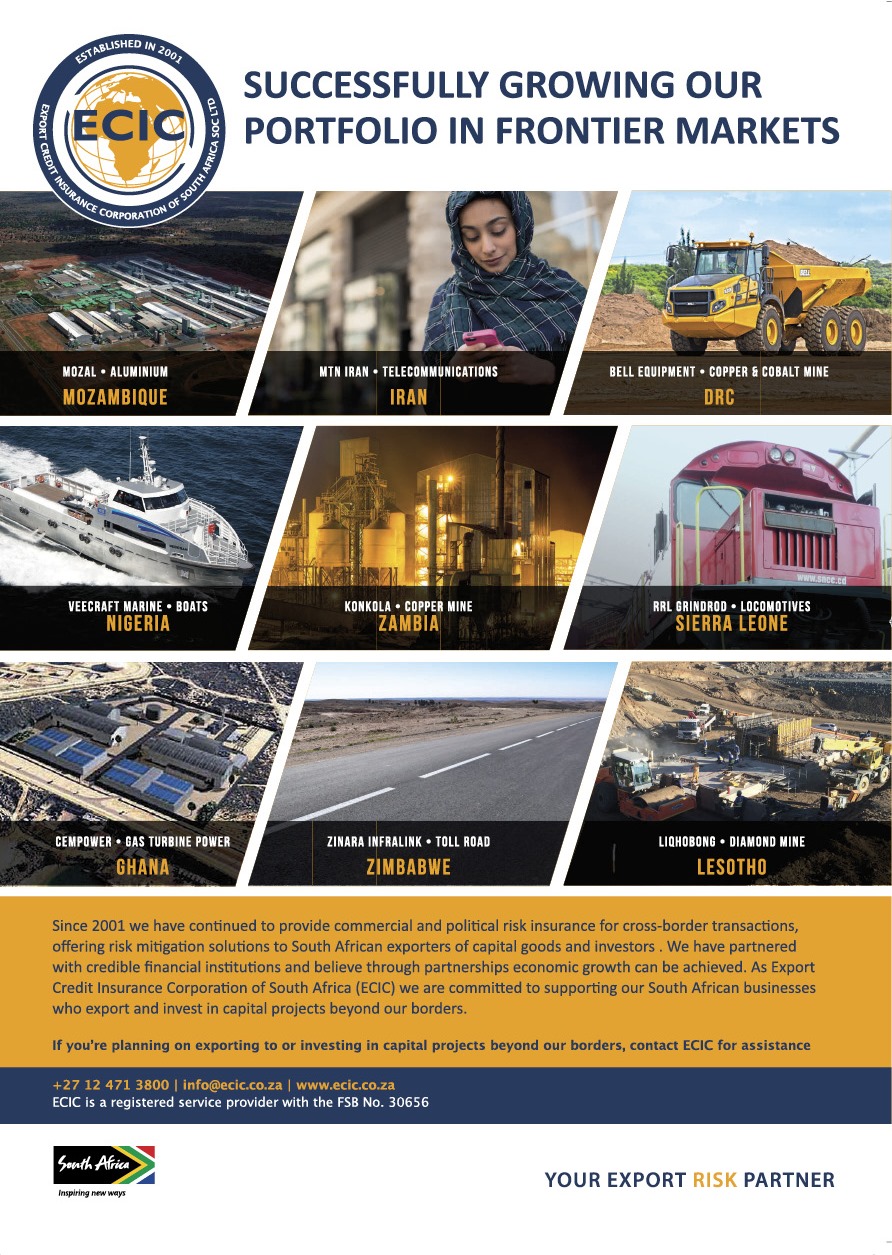 The ECIC has recently developed new products including lines of credit, lease and return of plant equipment. It also continues to be a catalyst for increased lending capacity by financial institutions by entering agreements with other export credit agencies (ECAs).
In this way, it creates a framework for both re- and co-insurance. To this end, it has adopted a comprehensive plan of action aimed at actualising cooperation programmes for mutual benefit in conjunction with, among others, BRICS ECAs, Afreximbank and African Trade Insurance.
Most African markets are considered as uncharted territories with challenging business environments. Thus, the business strategies foreign investors apply elsewhere in the world cannot be used in the continent.
Access to competitively priced export credit creates the ability for local contractors to bulk up and compete more effectively in foreign markets. With the ECIC in support of such transactions, the South African export market is enabled and contractors are becoming
more credible. This has a far-reaching impact on fostering a stronger economy and drives domestic job creation, contributions to fixed capital formation and the GDP, as well as the generation of fiscal revenue.
The ECIC is committed to sustainable business through innovative solutions, operational and service excellence, business development and strategic partnerships. In enabling frontier markets to optimise production, the ECIC is effectively motivating a positive socio-
economic impact.
South African companies that are planning on exporting to or investing in capital projects beyond South Africa's borders are invited to contact the ECIC for assistance.