The Limpopo Executive Council has approved the Limpopo Industrial Master Plan: 2020-2030 as the anchor of the province's industrialisation agenda. This plan will change the structure of Limpopo's economy.
The Limpopo Department of Economic Development, Environment and Tourism (LEDET) is leading the industrialisation of the provincial economy through a series of mega-projects in manufacturing, agriculture and tourism, with a strong element of the Fourth Industrial Revolution (4IR).
Among the catalytic projects are the Broadband Network Infrastructure Initiative, Mining Supply Hub, Technology Hub/Science Park, Digital Hub and two Special Economic Zones.
The Musina-Makhado SEZ was launched in April this year and is continuously engaging with local and international investors. The rollout of bulk infrastructure in the MMSEZ will focus on bulk sewer-supply pipelines and wastewater treatment works; bulkwater storage and supply pipelines; water-treatment works and internal roads and storm water. Eskom has started with the inception and scoping report for bulk electricity infrastructure of the MMSEZ.
Investment opportunities
The investment value of the 1 000 MW solar power plan to be constructed in the SEZ is $1.5-billion and this project will be implemented by Huadian Hong Kong Ltd.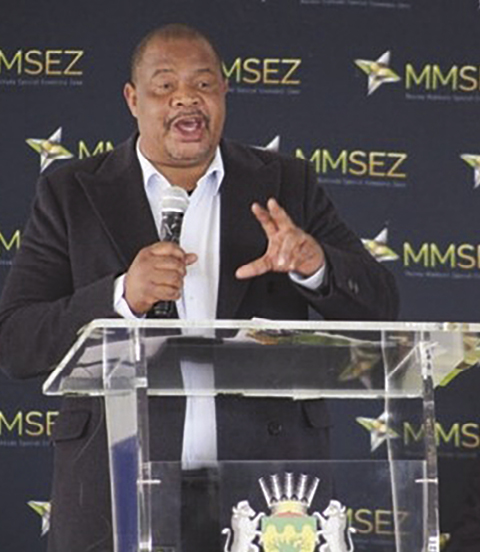 The MMSEZ SOC is collaborating with stakeholders across various spheres of government and Musina Municipality to develop a Smart City in the Musina-Makhado Corridor. This initiative has opened a new basket of investment opportunities with a great potential for return on investment.
At MMSEZ we recognise partnerships and continuous stakeholder engagement as an integral part of our value system.
Nevertheless, the success of the MMSEZ is dependent on its ability to attract and maintain sound and mutually beneficial relationships with investors. Both domestic and international investors are the mainstay of the MMSEZ to grow Limpopo's economy.
LEDET is moving forward on the actualisation of the Fetakgomo-Tubatse Special Economic Zone (FTSEZ), which is at an advanced stage.
We have finalised the business case for the designation of the FTSEZ and the Department has put its support behind the Mining Input Supplier Park, owned by Glencore. There is also a quadripartite agreement consisting of four strategic partners: LEDET, Sekhukhune District Municipality, Fetakgomo-Tubatse Local Municipality and the Department of Trade, Industry and Competition (dtic).