The Musina-Makhado Special Economic Zone (MMSEZ) is an initiative of the Limpopo Provincial Government. The MMSEZ state-owned company (MMSEZ SOC) has been established as the implementing agent of the project and is a subsidiary of the Limpopo Economic Development Agency (LEDA), which reports to the Limpopo Department of Economic Development, Environment and Tourism (LEDET).
Investment in infrastructure is underway with several levels of government contributing to new and upgraded facilities in areas such as water, electricity, ICT, roads, transport, human settlement, airport, education and training.
Regional implications
The Musina-Makhado SEZ is located in the vicinity of the Beitbridge Border Post which is one of the busiest ports of entry to South Africa and a gateway to countries in the Southern African Development Community (SADC).
The SADC Industrialisation Strategy and the African Continental Free Trade Area (AfCFTA) will boost regional and inter-regional trade volumes, giving the MMSEZ's prime location further importance.
The MMSEZ has the potential to become an inland intermodal terminal, facilitated by its anchoring position along the North-South Corridor, and directly connecting to the country's major ports through both the N1 highway and the Johannesburg-Musina railway line, for the trans-shipment of sea cargo and manufactured goods.
With many companies and countries wanting to decentralise and diversify their distribution hubs (either because of Covid-19 or potential unrest in some areas), there is an opportunity for the MMSEZ North Site as a potential regional inland port.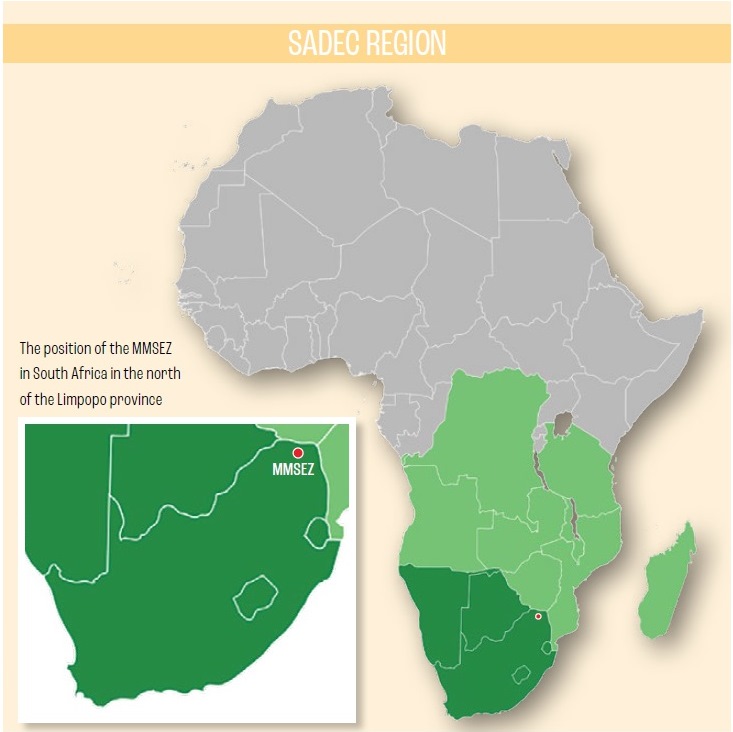 About SADC
South Africa is a member of one of Africa's oldest regional organisations, the 16-member Southern African Development Community (SADC). Country members include Angola, Botswana, Comores, Democratic Republic of Congo, Eswatini, Lesotho, Madagascar, Malawi, Mauritius, Mozambique, Namibia, Seychelles, Tanzania, Zambia and Zimbabwe.
This enables duty-free trade within a growing market of more than 360-million people. All goods shipped under SADC Certificate of Origin receive duty-free status.
SADC enables duty-free trade within a growing market of more than 360-million.
AfCFTA
The African Continental Free Trade Area (AfCFTA) has been agreed on by almost all African nations and holds the potential to change the nature and size of trading on the continent in profound ways. The MMSEZ, located in Limpopo Province, is strategically positioned to offer companies a perfect launching pad into a wide range of countries served by good logistics and infrastructure.
The burgeoning African middle-class is a global trend that economists are carefully watching. As more sophisticated infrastructure is rolled out across Africa, having a base with good connections via road and rail connectivity will be vital. Limpopo has all of that.
The burgeoning African middle-class is a global trend that economists are carefully watching.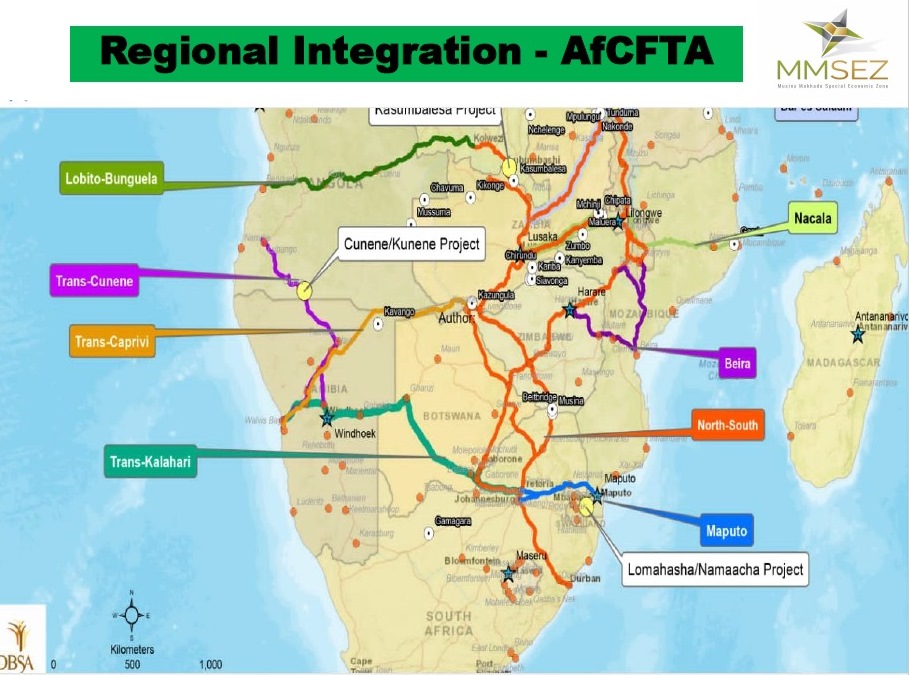 Improving and increasing intra-African trade will change the way countries do business and include a much broader range of countries and products into the global market. Foreign direct investment is expected to grow rapidly, as investment opportunities such as those on offer at the MMSEZ attract the attention of international companies and institutions. The World Bank and other experts have estimated that AfCFTA could:
increase the continent's exports by $560-billion
increase continental business and consumer spending to $6.7-trillion by 2030
boost regional income by 7% or $450-billion
improve wages by up to 10%.
Energy
The plan to build a coal-powered power station has been phased out.
A memorandum of understanding was signed in December 2021 with a Chinese investor to build a 1000 MW solar power plant. A pre-feasibility study for the project has been done. A project-based EIA application will begin after a site has been chosen and confirmed.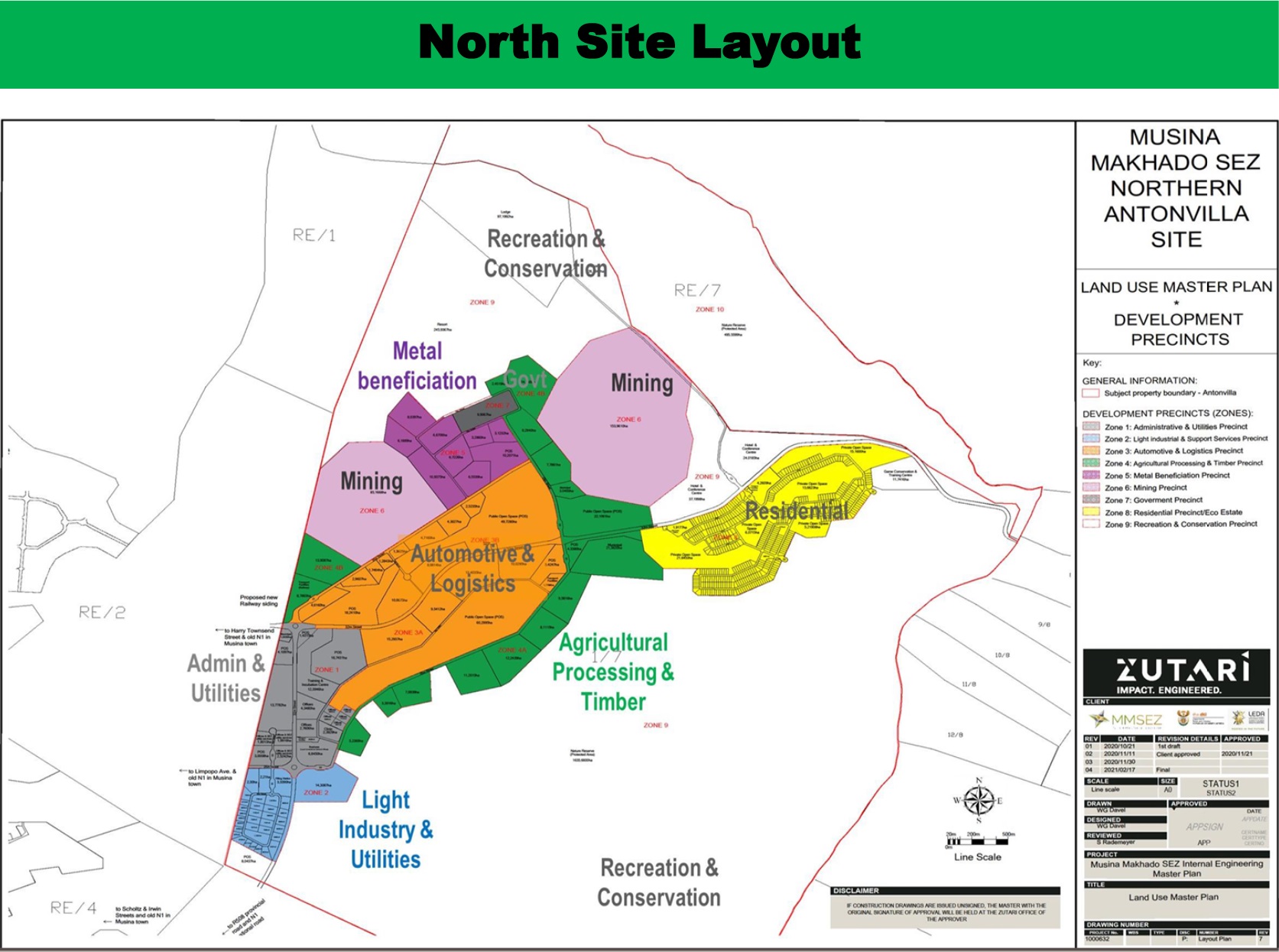 North Site
The environmental impact assessment (EIA) for the site has been approved, as has the engineering planning phase for bulk infrastructure. Infrastructure installation is envisaged to begin in the course of 2022.
Phase 1 projects:
Fresh produce market: partnership
Regional fuel terminal: partnership
Trucks and buses manufacturing: investor
Chemicals manufacturing: investor
Vhembe TVET College
Rail connectivity
Solar energy plant
South Site
The South Site's EIA application was approved on 23 February 2022. The action plan in the post-EIA approval phase encompasses:
Rezoning of the South Site
Finalising the short- and medium-term water solution
Bulk infrastructure engineering design
Site clearance and fencing
Installation of bulk infrastructure
Ramping up skills development.
Contact MMSEZ
Interested parties seeking opportunities to invest within the Musina-Makhado Special Economic Zone, please contact the MMSEZ team with more details: