An overview of the Northern Cape mining sector
Aggeneys, in the Namaqualand region of the Northern Cape, is responsible for approximately 93% of South Africa's lead production, and 12% of all world lead exports. Zinc is less abundant, but the province is still responsible for about 43% of South Africa's overall zinc production.
Afrimat, a listed construction materials supplier and industrial minerals group, has added open-pit mining to its portfolio with the R322-million acquisition of the Diro mine, which had been in business rescue.
Production was on track for the target of one-million tons per year, but a problem on the railway line that delivers iron ore to the port of Saldanha led to production being scaled down. Afrimat had a transport deal with Transnet and is selling iron ore in China. The Diro mine has proven run-of-mine reserves of 10-million tons.
The Black Mountain mine run by Vedanta can produce 30 000 tons of concentrate annually, 7 000 tons of copper, 50 tons of silver and 40 000 tons of lead. Almost a third of the mine's concentrate output is exported through Saldanha on the West Coast.
Vedanta Zinc International's nearby Gamsberg zinc and lead project is the biggest current mining project in South Africa. The mine, on the road between Springbok and Pofadder, has resources and reserves of 214-million tons. The mine is already having a significant impact on employment for nearby communities. Construction is ramping up in expectation of production beginning in the course of 2018. In the first phase, 4-million tpa of ore will be mined, producing 250 000 tpa of zinc concentrate. The mine's tailing thickener is shown above in this May 2018 photograph.
The site is a diversity "hotspot" (one of seven in South Africa) so a lot of work has to be done. Vedanta is working with International Union for the Conservation of Nature (IUCN) and a biodiversity offset agreement has been signed.
South African government officials, including the Deputy Minister of Mineral Resources, have visited Vedanta's Indian headquarters and there are hopes of partnership in fields such as copper smelting zinc beneficiation and captive power generation. Local engineers are expected to travel to India for training as part of the Vedanta global leadership programme.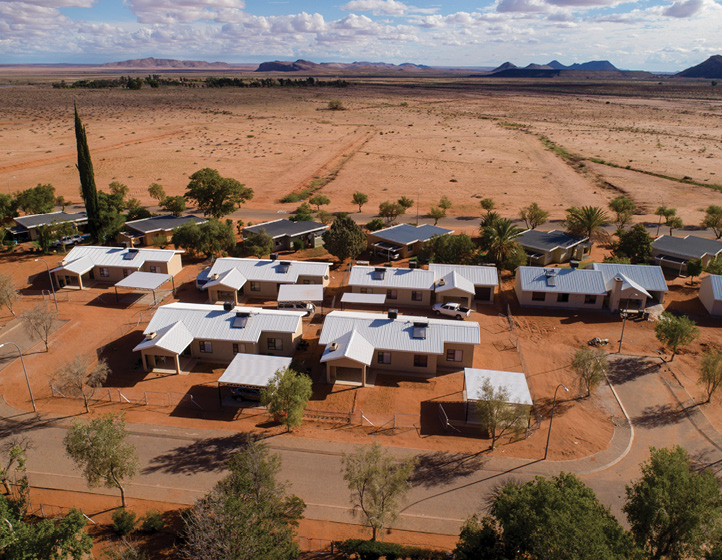 Australian miner Orion is putting considerable resources into investigating the possible revival of the Prieska Zinc-Copper Project. A maiden mineral resource estimate was published in February 2018 and 14 drill rigs (above and below ground) are at work looking in to the site's prospects. The Prieska Copper Mine was active from 1971 to 1991.
Several large wind and solar projects are operational in the area. There is a connection to power and water supplies, good roads, a landing strip and a railway siding on the Sishen-Saldanha railway line is less than 50 km away.
The Northern Cape Provincial Government is working on helping historically disadvantaged individuals (HDIs) get access to the mining sector. Grants from the Cooperative Incentive Scheme are being given to co-operatives to help them buy mining equipment.
The Office of the Premier, in partnership with the National Department of Mineral Resources, has held a workshop for artisanal mine workers on how to conduct legal mining operations. The Swedish International Housing Company is another partner in identifying possible land on which artisanal miners can legally start sustainable mining operations. Land owned by municipalities at Prieska, Niekerkshoop, Marydale and Griekwastad is the focus of these initiatives.
Most of the area's mineral riches are processed outside the province so there are good prospects for investors interested in establishing value-adding beneficiation plants in a wide range of minerals, from iron ore and manganese to copper and limestone.
The National Youth Development Agency (NYDA), the provincial government and Mintek are collaborating on the Prieska Loxion Hub (PLH), which beneficiates tiger's eye for jewellery and stone cutting products.
The Northern Cape provincial government has estimated that procurement by the large mining houses exceeds R18-billion annually. Mining companies have corporate social investment plans but recent engagements such as a Provincial Mining Summit and a meeting between provincial government and mine managers aim to see more benefits accruing to communities. This would involve an increase in the percentage of localised procurement (parts, consumables and services), directing work to companies owned by black people and women, and investment in skills training.
Production
Petra Diamonds has recently been reporting increases in production and revenue. Expansion continues at the firm's Northern Cape property at Finsch and at the Cullinan mine in Gauteng province. Full-year rough diamond production in 2017 reached 4-million carats (an 8% increase) and the company has a stated goal of getting to about 5.3-million carats by FY 2019.
Petra also recently entered into a joint venture, Kimberley Ekapa Mining Joint Venture. KEM JV comprises Petra, Ekapa Mining (jointly owned by Petra and Ekapa Mining) and a third party, Super Stone Mining.
Rockwell Diamonds is listed on the TSX and JSE. The company's assets in the Northern Cape lie between Prieska and Douglas, south-west of Kimberley: Wouterspan, Nieuwejaarskraal, Remhoogte and Saxendrift.
Away from the underground kimberlite pipes and fissures, river and coastal deposits are also present in the Northern Cape. Diamonds have been recovered along the Orange, Buffels, Spoeg, Horees, Groen, Doom and Swart rivers in the province, while coastal deposits have been found from the mouth of the Orange River to Lamberts Bay.
Diamond mining company West Coast Resources (WCR) completed its production plant at Mitchells Bay at the end of 2016 and started mining in 2016. Trans Hex, with a 40% shareholding in WCR, will manage the mine and market the diamonds produced from it. The National Department of Trade and Industry (dti) owns 20% of WCR. By 2020 the project intends creating 686 jobs. By May 2016 there were 166 permanent employees and 24 part-timers working at Mitchells Bay.
In 2018, Trans Hex sold two mines to LOR Diamonds, a black-owned company led by women, but will continue to mine the property as an independent contractor.
Assets
Mining contributes 23.4% to the Northern Cape economy and makes up nearly 7% of South Africa's total mining value. Whatever cyclical ups and downs affect the sector, it remains a most important component of the provincial economy. The mineral resource of the province is wide-ranging and impressive with significant deposits of iron ore, manganese, zinc, copper, lead, titanium, pig iron, zircon and gypsum.
The overwhelming majority of the world's manganese comes from the Postmasburg and Kalahari regions of the Northern Cape. The province is responsible for 25% of the world's exports of the mineral. Assmang has two manganese mines in the province: Nchwaning and Gloria.
The Northern Cape produces more than 84% of South Africa's iron ore. The province has two major iron belts, from Postmasburg to Hotazel, and running through Sishen and Kathu. Sishen is the most important iron-ore mine in South Africa, where operations include extraction and four beneficiation plants. The availability of natural resources, labour and infrastructure (including the Sishen-Saldanha railway line) make Sishen the ideal location.
Kumba Iron Ore has the huge Sishen facility at Kathu and Kolomela. Assmang, a joint venture comprising African Rainbow Minerals and Assore, mines at Khumani.
After initially saying that it wanted to get rid of everything outside its core assets (copper, platinum group metals and diamonds), Anglo American has backtracked somewhat in the light of the recovery of iron ore and other mineral prices. (Anglo does not have diamond assets in the Northern Cape.)
Assuming that it will go ahead with disposals, the sale of Anglo's 69.7% shareholding in Kumba Iron Ore will have the biggest impact.
South32 is very active in the Northern Cape. Hotazel Manganese Mines is made up of two mines, Wessels (underground) and Mamatwan (open cut), and the Metalloys manganese smelter. The company has 30% of the product from its mines processed at the smelter where a managese alloy is made.
South32 produced 8% more manganese in the six months to December 2017 than it did in the corresponding period, a trend which all South African miners mirrored.
Hotazel is also the site of a relatively new manganese mine, Tshipi é Borwa. Tshipi e Ntle Manganese Mining (Tshipi) is a joint venture between Pallinghurst Co-Investors (led by Brian Gilbertson) and a black empowerment company representing several groups called Ntsimbintle Mining. A number of non-governmental organisations (NGOs) such as the Black Sash have a 2.2% stake in the mine through Ditikeni Investment Company. Indications are that Tshipi can produce about 2.2-million tons of ore per year, for about 60 years.
Engineering News reported in 2017 that Ntsimbintle celebrated a R300-million dividend payout in July, with a further R500-million agreed on for disbursement in September.
The Northern Cape is responsible for around 18% of South Africa's total copper production, with the two most prominent mines located in Nababeep and Aggeneys. The Carolusberg Mining Complex has copper reserves of 37.5-million tons, while the Nigramoep deposit has 15-million tons. Galileo's initial tests at their Concordia Copper project near Okiep suggest that prospects are good what it calls "large-scale copper targets". Tungsten has also been found in the area.
In 2016 Horomela Investments received prospecting rights for its property near Aggeneys. The only 100% black-owned and black-managed base metals mining company in South Africa, Horomela will be mining for lead, silver, copper and zinc.
Online resources