Catalytic Project: Category B (projects in preparation)
Project description
The total development is some 623 ha with 322 ha being located within eThekwini Municipality and the remaining 298 ha within KwaDukuza Municipality (KDM). Again, the development is modelled on quality 'live, work and play' environments. The location, being 7.5 km to Dube Trade Port, makes this a prime development.
The project straddles 3 municipal areas – eThekwini Municipality, KwaDukuza Municipality and Ndwedwe Municipality.
All internal bulks will be provided by the Developer.
Eskom provides electricity in this area and all authorisations have been provided.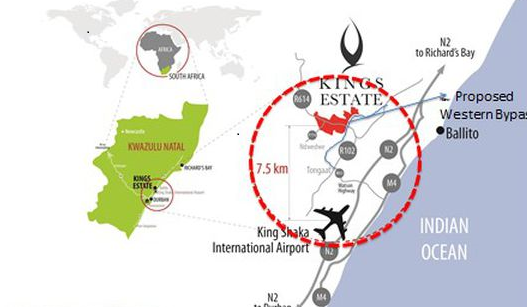 Socio-economic benefits
Investment Value: R42.4-billion
Annual Rates: R517-million/annum
Construction Jobs: 99 000 over 20 years
Permanent Jobs: 40397 over 20 years
Project status*
A bulk services agreement has been drafted with all parties and sent to KDM for comment.
Meeting with Mayors – 2 March 2017
Application advertised and will be taken to Committee for approval in March/April 2017
*As at March 2017
Contact / enquire
For the most current update on opportunities, project progress, outstanding actions and investment requirements, please contact Invest Durban.