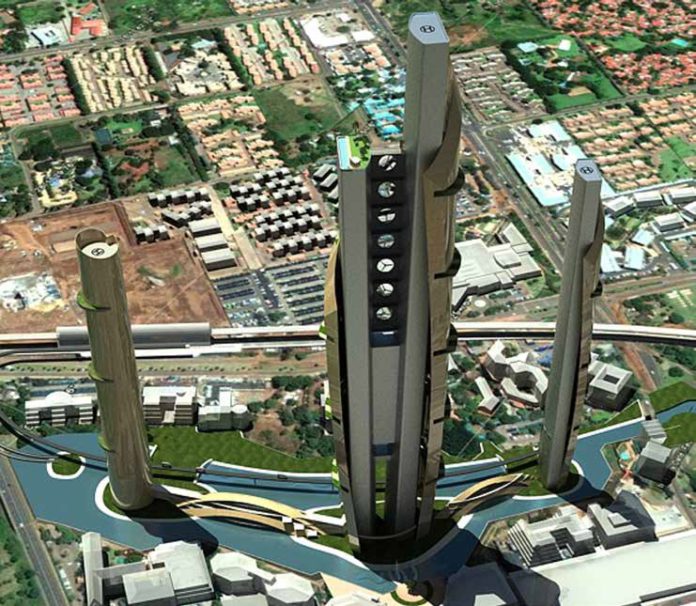 Sector: Mixed-use development
Project location: 12 km south of the Tshwane CBD
Project description
The conversion of 10 ha of land surrounding and including the man-made Centurion Lake into a vibrant mixed-use Symbio City, linking the Centurion Gautrain Station with the existing Centurion Mall.
Project rationale
The aim is to provide both high density and large, high quality urban open spaces to enhance live-ability for the inhabitants. Symbio City will make optimal use of public transport and a proposed monorail system to move away from car-based transport to lower carbon emissions. Centurion provides global connectivity for non car owners. The project will focus on the generation of renewable energy from natural resources and building waste products to eventually achieve off-the-grid efficiency.
The timing has never been more appropriate to leverage the emerging knowledge economy that is becoming the hallmark of Centurion. It is envisaged that this be done through acquiring the new technology and expertise of leading global companies to develop the potential of Centurion to its fullest extent. This will take place through the creation of an African and, indeed, global landmark in the form of Symbio City, which will incorporate the tallest building in Africa, consisting of two office towers and one residential tower, a hotel and retail facilities.
This specific location in Gauteng has the potential to enhance the size of the regional economy and to attract international commercial interest. The location, between the Ben Schoeman Highway (N14) and the N1 Highway corridor, adjacent to the Gautrain Station, forms part of the development corridor of Gauteng.
The environment is currently surrounded by businesses, offices and residential and commercial facilities. This locality in Gauteng, which has is the fourth largest economy in Africa, has immense potential waiting to be unlocked, with the planned Symbio city development being the ideal catalyst for the total redevelopment of the Centurion business precinct.
The development will cater for:
retail development: a shopping centre with at least 100 000 m² of gross leasable area (GLA), with a maximum height of five storeys;
office and hotel development: an office component with at least 350 000 m² of GLA and a hotel with a maximum of 295 beds and a maximum height of 110 storeys; and
residential development: allow for a maximum of 1 000 units, with an average size of 150 m² per unit and a maximum height of 60 storeys.
Project value: US$2.2-billion
Economic impact
During construction
GDP growth: 1,46% pa
Wage flows: R722.15-million pa
Over the long term
GDP growth: 0,18% pa
Wage flows: R139.3-million pa
Job creation
It is envisaged that the project will create 10 000 jobs during the development phase and 4 000 while in operation thereafter.
Funding requirements
Partially funded
JV Partnership to be negotiated
Contact / enquire
For more specific information about investment opportunities in Symbio City, please contact TEDA.